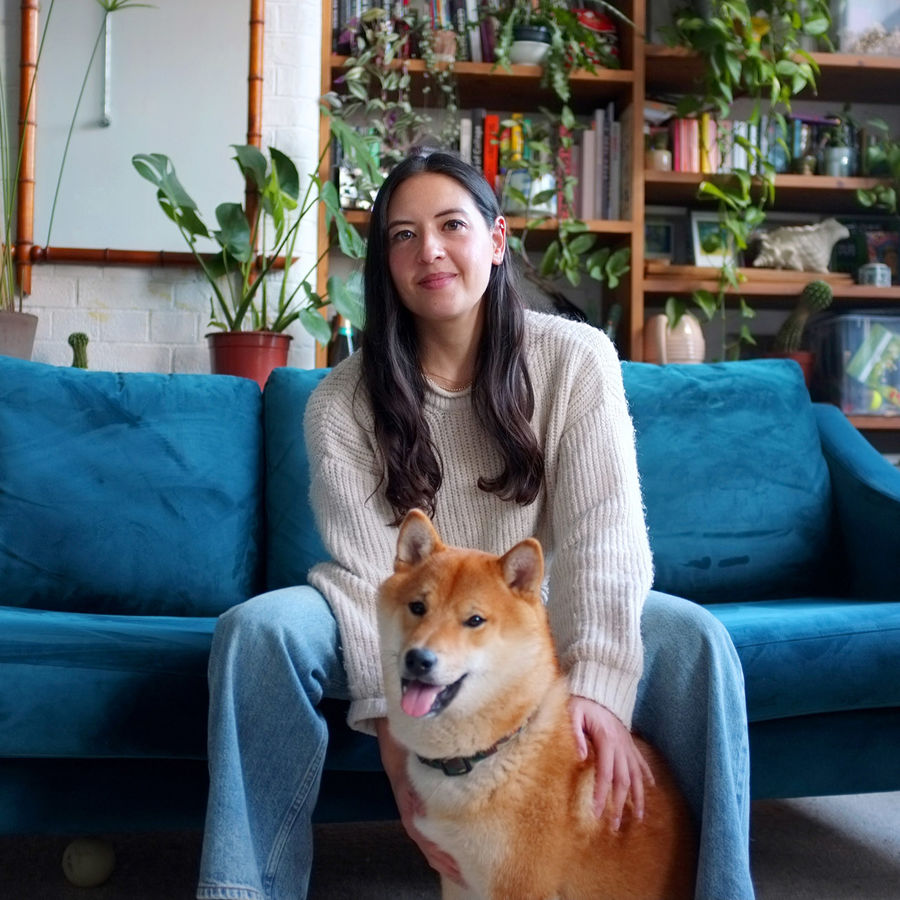 Inspiration
Gemma Yin: A Few Of My Favourite Things
The Greatcoat Films mixed-media director talks us through some punky print, a bullet-filled journal and her penchant for stickers.
With mixed-media work that always feels handmade and tangible, it's not a surprise that Greatcoat Films director Gemma Yin is a fan of the tactile.
As she talks us through some of the items she keeps close-to-hand, you can see that everything is playful, textured and (in the first case especially) strokable.
With a career to date that's seen her collaborate with companies including Charlotte Olympia and Red Valentino, as well a produce promos for Little Mix, Sigrid and Louis Tomlinson, Yin's distinctive 'collage-in-motion' style is well complimented by her punky reading, her feeling for fashion and her seriously enviable collection of stickers.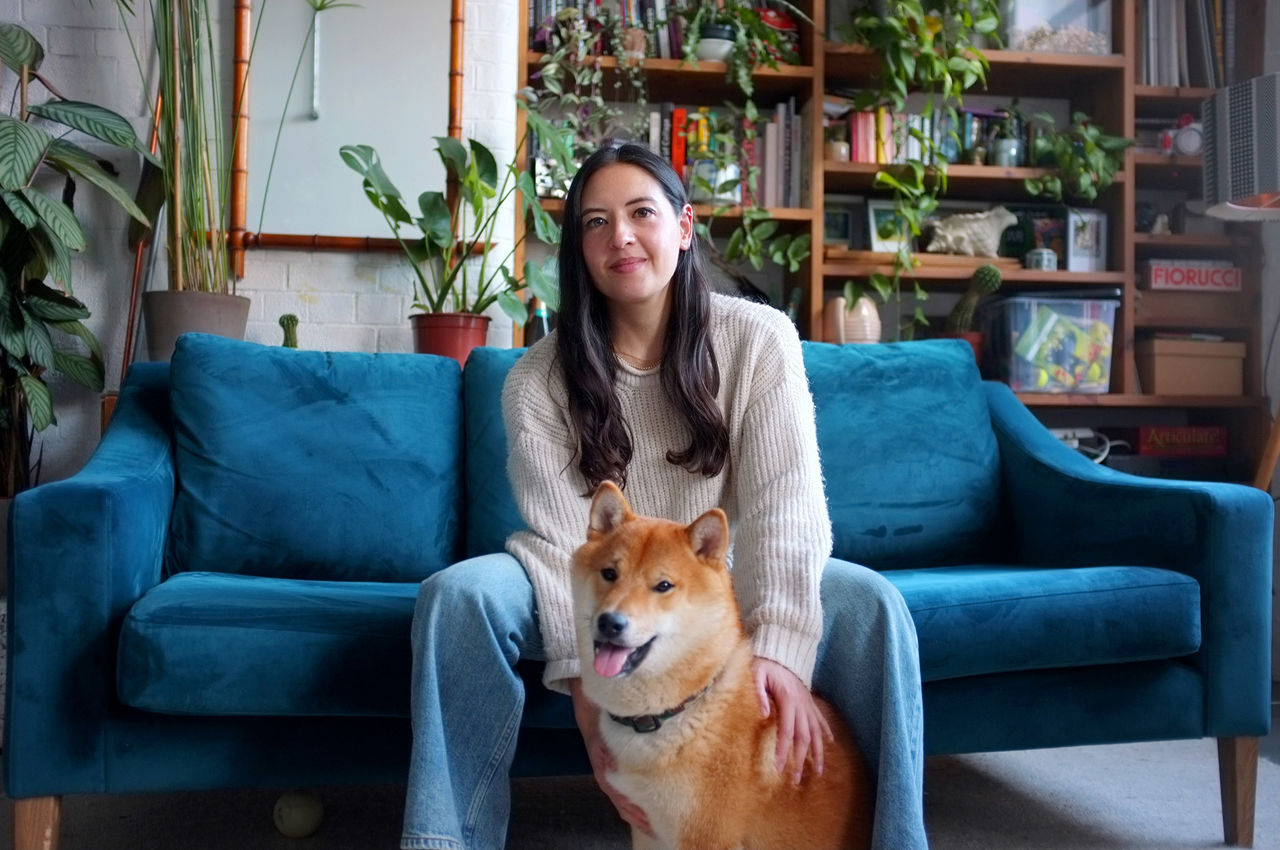 The Puppy Pal
This is me and my 11 month old puppy Pacho, a relatively new addition to the work and life space!
He is my first dog and a very cheeky little guy so to say it has been a huge learning curve is an understatement. It has been an epic challenge as he is very strong willed for such a young dog, and I have had to learn to hold my nerve and harness my patience in completely new ways.
For a few months it didn't do much for my productivity, but it has given life a different focus.
I'm at the desk a bit less compared to my previous workaholic ways, but way more productive when I do get to sit down and am not doing training drills with him, or running around throwing dog toys like a loony.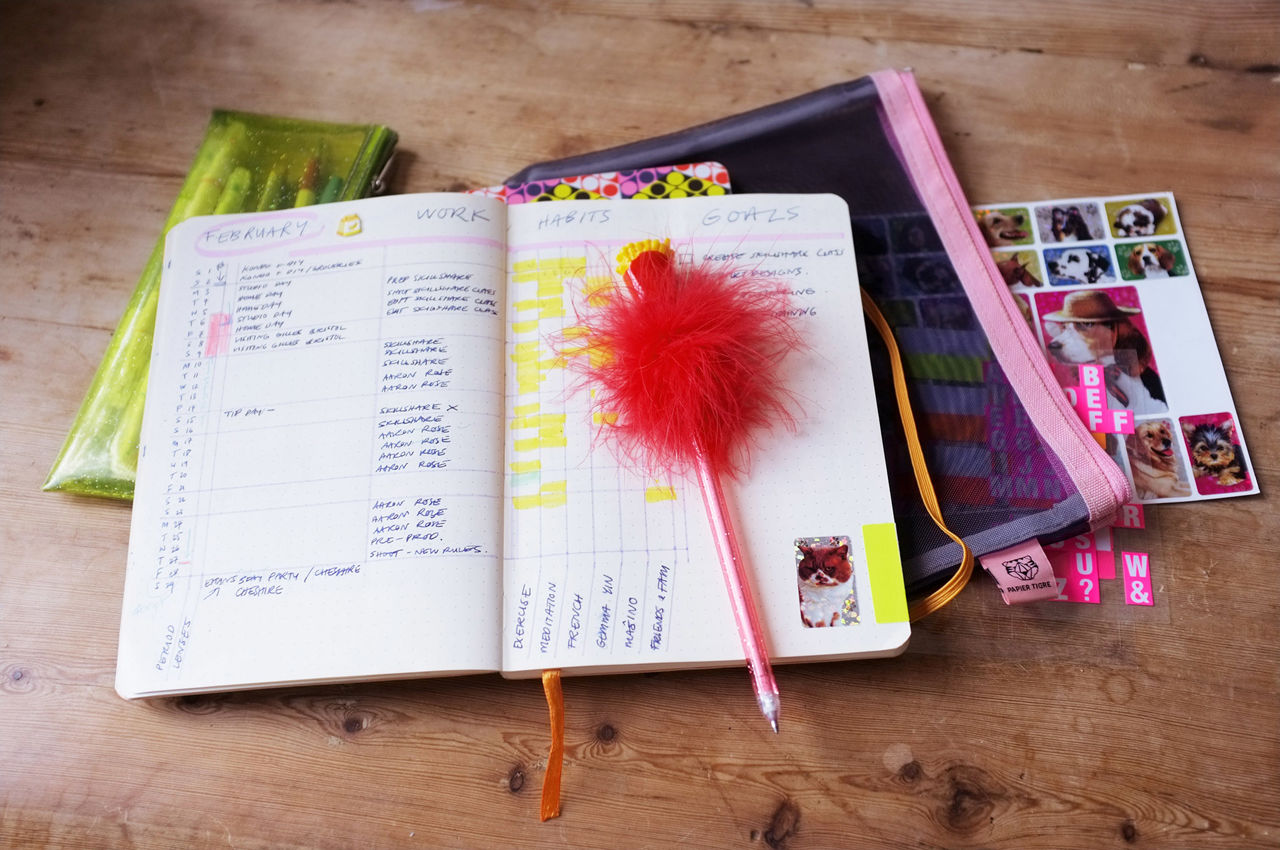 The Bullet Journal
I have been using the bullet journal method (created by Ryder Carroll) for a year or so to help me get more organised and keep track of my tasks, goals, habits, inspirations and finances.
The book is just a plain dotted notebook which you build your own pages and systems into. It does take time to map out all of the pages from scratch, but I find this process rewarding and therapeutic. The layouts also tend to evolve as time goes by, and you streamline your own productivity systems.
It is more of a calendar and log than a journal, so I don't write long essays, although I do take time to write a couple of sentences of gratitude each day - a worthwhile habit that I learnt from Oprah!
I am and always have been a huge aficionado of fun stationary. I love stickers, so make good use of glittery dogs to brighten up my journal.
This page shows one of my monthly overviews, where I can get a quick view of my work and other commitments for the month ahead, which sit alongside my goals and daily habit tracker.
The Painting Of Willow
I have various pieces of art that I made myself around my home and office, but this one is extra special and I didn't paint it myself.
When I first met my partner Pierre, true to the french stereotype he was all about the romance! On one of our early dates, he snuck into the building where I live ( impressive since it's a bit of a fortress!), and planted this hand painted picture of a cat with an elaborate invitation to dinner at his place written out on the back into my mail box.
He is not a painter or illustrator but a coder by profession, but his artistic efforts won me over and there is such a lot of character in the portrait.
Willow the cat, who belonged to his housemate at the time, was one of the loveliest animal souls I have ever encountered, so it is also nice to look at the painting and remember her.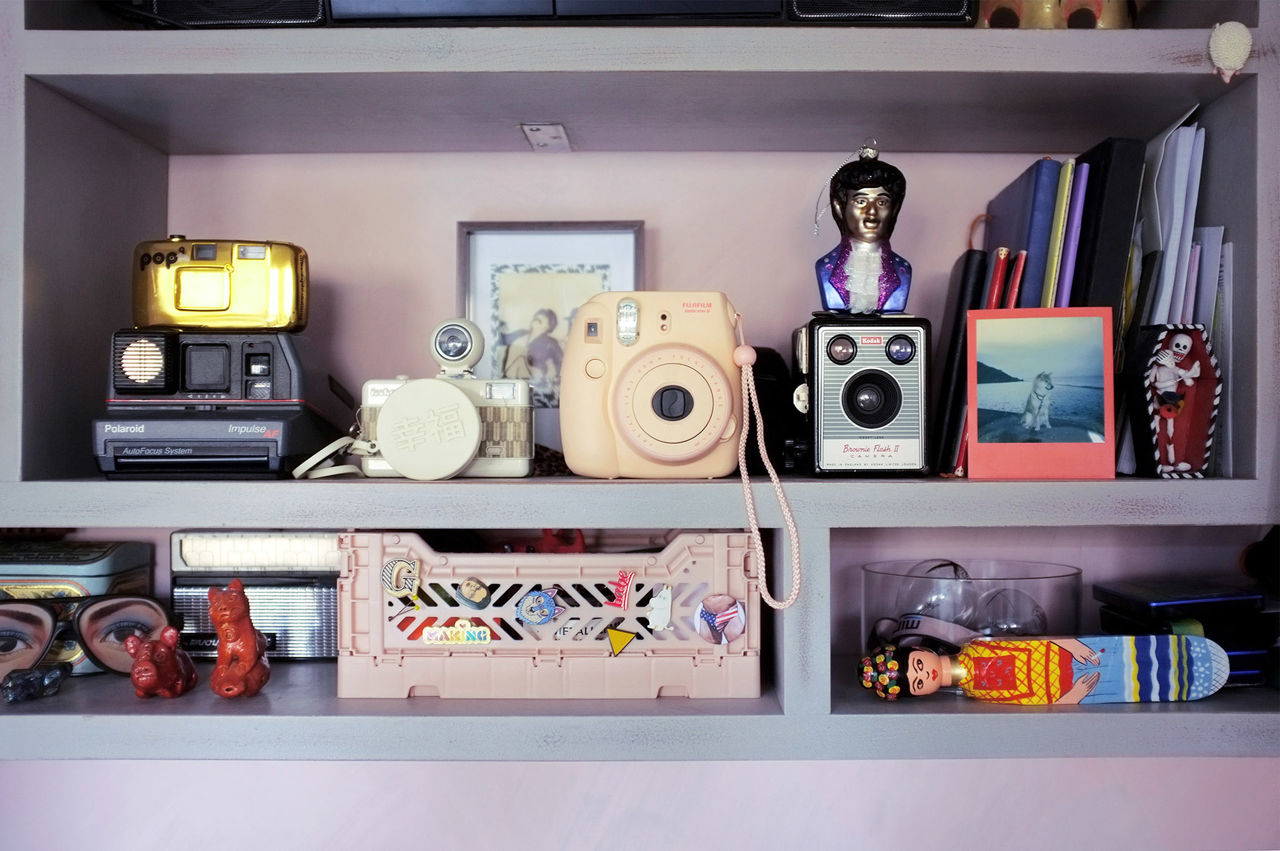 The Camera Collection
A hobby shared by many of my creative kin, I have an eclectic camera collection.
On this shelf there are a few pieces from the analog and digital, vintage and newer models that I have. The limited edition cream fish-eye camera has accompanied me on many travels - I even have a plastic underwater case for that one.
The gold 35mm lomo is brilliant - it splits the photo into nine tiles of the same detail - it is very graphic although you can't see much of the wider scene.
There are about 12 in total, including a nifty little super 8 camera that I have used for a couple of video shoots.
The Fiorucci Stickers
I am obsessed with the apparel and more specifically the graphic design output from of the cult Italian clothing brand Fiorucci, which has been thrilling the fashion scene with it's unique sense of fun since the late 1960's.
For my last birthday I was given the sticker set - something I had been drooling over in the Soho store for quite a while.
It includes a whopping 200 unique stickers with all of the most iconic designs.
They are too nice to use though, so I just keep them all together and don't stick them to anything.
During moments of procrastination, I divide them into sub-piles of my 'favourites', 'runners up' and 'third best'.

The Punk In Print
I have lots of reference books around my space, but my absolute favourite is this Oh So Pretty - Punk in Print book by Phaidon.
I have marked various pages with post-its, presumably for reference on previous projects.
A lot of my work has a punk sensibility, and gives me a chance to let the lid off some of my lingering teenage angst- a few years ago I made a music video for a young punk band called Vant using only paper collage techniques.
Every frame was made from paper printout, punkified using rips, tears and hand mark making, and re-shot under a rostrum camera.
Although I am a competent digital animator, it's nice to take it right back to the old school sometimes.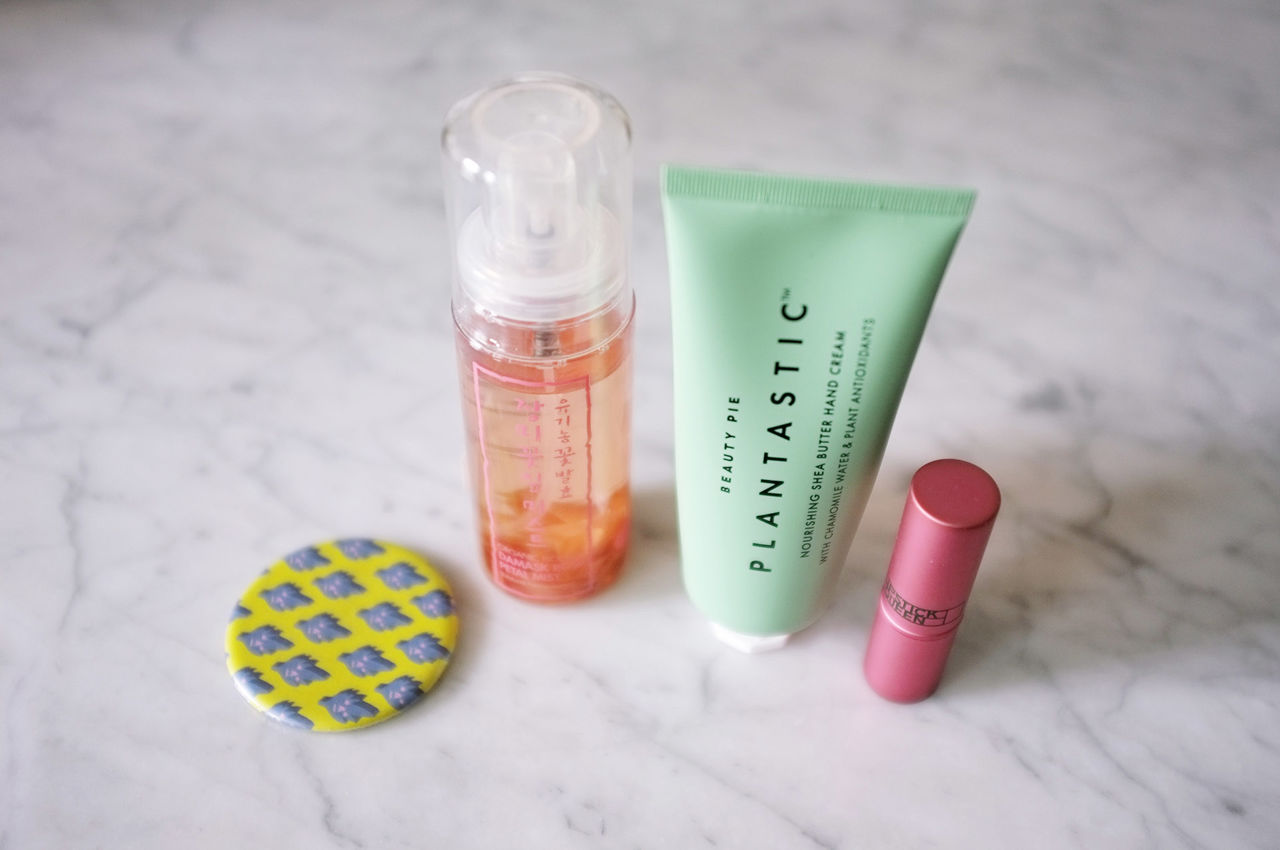 The Beauty Items
I always have a few beauty essentials within reach on my workspace. I am a low key beauty nut!
I don't have tonnes of products or a high turnover, but a handful of cherished items, and get a thrill from discovering new and brilliant essentials. I have worked with lots of cult beauty brands like Eyeko, Revlon and MINA so have also been lucky enough to get some freebies along the way.
In the picture I have a little pocket mirror which I was gifted by a friend from Uni (which I have kept for almost 10 years!) - the design visible on the back is by her - she is called Chan Ann Gee and made the most amazingly wacky paintings. We have lost touch over the years as she was quite an introvert. She may have moved back to Hong Kong. I hope she is still making work because it was so joyful!
I have recently subscribed to new beauty subscription service Beauty Pie. I love the products, branding... everything! This cream keeps my hands in good order.
Next is my Korean Rose Petal face mist. Another gift from a close animator friend called Kimberley Rabbitt. This is a hit of pure luxury when you spray it on your face for a refresh.
Lastly I have my magic 'lipstick queen' balm. The stick looks green in the tube, but on contact with your lips in tints them to your own personal shade of pink, based on the Ph balance of your skin.
It seems like a bit of a novelty, but it is really moisturising and easy to wear all day.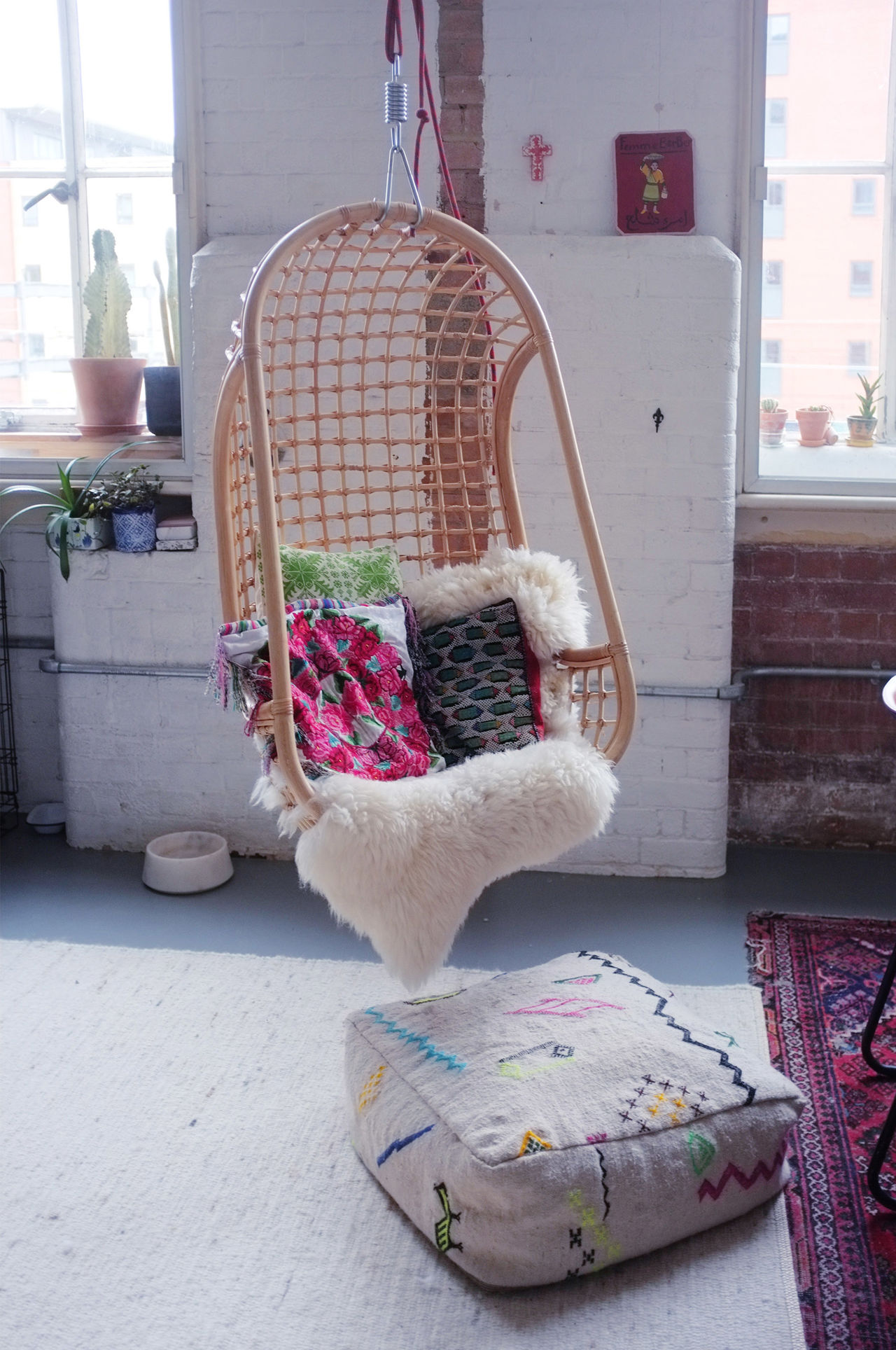 The Hanging Chair
I work between my home and a studio space in Cambridge Heath.
At home I have this lovely hanging chair which is an excellent place to sit and contemplate when a break from the desk work is necessary. I sometimes sit and write emails from here on my laptop, or put my feet up to watch a film on the projector in the evenings.
I totally renovated my flat a couple of years ago, so was able to include lots of dream items like this. The building has lovely double height original windows and lots of other unique features since the building was previously a Victorian matchstick factory.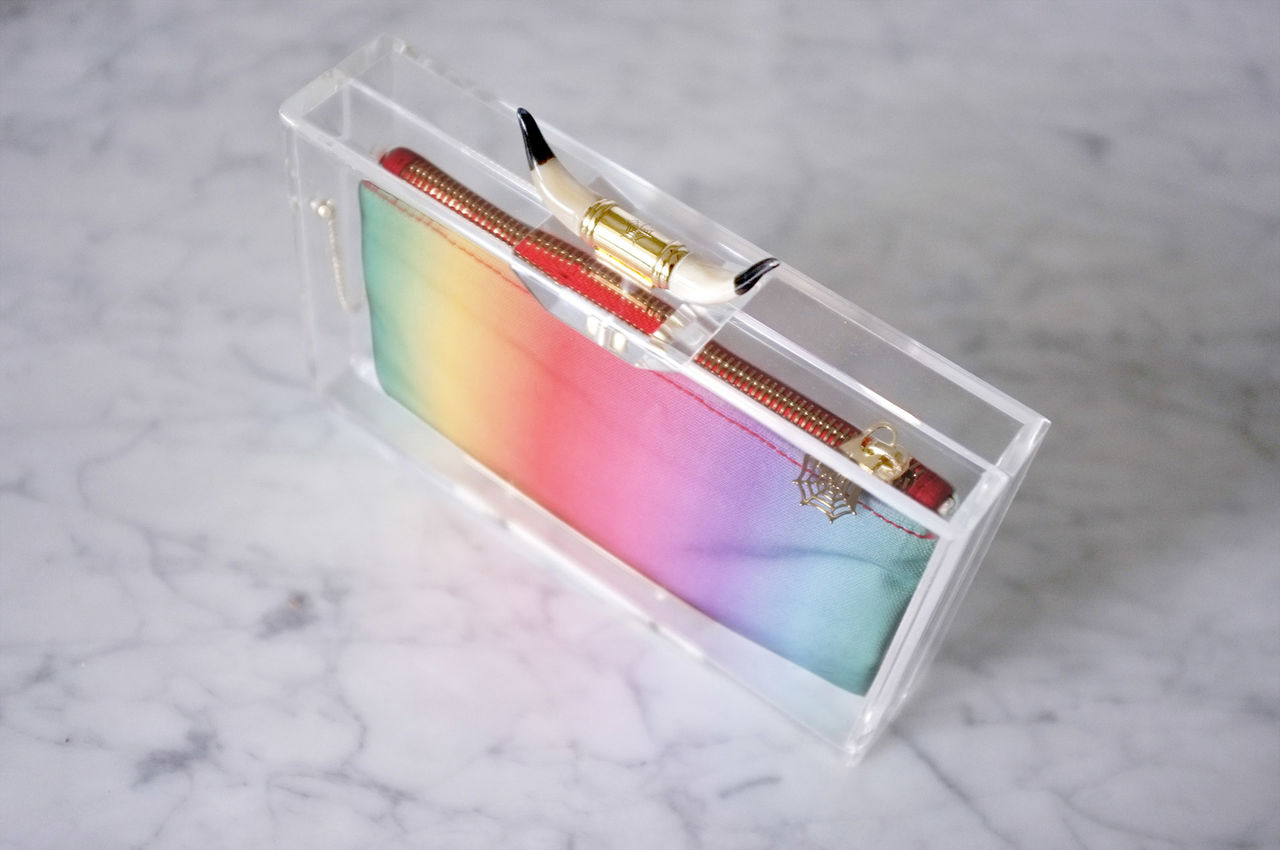 The 'Horny Pandora' Clutch
Among my favourite past projects have been a series of campaign films for cult luxury accessories brand Charlotte Olympia.
For the brand's 2015 western inspired collection It Happened Out West, Charlotte flew myself and a small team out to Almeria in Spain to shoot the campaign assets. Since she liked what I had created for previous projects, she asked if I would shoot as well as edit this one, and thought it would be stylistically fitting to use a super 8 film camera.
Being predominantly an animator, I don't often get to travel for work, so this was a really amazing trip!
The location was an incredible place called Fort Bravo - an outdoor shoot location themed for westerns, with different streets and areas designed to fit different story lines - i.e. mexican western, american western, native american camps in the desert. There were real life cowboys (actors) riding horse drawn wagons around the streets, since the location was open to tourists in the absence of a booming film industry in recent years in Spain.
As well as having a great time working with the team on the shoot, I fell in love with many of the pieces from the collection that we were shooting. (I have always had a fantasy of being a kick-ass cowgirl!) I asked for my payment in product rather than the agreed fee - something that I hadn't done before or since.
I chose this 'horny pandora' perspex clutch bag and a gorgeous pair or leopard print platform sandals.
No regrets!