Insight
The eyes have it: how animators open the window to the soul
shots speaks to artists from five top animation houses - Nexus Studios, Aardman, Psyop, Framestore, and Golden Wolf - to find out how peepers are perfected in all animated forms.
When it comes to interpreting emotions, the eyes are vital. As a human being, trained in social understanding, the movement, shape, and intensity of eyeballs can convey innate insights that words and actions cannot express.
Capturing the humble peeper on screen is of utmost importance to filmmakers, and nowhere is it more challenging than in animation.
To delve deeper into this demanding aspect of animation, we interviewed five experts in the field - Marylou Mao, Lead Animator at Nexus Studios; Magdalena Osinska, Director at Aardman; Jack Anderson, Creative Director at Psyop; Jon Burke, Animation Supervisor at Framestore; and Charles Bigeast, Creative Director at Golden Wolf - to find out the process, intricacies and insights needed to get a glance right in all forms of animation, from photorealistic CGI to hand-drawn anime.

Marylou Mao - Lead Animator, Nexus Studios
Whether we are working in 2D or 3D our job is to infuse the illusion of life to characters otherwise inanimate. The human eye is an expert at deciphering faces and emotions so you can spot immediately if something is off, uncanny or unappealing: it's an inherent challenge of animation to overcome that.
One of my favourite tricks is exaggeration; you see it at its best in animation styles where the animator will push shapes and movements to improbable extremes. By doing so, we actually tap into the essence of the emotion we want to convey and focus on what matters most. Exaggerating our animations also lets us avoid some of the trickiest "uncanny" effects by playing with the audience's suspension of disbelief.
Unlock full credits and more with a Source + shots membership.
Show full credits
Hide full credits
Above: Silent Running for Gorillaz, on which Mao animated.
Things to keep in mind:
Unevenness: the human face is naturally uneven, try mirroring one side of your face and you'll actually find the result quite creepy. This means that when we animate we need to consciously build in this unevenness and exaggerate it so it feels intentional. Unevenness also allows to "open" on side of the face while the other one compresses which helps sell the character's eye direction and the scene's composition
Don't forget eyebrows and cheeks! They are intrinsic to the eye shape and support each other. The Face is full of complex muscle systems that influence each other, it's our job as animators to capture the essence of that movement
Be careful of the Iris position! Generally speaking, the iris should always rest slightly under the upper lid to create an appealing eye. Showing the white of the eye above the iris will communicate craziness, fear or surprise so use it carefully. You can choose the shrink scale up the Iris to exaggerate an emotion as it will help show more or less of the white: shrink it for extreme surprise and fear and scale it up for teary puppy eyes. Use it with moderation, as it will easily start breaking the character design.
In the end, the character design and the tone of the movie will dictate your animation style and how much you want to use exaggeration and other animation tricks. The animation principles will stay the same however so it's crucial to study the face and its complex movements. Try with your own face, act it out! You'll get a feel for what moves and how much, and you'll get immersed in the emotion.. after all, animators are the actors behind the 2D drawings and 3D puppets.

Magdalena Osinska - Director, Aardman
Body language can express so much of a character's feelings, but eyes are the window to the soul.
As an example from I Am Your Mother [Osinska's short from Star Wars: Visions Volume 2], I had a moment where it was key to get the mother-daughter relationship right and show how they feel. When they are arguing, you can see that daughter Anni is nervous and hiding something. She is uncomfortable with telling her mum painful truths, and her eyes are darting around. Anni's eye movement is much more manic compared to her mum Kalina. Kalina's are more focused, more thoughtful, and confident - less blinks, eyes focused on one point usually.
Body language can express so much of a character's feelings, but eyes are the window to the soul.
We've got one shot very close on Kalina, it's all about her eyes. She is squinting her eyes, looking at the villain, and the audience can see exactly what she is thinking - she is not going to have her daughter put down by bullies, and she's got a plan. There's determination, focus and a bit of anger.
Above: Key frames from Osinska's Visions animation.
In order to get these performances, we would do LAVs (live-action video rehearsals). Animators would film themselves playing out the action of the shot. We'd then analyse and discuss the body language and eyes, choosing the best moments and takes. We would discuss eyes in particular - the blinks, how many and their timing, and the eye movement. Before starting the shot, we would do the main keyframes to establish characters' poses and eye lines. Getting the eye line direction right is one of the more challenging things in stop motion - the shot has to be thoroughly discussed and briefed beforehand as there's no going back and tweaking.
Getting the eye line direction right is one of the more challenging things in stop motion.
I prefer to have eyes with a bit of depth rather than graphic, flatter looking. To get that effect of depth, Sam Holland and his puppet-making team would mould a polished metal ball attached to a piece of rod. They would then remove the top third of the eyeball and make a recess to accommodate the chosen graphic. The top portion would be recast with the clear cast resin, giving an illusion of depth.
Above: Clips from Star Wars: Visions 'I Am Your Mother' short, courtesy of Lucasfilm.
To move the eye, the animators have a special eye tool with a tiny needle at the end. A hole is drilled in the middle of the eye with 0.2 mm drill bit and then painted with black enamel. It's a very meticulous process.
Eyelids are a very important element in eye expressions.
Eyelids are a very important element in eye expressions and we had quite a lot of lids replacements. I'm quite a big fan of bottom eyelids - normally we would only have about five but on I Am Your Mother we had 20 3D-printed replacements per main character.

Jack Anderson - Director, Psyop
Eyes are all about subtly. Less is more. When working with a 3D character, there's always a concern about making things too "uncanny valley". One of the things I love about working in a more stylized format that isn't trying to be photoreal is you can really avoid that much easier. The audience is way more willing to believe your character is a genuine being, not an impersonation.
Despite this more stylized look, we try to avoid ever going too cartoony with their motion, especially when it comes to eyes. It is amazing how changing the number of frames a blink takes, from three to two, can have a huge effect on how real the character feels. We love getting into that kind of detail.
It is amazing how changing the number of frames a blink takes, from three to two, can have a huge effect on how real the character feels.
One recent project where this really rang true was our Arsenal Launch Trailer for Apex Legends. We had a great moment where we wanted to show off Ballistic, Apex's newest character. In the script, he shows his age by misinterpreting a fist bump from one of his teammates. However, tonally, we wanted him to come off as super cool, confident and collected.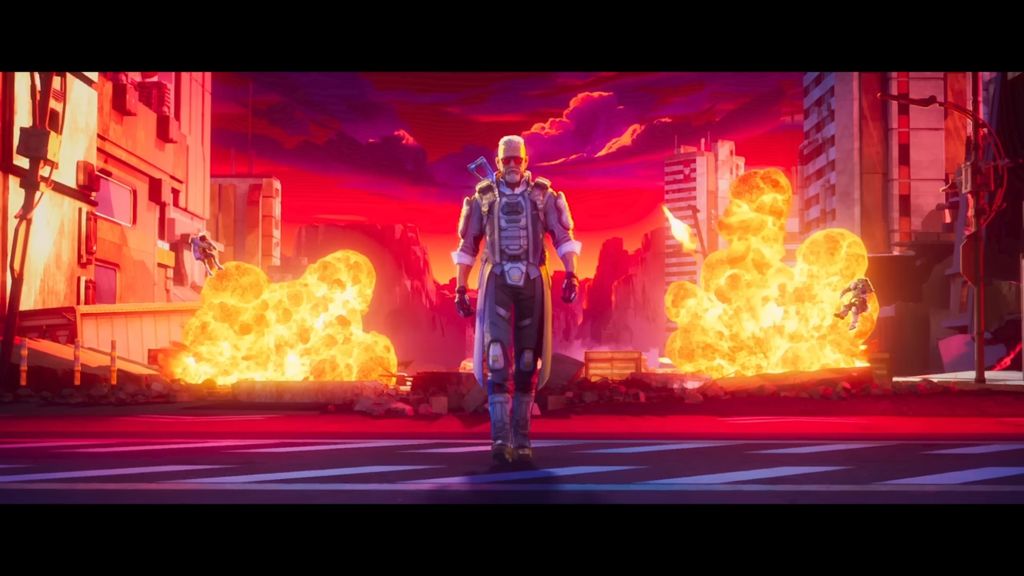 Above: Psyop's Arsenal Launch Trailer for Apex Legends.
At first, our instinct was to go more broad with his eye performance, such as a wink, or glances around as if he was seeking reassurance. In the end, the final animation was insanely subtle. Just a small smize, with barely any movement at all, but it communicated so much.
It really felt human and relatable, and explained a lot about the character's personality in a short amount of time.
Jon Burke - Animation Supervisor, Framestore
The eyes play a pivotal role in directing our focus in life and storytelling. Utilizing a character's eyes effectively is crucial for guiding the audience's attention within a scene.
Two key considerations come to mind when crafting a shot: when to draw attention to the character's eyes and when to divert it. Strategic eye breaks are essential for keeping the audience engaged and creating anticipation. It's vital to envision the entire scene and incorporate these eye breaks; otherwise, the character may appear unnaturally fixated. Subtle glances away and back add depth and nuance to the shot.
Strategic eye breaks are essential for keeping the audience engaged and creating anticipation.
This philosophy of eye movement extends to many aspects of storytelling. For example, a character's continuous smile throughout a scene lacks the impact of an initial serious expression transforming into a smile. This triggers a cognitive response within the viewer, highlighting the shift in mood and facial expression.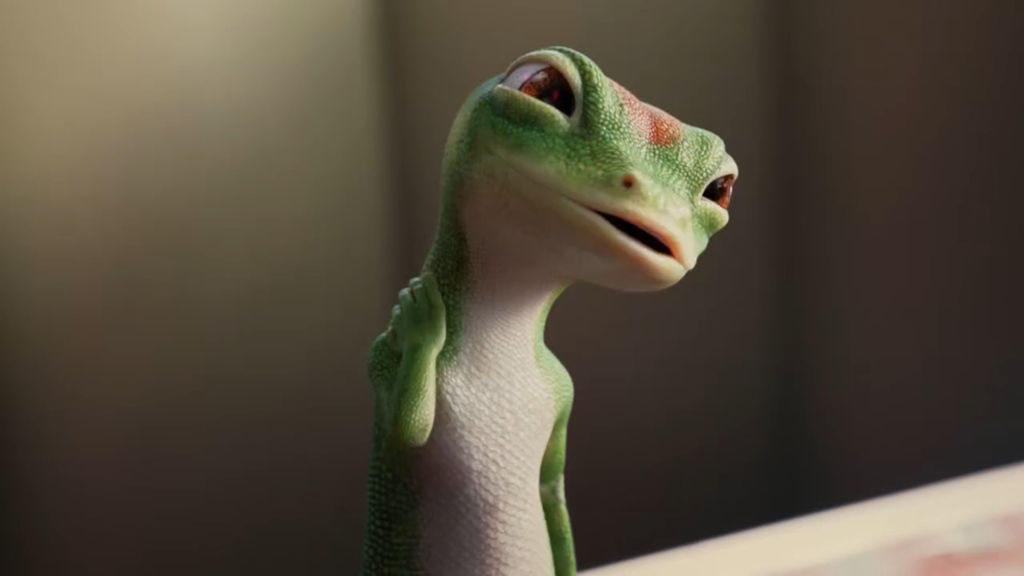 Above: Geico's Gecko from Framestore, "a perfect example of how eye movement can infuse a scene with texture."
The Geico Gecko spot, 24 Hour Claims, is a perfect example of how eye movement can infuse a scene with texture. The scene begins with the gecko looking forward, drawing the audience in, and then shifts away, naturally portraying his inner thoughts through the subtle dance of his eyes. The intensity builds as he eventually gazes back at the woman, providing a reassuring connection. The contrast in this shot between him holding eye contact and breaking it is perfectly balanced, creating anticipation in the viewer, who eagerly waits for him to return his gaze.
Capturing the staccato rhythm [of eyes] in animation is difficult, as most artists' instinct is to smooth things out.
Animating eyes presents a unique challenge as real-life eye movements are often jittery, with muscles firing rapidly. Capturing this staccato rhythm in animation is difficult, as most artists aim to smooth things out. There are many micro, close-up references that an artist can study to perfect the craft of animating eyes for the characters that they create. Pupil dilation and how our eyes react to lighting are often underestimated but can add depth and emotion to a shot.
Another aspect to consider is seamlessly integrating animated characters into live-action shots, often interacting with real actors. Ensuring that the interaction appears genuine and that eye lines match is essential. Without a clearly defined eye line, the character can feel disconnected, detracting from the audience's immersion in the scene.

Charles Bigeast - Creative Director, Golden Wolf
Capturing eyes is ALWAYS a challenge! Especially when working on a narrative piece, where emotions and expressions take centre stage. Essentially, we're trying to recreate human life! And that implies all the little non-verbal cues that we, in our daily lives, send without even thinking about. For example, the subtle eye roll when bored, the eyes slightly widen when surprised, etc.
Capturing eyes is ALWAYS a challenge!
In animation, all of these need to be analysed and considered in order to add all the little nuances that bring a character to life, making us focus on all the little things we barely notice in day-to-day life.
In the case of the Death by Romy Late Nights music video, we had to pay particular attention to Romy's eyes; first of all, because we did the whole piece in a '90s anime-inspired style where characters famously have massive eyes, but mainly because her look/gaze is part of her persona.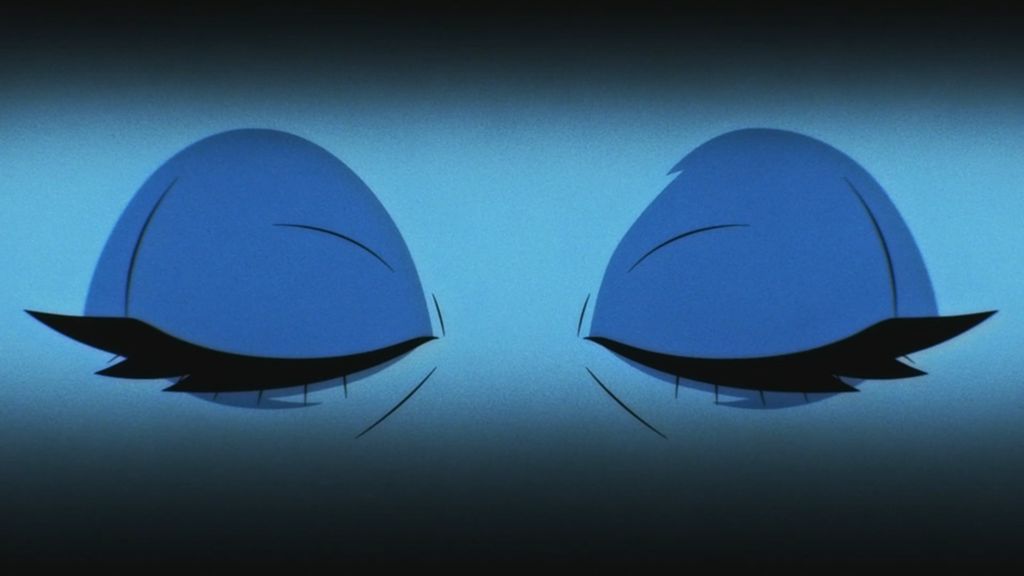 Above: Death by Romy Late Nights music video.
Her sleepy eyes are her signature! Initially, it took quite a bit of trial and error to get the perfect balance and not make her look dopey or angry, but rather capture the sexy/bored/blasé gaze that is so particular to Romy. And a lot of this comes across in the way we animate it. We generally made her eye movements and blinks really slow and controlled to give her that 'calm confidence' look. This, in turn, allowed us to create a real contrast in the moments of the video when she breaks character and lets her emotions through. Then, we were able to use more expressive animation/motions. For example, a classic anime trope of making the eyes shaky to show that she's on the brink of crying.
Acting seems to correlate strongly with animation skills
In my experience, details like these often come naturally to great animators. It might be in their DNA or how they observe the world around them. Similar to how editors often make great directors due to their sense of pacing and storytelling, acting correlates strongly with animation skills, which definitely comes across when it comes to animating eyes.
A teacher once told me that animators are frustrated actors, and I would tend to agree!