Craft
How Oliver Murray documented the last Beatles song
Using archival footage and interviews with the remaining members of the band, the OB42 filmmaker tells the tale of how a ragged John Lennon recording formed the basis of a brand-new Fab Four track. shots caught up with Murray to find out how the project came about.
Few acts occupy as hallowed ground as The Beatles. With 12 studio albums, 600 million singles sold, numerous number ones in the US and UK, and the not-overexaggerated claim of changing the face of music, the band crammed a lot into their seven years together.
Because of this, any new bootleg/snippet/hint of content is rabidly devoured by the fanbase, particularly as two of the Fab Four are no longer with us. It was therefore a bit of a shock that 2023 would see the release of the group's 'last' single - Now and Then - an impressively reconstructed track utilising a bare-bones vocal from John Lennon, a jam session guitar track from George Harrison, alongside new contributions from Paul MacCartney and Ringo Starr.
With a story to tell far beyond a traditional recording, filmmaker Oliver Murray was tasked with the job of documenting its creation; from archival footage and commentary from John's son Sean to technological inputs from NZ hero Peter Jackson.
The result is a film crammed with fascinating insights and amazing titbits for anyone who's ever experienced Beatlemania. We caught up with Murray to find out how he made it all come together.
Unlock full credits and more with a Source + shots membership.
Show full credits
Hide full credits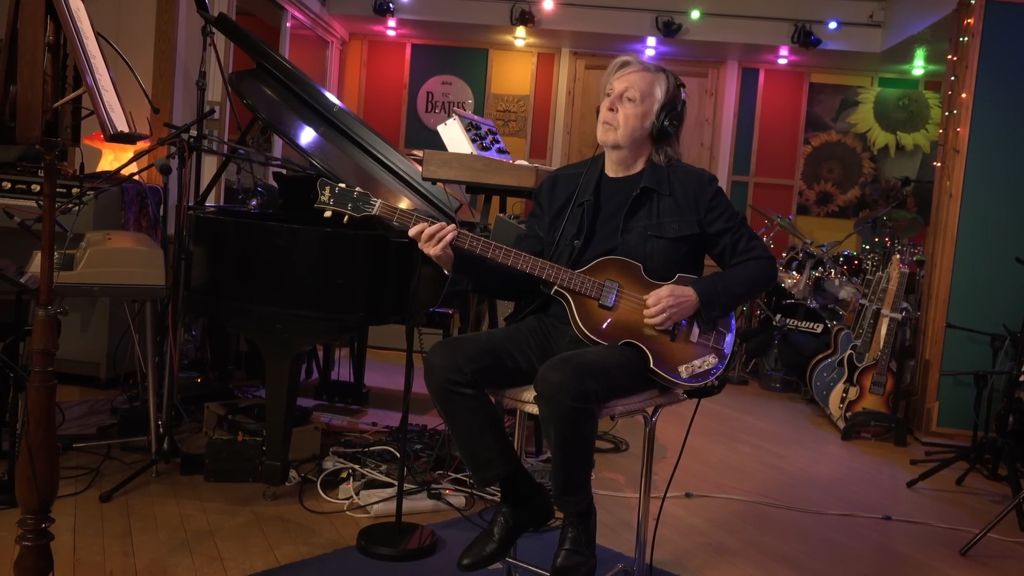 How did you get involved with the project?
I have a great relationship with Mercury Studios who are part of Universal Music and the opportunity to write an idea came about through that connection. I'd been lucky enough to have worked with them on a Lang Lang concert film for Disney and also be involved with the four-part series My Life as a Rolling Stone.
Universal was looking for someone who knew that world a little bit, so I got the chance to pitch.
What were the initial steps? Were you in direct contact with the remaining Beatles from the get-go, or did that come further down the line?
It started off in the traditional manner. I pitched an idea to Jonathan Clyde at Apple Corps and Sophie Hilton at Universal Music who both produced the film. Then the script went to Paul and Ringo as well as the other key players looking after The Beatles legacy. It went quiet for two weeks, as it always does with these things, and then I got the news I'd won the job.
I thought it was important that the audience could spend as much time hearing from Paul and Ringo as possible.
Up until that point, it was very exciting and then suddenly it was terrifying. Charged with telling the story of the last Beatles song!
What was the brief for the film? How did you set about achieving that?
The brief was to create quite a traditional three-to-four minute doc that would explain the amazing journey that this John Lennon demo went on.
If you've seen the film, you know that it grew way beyond that initial proposal.
The destination of the film wasn't fixed at this point, so it was a fantastically open playing field. We were able to look at growing it out of a traditional-looking format to something very unique.
First and foremost, I had a writing job to do. I had to condense a lot of information into as small a duration as possible. When I had the story laid out I started to identify who the eyewitnesses were. I wanted the film to feel very intimate, so I didn't want any outsider's opinions.
I thought it was important that the audience could spend as much time hearing from Paul and Ringo as possible. Then, I started pulling material together that would illustrate the story of John's demo coming to life and using shots from all over the archives as a puzzle piece to build the world of the story.
The film contains a lot of archival footage. What was the process of logging that, and where was it sourced from?
I love working with archive because it's like having a time machine that you can use to step back into the past. I was able to build whole scenes out of archive and use the iconic Beatles yellow submarine as a transitional tool to move back and forth in the story.
Most of the time, using archive involves a lot of detective work. You discover old reels of film or tapes that have never been digitised and you have to do a lot of restoration work. But this is the Beatles so I stand on the shoulders of the great archivists at Apple Corps and beyond who have logged and looked after this material so carefully for decades. It really struck me how prolific the band was in such a short timeframe. All those albums and films in just seven years!
The stand-out material for me is John and Sean in New York - it's really touching to see that for the first time.
As I went through the footage I was able to disregard the context and look for my own story beats so that in the end you have folders in the edit for each character and you reclaim them for your own story.
The stand-out material for me is John and Sean in New York - it's really touching to see that for the first time.
When I locked our edit we relocated the project to New Zealand in order to work with Peter Jackson's Park Road Post. They were able to do the most amazing things with the media. We ultimately delivered a 24fps 4k picture and atmos mix which looks and sounds unbelievable.
You get an incredible range of interviewees narrating the piece. How were those sessions conducted and how did you choose who to speak to?
As this was a short film, I knew that I needed to get a tight story together and be very specific about who carried the narrative through each scene. We decided that we would only interview people who had first-hand experience of the story, so that was the guys in the band, Sean Ono Lennon and Peter Jackson. The story didn't need any other voices and frankly nobody tells a story better than Paul McCartney!
When your story takes place mainly in the past, and you have access to great archive material, I always prefer to stick to audio interviews. I think the interviewees prefer it, and the results are more relaxed and emotional. Plus, it is not such a problem to ask follow-up questions.
Jonathan Clyde has a great relationship with the Beatles 'family' too, and I think that shows in the film.
Once we had a very advanced cut, Jonathan and I went down to Paul's studio to record one last round of questions that gave me the connective tissue between scenes that I needed.
The software behind the extraction of John's voice is incredible. Was it tough to balance the necessary technical explanations with the overall narrative of the piece?
In short, Yes!
Like any story, whether it's ten-seconds or ten-hours long, you need to grab your audience and take them on an authored journey.
The temptation, especially when delving into the world of the Beatles, is to explore as much as you can because it's all really fascinating. But that's where the writer's discipline comes in because you have to make sure what you're saying is in service to the specificity of the story. So the technical aspects are very interesting, but good music documentaries aren't actually about the music, are they? Same with sports docs, they use the music or the on-field action as a gateway into a story about the human condition and human conflict.
I think of Now and Then as a documentary about a brotherly bond that created some really amazing art, and technology enabled a kind of musical archaeology that gave them one last chance to play together on record.
Anything involving The Beatles is hallowed ground for most music lovers. Were you nervous about this when embarking on the project?
It's a funny thing because when you pitch an idea that you really believe in you're riding a very positive wave because the film is theoretical and the hurdles of turning it into a reality are still around the corner. Then suddenly, you get the job and you have to come up with the goods.
That's when I was most nervous.
I had the support of great producers to write and direct a very personal film.
I think of Now and Then as a documentary about a brotherly bond that created some really amazing art, and technology enabled a kind of musical archaeology that gave them one last chance to play together on record.
When dealing with the legacy of one of the most important cultural phenomena in modern history, it's impossible to please everyone, so I made something I knew I'd be proud of. I didn't want to contribute something to the Beatles' story unless I felt like I was saying something with an emotional authenticity that would live up to the band's standards.
Can you detail a little about the launch of the film and how it fits into the song's release?
The documentary spearheads the release of Now and Then with a 24-hour window to watch on multiple platforms before the track was made available.
Peter Jackson, who had a smash hit collaboration with the Beatles when he helmed Get Back, has created a music video for the campaign and that dropped shortly after.
I was curious if broadcasters would actually pick up a 12-minute film, especially when it will simultaneously be on the Beatles YouTube channel with no possibility of exclusivity, so I was very excited about the placement on BBC One [the film aired as part of the channel's The One Show]. Then I heard the news that throughout November the film with be broadcast in almost every single country in the world and will be available on a list of streaming platforms that includes Apple TV, BBCi Player, Disney+, PBS and HBO. It all started with a phone call about a small piece of content!
I think it's really exciting that projects like this blur the lines around what film content for a campaign can look like.
I had support to work outside the box and make something that I hope people will be interested in returning to for some time.