Craft
Hardstaff and Heartfield on making a splash for Audi
How do you turn a car into a synchronised swimmer? We caught up with the Independent Films director and BBH London's CCO to find out more about their aquatic adventures in a custom-built pool.
If you've just watched the new Audi spot, featuring two cars performing an Olympic-standard synchronised 'swimming' routine with equal parts precision and panache, you might be wondering how the hell it came together.
Luckily, Ian Heartfield, CCO of BBH London, and Independent Films director, Johnny Hardstaff, were on hand to tell us about the production process - which turned out to be a lot more complicated than 'just add water'.
Unlock full credits and more with a Source membership.
Show full credits
Hide full credits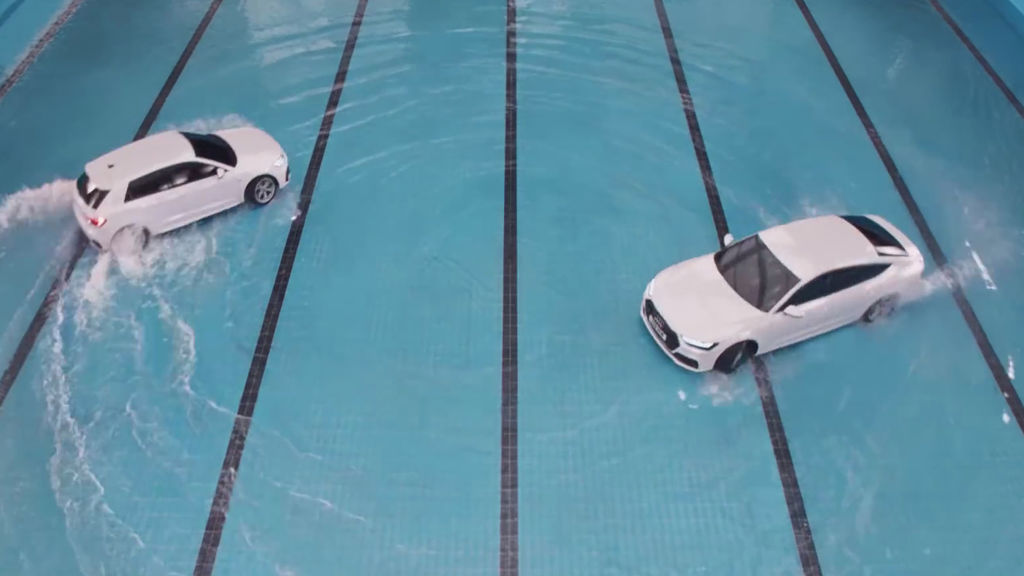 What was the brief from the client and how did you come up with the idea of synchronised swimming?
Ian Heartfield: Our task was to demonstrate that when Audi makes a small car, it isn't a compromise. We soon realised that the best way to tell this story was to ignore the competitors and only compare ourselves with ourselves. In other words, tell the world that a small Audi is every bit an Audi. So it became a case of finding a way to show an A1 doing everything that an A7 can do, and to elevate the film so that it wouldn't just be a traditional performance driving demonstration. We wanted a little more narrative and a little bit of Audi wit.
All that remained was for us to work out how to do it with two big chunks of metal instead of two swimmers.
After some head scratching, BBH creatives Gina Ramsden and Freya Harrison came up with the idea of a synchronised swimming performance as being the ultimate example of two entities matching each other perfectly move for move. All that remained was for us to work out how to do it with two big chunks of metal instead of two swimmers. That's when Johnny came in.
Originally we imagined it as an empty swimming pool; it was Jonnny who suggested adding the water, and it was a great suggestion. It looked amazing, it hinted at the extra grip that comes with Audi's legendary Quattro 4WD system. Plus, I liked the fact that it tipped its hat to a classic Audi commercial from 2000. Everyone always asks what makes an Audi ad, an Audi ad. For me, this one is a great example. A brutally simple story, car right at the heart, great production values, and a killer re-record.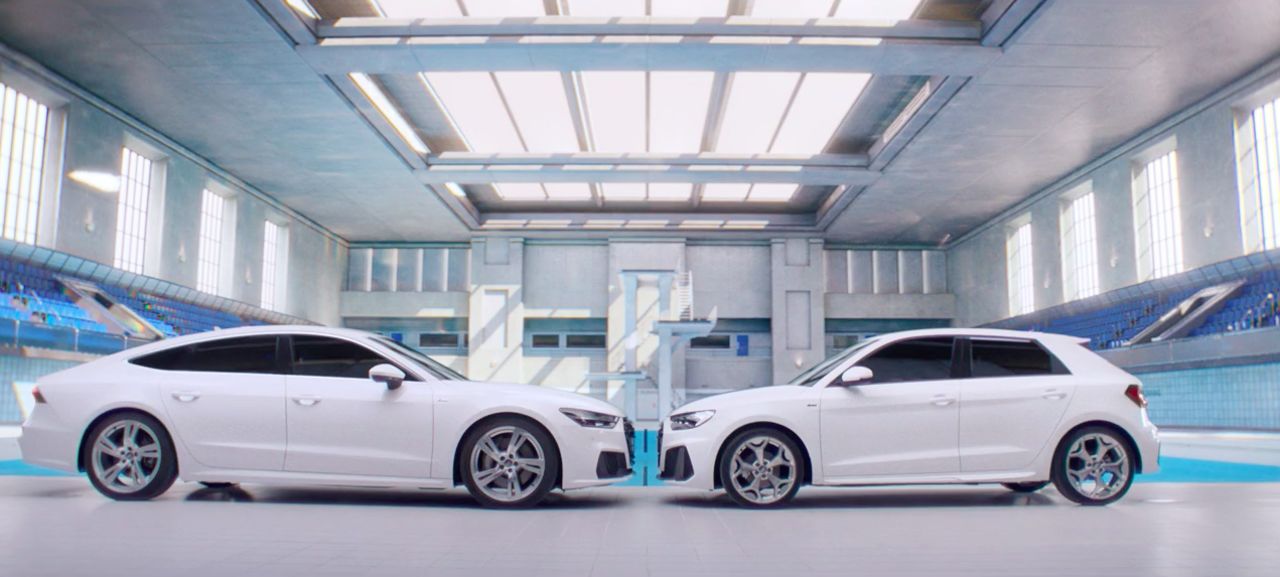 What was your reaction on receiving the script? What sort of pre-production challenges did it throw up?
Johnny Hardstaff: With such an elegant and deceptively simple script, we knew the end result had to feel effortless. We also knew that to get to 'effortless' was going to be anything but. Gina and Freya, along with the wider team at BBH, brought the clever creative and inevitably I, making it all the more difficult as directors customarily do, brought the water. Tens of thousands of litres of water to be imprecise.
On one level the project was all about precision; synchronisation - timing - mirroring. [Independent Films producer] Verity White meticulously did the maths. We knew that an Olympic sized swimming pool was too small for two cars to drive in. We knew deep down it was a build, but not wanting to leave any stone unturned, we scouted 49 countries looking for oversized pools we could drive. None were right but the research proved invaluable. We became swimming pool experts.
Some stunts, like the jump that features at the end of the spot, we only had one shot at.
Above: behind the scenes images from the shoot, courtesy of Northstar
Throughout, I imagine, Radioaktive Film in Kiev were patiently expecting our call. So when we hit them up with hugely ambitious plans for a vast oversized swimming pool construction project they swiftly found us an ice hockey stadium that could just about accommodate us. Had the pool needed to be just one metre bigger, we would have been lost for a location to build within. It was a perfect fit. Radioaktive's smart-as-a-whip producer Olya Kosenko and Vova (Vladimir Radlinskiy) ran with elaborate plans from UK production designer Alex Marden, and over the course of two Christmases and three New Years (the Ukraine and the UK don't share holidays) Vova's Ukranian art department tirelessly refined, tested and machined the tiled pool, constructing it off-site.
How much CGI was involved versus in-camera action?
JH: Back home, we got wet and cold on Midlands airfields testing the Audi A1 and A7's behaviour in different volumes of water, and The Mill began the long and really rather brilliant job of interpreting our research and starting to concept and build what would become a hugely impressive 3D CGI swimming pool environment. The brief was simple; everything above the blue tiled pool itself had to be 3D and yet feel unquestionably real.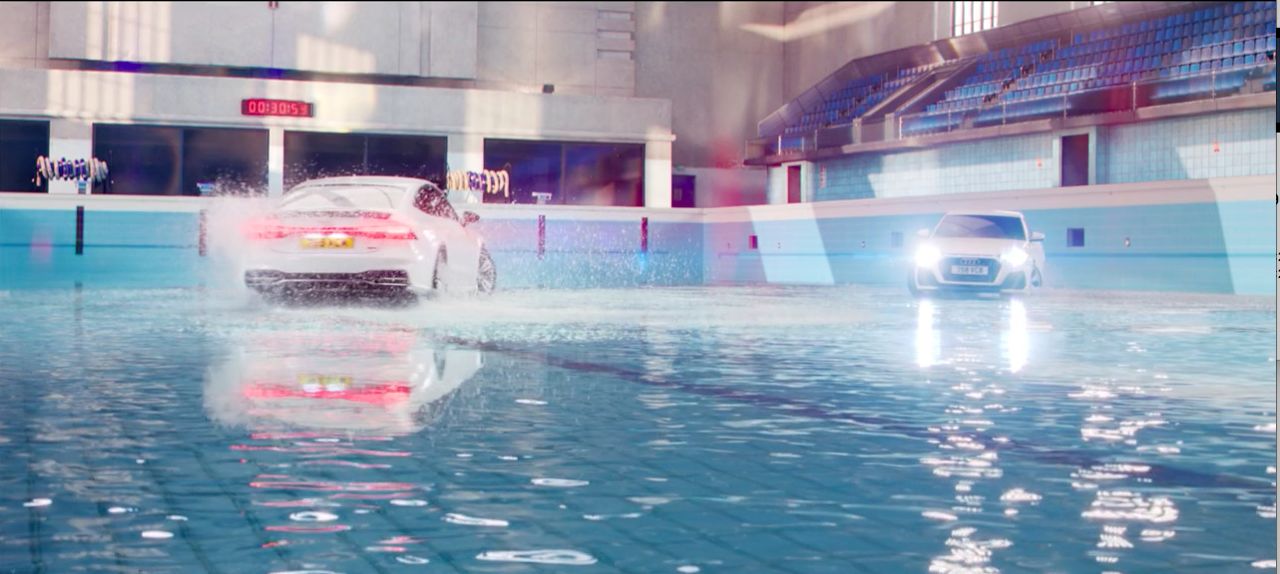 Tell us about the shoot itself. Did the cars perform as expected in the pool? Were there any nail-biting moments?
JH: On Ukranian New Year's Eve the crew were deftly re-assembling the huge pool in central Kiev as DOP Martin Ruhe's team constructed one vast soft-box running its entire length. Driver extraordinaire Paul Swift and the Audi team flew in, everyone assembled and we turned up on our test day to find the most stunning swimming pool awaiting us. All of the careful research had paid off. Independent Films had seemingly thought of everything. Radioaktive were all over it. Audi and BBH were prepared. But of course like anything bordering on the impossible, there had to be an element of chance. No one had seen the cars perform in the tiled pool.
Meticulous planning buys you the confidence and trust to craft a process that is in fact rich in joy and play and experimentation.
Hearts in mouths, we watched as the Audis were put through their paces, stunt after stunt. Some we tried again and again. Some, like the jump that features at the end of the spot, we only had one shot at, and its full credit to the instinct of BBH producer Matt Towell that we got to do so. Beyond all that precision, on another level this project was all about joy. So why take such a super-diligent approach to the production process? Not simply because we were making the non-existent existent, but because the joyous tone we were chasing needs a very particular process.
Meticulous planning buys you the confidence and trust to craft a process that is in fact rich in joy and play and experimentation. If you're to capture the lightness we were chasing, then you have to be able to just get your hands messy and try things. The pool became our play-box. We experimented. Some things worked. Some moments blew us away. Just one or two failed. We problem solved. We pulled together. We got on famously. We had a ball.
It took two smart BBH women to write an open goal. It took tens of thousands of tiles, untold litres of water, hard science, automotive steel, extensive VFX genius and flare (sic) from The Mill, sheer guts and hundreds of skilled craftsmen and craftswomen to get that ball over the line but the result I hope speaks for itself. What's it saying? 'Effortless' - of course.