Craft
Ninian Doff on teaching dogs to drive
The Pulse Films director talks us through the making of his Chemical Brothers music video, plus fills us in on the barnstorming premiere of his debut feature at SXSW.
If there's one thing Ninian Doff can't be accused of, it's a lack of imagination.
From Bond-aping dance-offs to macro-lensed frisky business, the Pulse Films director's music videos, shorts and commercials have showcased an impossibly rich and varied filmmaking talent and inventiveness.
In his latest promo, created for the Chemical Brothers track We've Got To Try, Doff tells the tale of a hapless dog being trained up for space exploration, by way of a nifty bit of race-car driving with natty bionic arms.
Created in collaboration with Wieden+Kennedy as a tie-in with Formula 1, the vid's glorious excesses and considerable craft meant that we grabbed Doff, freshly flown from SXSW where his debut movie Boyz In The Wood won an Audience Award, to chat about the making of the vid and his latest adventures.
Unlock full credits and more with a Source membership.
Show full credits
Hide full credits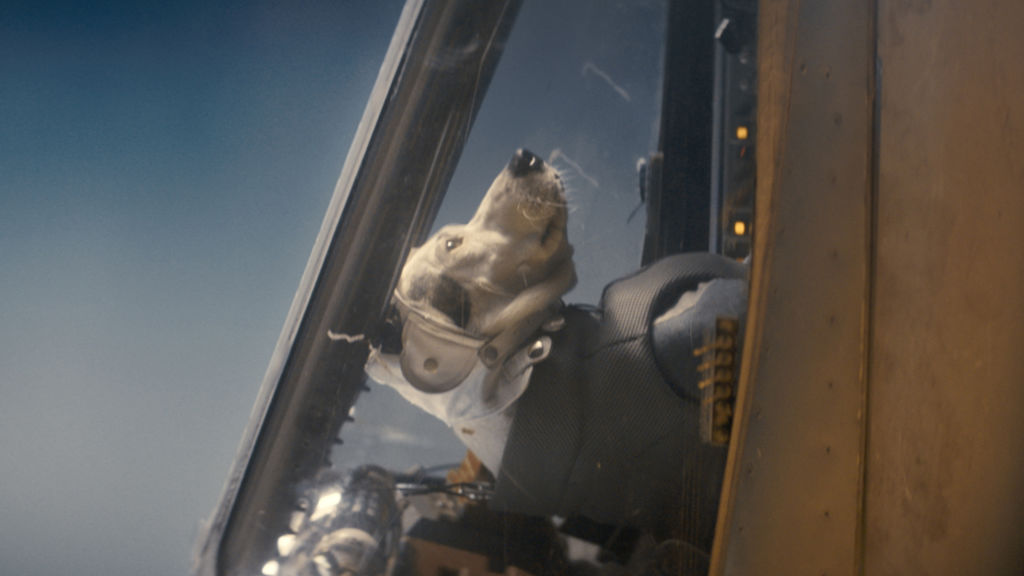 How did you get involved in the We've Got To Try video?
Although this video has a lot of partners involved, the initial approach was through video commissioner Ailsa Robertson at Virgin EMI. The only unusual element of this pitch was the rather juicy fact that I was told I had access to an actual F1 car and driver as part of the video. Not too many music videos pitches have that little nugget thrown in..
What were the biggest challenges in pre-production?
Well, there was this tiny detail of me wanting to shoot a dog driving a car simulator then actual F1 car then space rocket. I'd say that raised quite a few discussions. The thing is, I already had worked with trainer Charlotte Wilde and knew she had this dog called Shadow who literally flew a plane (I'm not kidding, look...), so I was kind of relaxed about it all.
I definitely heard the words "I'm sorry what did you just say?" more often on this job than ever before.
Ellie Fry, our fantastic producer, took a photo [see below] during a meeting. I just love how normal it all became. I'm so matter of fact. It's kind of a perfect representation of how normality shifts on what people seem to be calling 'Ninian' jobs I guess.
Big shout out to production designer Mark Connell and his incredible team on this. Some serious dog physiology was learnt during this job to get Shadow comfortably sitting and literally driving an actual working F1 car simulator whilst wearing robot gloves all in camera.
God bless that dog.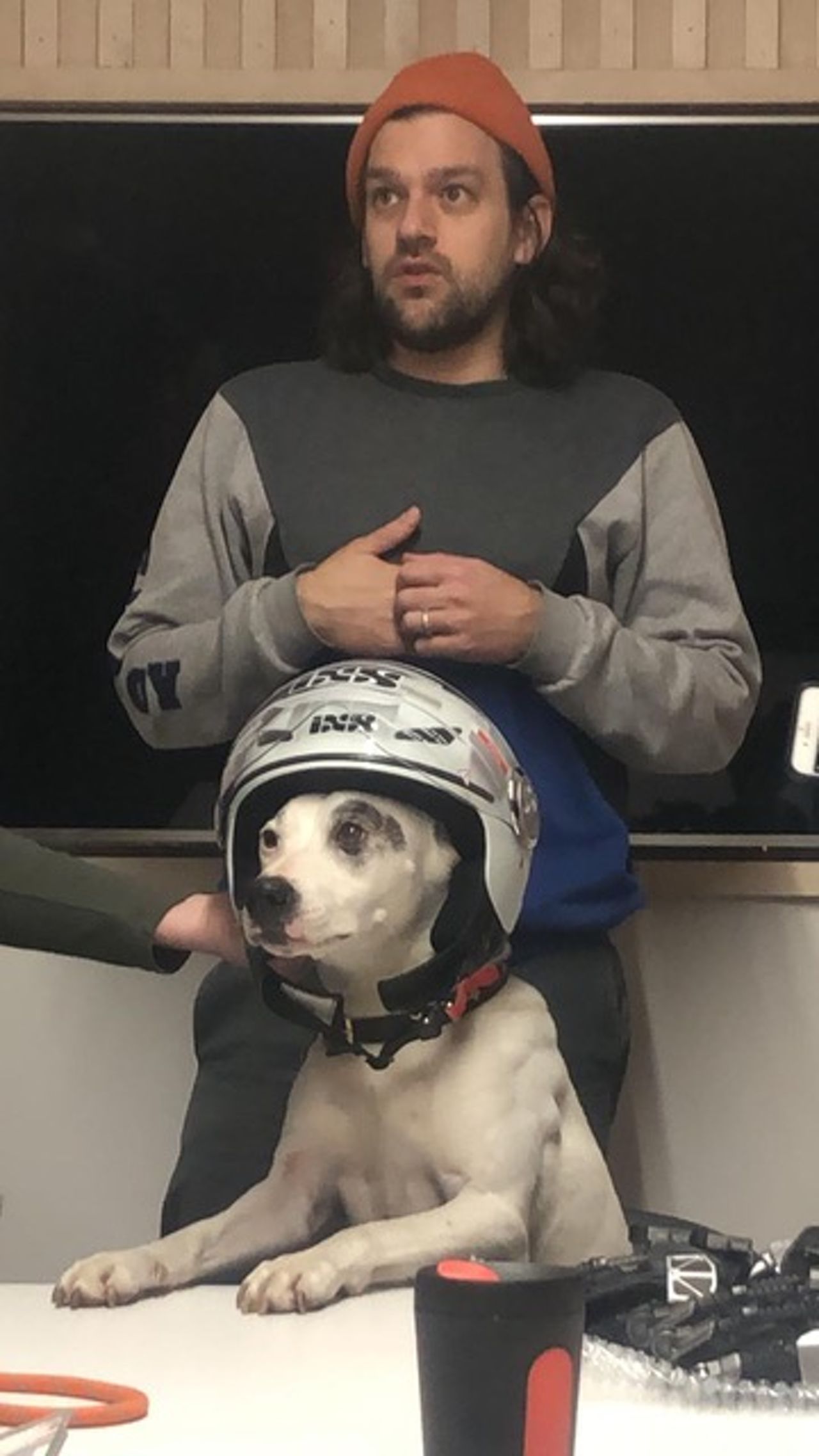 Above: Doff and dog in a perfectly normal production meeting.
How was the shoot? There were quite a number of locations/sets for a music vid - was that tough to coordinate?
The shoot was a classic music video shoot: utterly brutal and totally brilliant. I think I'd be worried if a music video didn't shoot feel like that. We had a decent amount of time: a day on the F1 track, a day in the lab/mission control location and a day on green-screen. But this was still extraordinarily ambitious, so the days were as packed and non-stop as ever.
What was your favourite moment on the shoot?
It was pretty much wall to wall highlights. Day 1: just getting to shoot a F1 car which is a kinda mad privilege. Day 2: that goosebumps feeling of seeing your mad idea turn into reality with the dog in those set pieces.
I also had a lot of fun shooting the Mission Control scenes as we just let the scientists improv and almost shot it like a doc (my favourite piece of direction was when I grabbed the lead scientist mid take and said in his ear "fire everyone in the room" and total chaos ensued.) This was my first job with Mauro Chiallo and it was also so beautiful to see his lighting and eye bring this to life.
Then the third day was shooting a space rocket cockpit that looks straight out of Star Wars and flipping DOG PLANET! I mean... pretty good shoot overall.
Above: Some behind the scenes images from the shoot.
How much had to be done in post? Was it fun to unleash your inner-Kubrick with the 2001esque galactic journey at the end?
All hail nineteentwenty who were the post house on this. I'd actually just come off doing the Veg Power job with them and bless them they decided to stay in my crazy world and threw themselves into this. They really pushed this and did stunning work with a brutal final weekend to hit the deadline.
There's the obvious post of the dog driving the F1 car (sorry to shatter your dreams if you thought that bit was in camera) but also tons of subtle touches throughout. Paul O'Reilly our editor had done a fantastic offline edit already but then seeing moments like the astroid rocket sequence come to life in post was amazing.
Then we end on a sort of modern update on 2001 infinite rushing trip out which was built entirely by ninetweentwenty. That was probably the hardest bit creatively as it had to come from scratch and be done in a very short space of time but they smashed it.
The promo features an animal operating a machine with human-like arms - was this a reference, for Doff-fans, to the musical crows in your Fulton Lights breakthrough?
Ha ha, 100 points for your obscure back catalogue knowledge! It's true that my first breakout music video was entirely based around crows with arms but not only that, a good friend of mine pointed out a few years ago that basically everything I made in some way centred around limbs!
After that, I actually started consciously trying to not put weird limb visuals into my work, but I've given up again now and come to terms with it. I clearly have some weird fetish that I need therapy for.
Apart from Girl the Dog, obviously, which celebrity dog do you reckon would be the best driver?
Lassie wouldn't need SatNav as she always knows exactly where to go.
Above: Doff presenting his film at SXSW
You're just back from SXSW where your debut feature film was a fan-favourite in its debut midnight screening, winning the Audience Award. How was that experience?
Insaaaannnnneeeee. Firstly to get the midnight movie slot for the first two opening nights was already amazing, but then for it to pop and get the reaction like it did was beyond my wildest dreams. We got such good reviews, reactions, additional buzz screenings programmed and then the icing on the cake is it won the Audience Award in its category.
By the time you finish a feature film you really have no perspective so - although I was really proud of it - nothing prepared me for the rave reviews the film got.
I'm still totally mind blown and can't quite believe it.
What can we expect from the feature? When can mere mortals check it out?
Set deep in the Scottish Highlands, Boyz In The Wood is an anarchic cocktail of generational politics, hip-hop loving farmers, and hallucinogenic rabbit shites. There's a little teaser scene/preview here. It was the world premiere at SXSW so now we'll see what the next step is distribution wise. It's all very exciting.
Aside from that, what's up next for you?
It's been an epic month but just keeping it rolling really.
Commercials in the pipeline, the odd special music video project and I'm deep in writing my next screenplay.