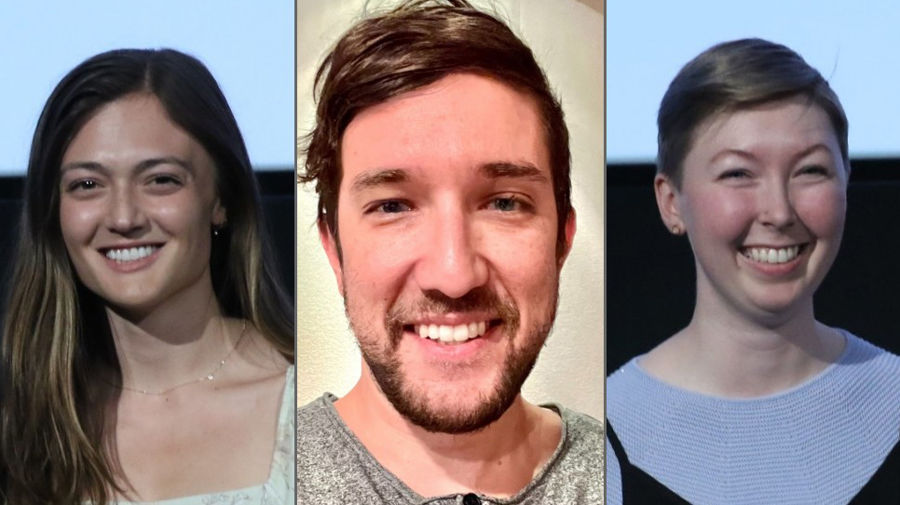 News
Camp Kuleshov competition for emerging artists issues call for entries
AICP Post competition releases source films and sets September 23rd deadline as it acknowledges Grand Prize 'Lev' winners from last year.
The motto "Rising lights tell tales" has been adopted this year by Camp Kuleshov, the annual contest for emerging creative artists in post production, which has announced its lineup of source films for its 2022 competition.
A full rundown on rules, eligibility, fees and key dates can be found on the Camp Kuleshov website. Deadline for entries is September 23, 2022.
Camp K is designed to give emerging talent a chance to heighten their creative and craft problem-solving skills while also gaining access to invaluable mentorship opportunities. The winners of the Camp K competitions in Editorial, Sound Design and Graphics, held in various AICP chapters across the country, will also get a chance to bask in the spotlight of creative accomplishment and become eligible for a chance to win the Camp K grand prizes, The Lev Awards.
The competition is open to junior-level creatives, as well as admin and entry-level employees at AICP member post production and production companies, as well as freelancers and support staff sponsored by member companies. Students and interns sponsored by a member company may also enter Camp K, as well as junior-level employees at music, sound and audio post companies that are members of the Association of Music Producers (AMP).

At the heart of Camp K is the task of taking existing films and re-imagining them as something new and different. In the Editorial category, entrants must choose a film and, via a 90-second trailer, recast it as from a different genre or directed by a filmmaker with a distinctive visual or narrative style. i.e. a political thriller is transformed into a comedy. They can also choose two films from the source list and, via mashup, create a trailer for a completely new film of a different genre.
The Editorial source films are an eclectic collection, designed to heighten the challenge and expose entrants to a wide range of films and genres while ensuring there are selections for a variety of tastes. The list includes the 1953 musical comedy Gentleman Prefer Blondes, the audacious 1967 Mel Brooks hit The Producers, Quentin Tarantino's 2009 war flick Inglourious Basterds and the epic 2019 bomb Cats.
In Graphics, entrants must create an opening title sequence for a movie that never had one or had a weak one, and which conveys their impression or interpretation of the film. Among the source films available are the 1974 classic The Godfather, Part II the iconic 1986 coming of age film Stand By Me and the 2013 Coen Brothers black comedy Inside Llewyn Davis.
Sound Design entrants are tasked with choosing a section of a film and creating an entirely new sound design, with their interpretation of the scene through sound design being noticeably different from the original, while still being entirely original in and of itself. Among the source films this year are the 1935 Fred Astaire and Ginger Rogers romp Top Hat, the 1995 Jackie Chan kung-fu adventure Rumble in the Bronx and the 1998 action thriller Ronin.
As the competition progresses, veteran artists in editing, mixing and graphic design will be available to coach and mentor entrants as they work their way through the creative process. Participants may enter as many times as they'd like, and for any category (each with its own registration/fee). Fees for single Camp K entries $65; three or more entries are $55 each; five or more entries are $45 each, with the discounts applying to either companies or individuals. Any questions entrants may have regarding rules, eligibility or anything else can be directed to campk@aicp.com, and a 'Camp Counselor' will reply promptly.
2021 Lev Winners Also Hailed

As the 2022 Camp K competition gets into full swing, the Camp K committee took a moment to salute the Grand Prize Lev winners from the 2021 competition. The Lev trophies, named for Russian film theorist Lev Kuleshov, are presented to the top entry by category from among the local chapter winners.
Janna Kay Swanson of Uppercut in Atlanta was awarded the Lev for Editorial. Previously, she won in the Camp K Southeast/Southwest competition for her reworking of the 1980 workplace comedy "9 to 5" as "Doralee," an action thriller.
Commenting on her win, Swanson said, "I'm from the South and grew up taking trips with my family to Dollywood, so '9-5' immediately jumped out to me for nostalgic reasons alone." Casting one of the film's heroines, Dolly Parton, as the film's villain came off to her as "a fun twist on her public image of being a sweetheart. It was definitely a challenge to make an evil Dolly! Thankfully, the film gave me a lot of great moments to work with."

The Lev winner in Sound Design went to Tyler Davis of Company 3, also in Atlanta. He previously won in the Southeast/Southwest contest for a scene in the 2011 action drama "Drive" that took viewers into the mindset of the film's protagonist, played by Ryan Gosling. Davis chose a scene where Gosling is slowly making his way through a grocery store, with an ominous sound design creating a palpable sense of tension.

"I drew inspiration from the David Lynch film 'Lost Highway' and 'The Social Network' score by Atticus Ross and Trent Reznor, using analog synths to create complex sounds in place of canned audio from a sound library," Davis said about his entry. "I believe dynamics are one of the most important elements when captivating listeners, so I used that to build tension from the very beginning, but having it come in like waves, until the last, final one crashes and knocks you over."

The Lev in Graphics went to Midwest Chapter winner Lindsey Fisher of The Colonie for their sprightly animated opening title sequence for the 1940 Disney classic "Fantasia," which used the parallel lines of a music staff as a graphic device with which to drive the animation.

Asked what guided their approach, Fisher said "The movie itself did; I pulled a huge selection of colors from the film that I mixed and matched together. The musical staff was also pulled from the movie. My entire process essentially turned into me taking my pool of collected elements and throwing them all at the wall until something stuck."

The Lev winners were announced at a special event held during AICP Week, with both Swanson and Fisher on hand to accept their trophies and cash prizes, presented courtesy of Musicbed. The Camp K chapter winners that were up for the Levs were judged by a panel including editors Chris Franklin of Big Sky Edit, Robert Ryang of Cut+Run, David Rubin of Cutters and Chancler Hayes of Cosmo Street; Sound Designer/Mixer Joe O'Connell of Sonic Union; Foley Artist Katie Waters of NoiseFloor; and Head of Production Landon Cox of Filmsupply | Musicbed. To view all the 2021 Camp K winners, go here.

Supporting all Camp K competitions is Musicbed, an AICP Supporting Partner, which made selections from its production music library available to entrants and presented each Lev winner with a $1,000 prize.