Craft
Josh Miller on His 'Handy' Branded Content Series
We speak to the former ad exec about moving into branded content with his series following a hand model.
Unlock full credits and more with a Source + shots membership.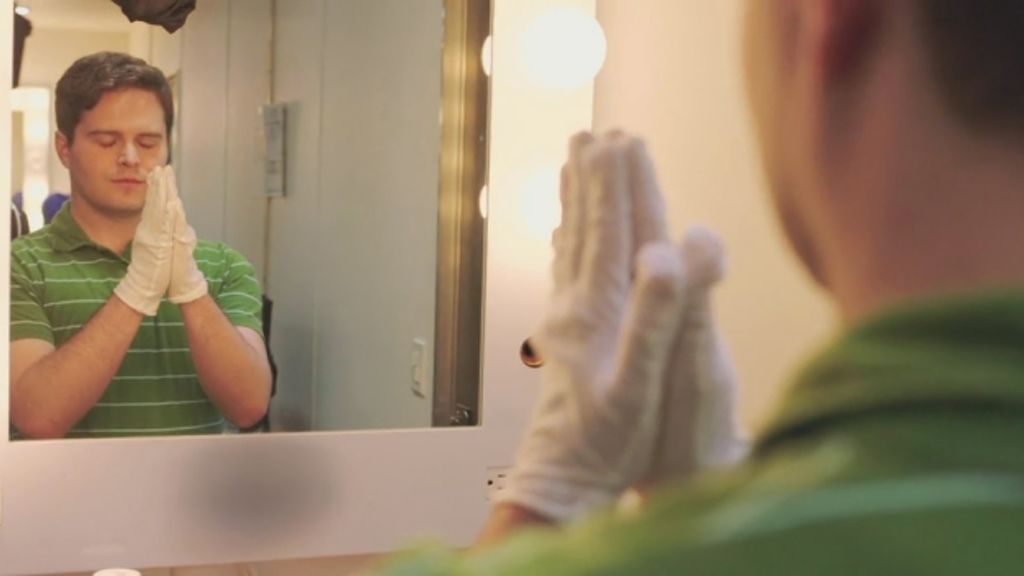 It's one of those ideas so genius that we'll all kick ourselves for not thinking of it. Why not pitch a branded content series that revolves around an actor working in adverts? That way, product placement could be very obvious without ever getting in the way of the story. That's the idea behind Handy, a Comedy Central branded content series that follows a hand model through his various jobs for brands like Casio, Black & Decker and, in the latest film [above], Sabra Hummus.
We spoke to the series' creator Josh Miller about how the series got made, who his dream sponsor would be, and more.
1. Tell us about 'Handy' and how it came to be made
Anyone who's ever worked in fashion or advertising knows, hand models can be very, um… peculiar? They wear gloves, don't shake hands, and flaunt their million-dollar insurance policies. So when I was directing a commercial for Fruit Vines licorice here in Los Angeles, in which a mysterious "Fruit Vines Hand" pops out of unexpected places with licorice, I knew I had to do a piece on the hand model. But I met Erich by chance. My original hand model wouldn't fit in the trunk of a car. That's how I cast Erich. He's short, and he described his skin tone as "Peaches and Cream". I knew I'd found the perfect character.
So I shot the commercial and a behind-the-scenes piece on Erich. We treated him like a star, put him in funny, awkward situations, and documented it. I didn't tell him what I was doing, but he caught on quickly, and joined in, and we created his character, Erick Thomas Layne, together. Everyone asks if he's a real hand model. He is. But the rest of his body is pretty good at acting, too.
The short, Hand Job: Portrait of a Professional Male Hand Model, at 9:44, is an exhaustive - and exhausting - look at professional hand modelling. But I saw it as a branded series early on. In the short, I filmed Erich sitting alone moisturising his hands with lotion. He's contemplative, meditative and serious. It's really funny. That's when I started to scheme… let's get someone to pay for us to do this as a series.
Hand Job got into festivals (Seattle International Film Festival, Hawaiian International Film Festival, etc), and eventually, with my management company, Principato Young Entertainment, and production company, Kids At Play, we pitched it to Comedy Central as a branded series.
We changed the name, for obvious reasons, to Handy. But Comedy Central Branded Entertainment, namely Beth Trentacoste and Chris Ficarra, have been great champions and partners on Handy from the beginning. We produced two pilot episodes, which Comedy Central and Viacom then used to get other brands on board.
The episodes are a blast to write - and film. It gets super meta. We're a film crew filming a film crew filming a commercial. Everyone's confused for the first 30 minutes, but then it clicks. We're poking fun of advertising and production, actors, hand models, even stressed-out directors like myself. Even clients. Everyone is fair game.
2. You used to be an advertising creative – when did you first become aware of branded content?
I was a writer and a creative director before turning to directing, so I've heard the term 'branded content' for years. But there aren't too many great examples of it. The original BMW Films series stands out because the stories revolved around, and in, the cars. More often than not, "branded content' means 'product placement' or 'sponsored by'. That's not very… clever. Viewers today accept the role of brands in entertainment. There's very little cynicism. So why not embrace that, or acknowledge and even make fun of it? That's what Handy does.
The brands are integrated into the storyline in a humorous, self-deprecating way. It's Erik's job to interact with brands, so it's believable to see Erik chasing his hand modelling dream while handling them on set. It doesn't feel gratuitous because the brand is integral to the story, and the humour.
We can even incorporate the brand's strategy, which is funny. In the Sabra Hummus script, I called the product shot a "dip and scoop". The client's only comment was to say they actually refer to it as a 'Swoosh and Scoop'. So in the scene, I had the food stylist interrupt and correct the director – a big no-no. But it captures the Sabra's passion for hummus. I love it. 
3. Who would be your dream sponsor for a future episode?
Erik needs a bigger, season-long goal of Erik becoming the hand model for a tech brand, like Apple. Samsung or Microsoft. That's the ultimate gig for a hand model, right? Also, a car company. Erik acts like a famous hand model, but truth is, he still drives for a ride-sharing service. ("…to keep in touch with humanity, not for the money.") I can see Erik on set of a car commercial or print ad, or integrating a car across the series. It's Los Angeles, Erik's always in his car.
But honestly, there's a hook for any brand. Our first real brand partner was seafood chain, Joe's Crab Shack. Erik's hand is so tired from 'working out' that he can't crack a crab leg for the product shot. There's drama, suspense, and a little blood. It's a funny way to showcase the restaurant and the food.
4. What is the most important lesson you've learned about branded content from doing this series?
Clients want entertaining messaging outside the traditional :30 format. Especially if they want to reach a younger audience, which Comedy Central attracts. And they're willing to take greater risks, or be more playful, because the stakes, and the budgets, aren't as high. 
On a personal note, I've learned I shouldn't shun my past as writer/creative director. To quote a famous philosopher, Popeye, "I yam what I yam." It's given me a unique perspective and insight into the world of Handy.
Connections
powered by
Unlock this information and more with a Source membership.