Craft
The Rocky road to Ladbrokes' knockout spot
How do you seamlessly update an iconic 1979 cinematic scene to incorporate modern sports people, drummers, horse riders, drag queens, dancers, and gymnasts? We speak to the brand, creatives, director and VFX CD behind Ladbrokes' blockbuster spot about how they went the distance.
There are few movie scenes as iconic as perpetual underdog Rocky Balboa's legendary jog through the streets of Philly, up the Philadelphia Museum of Art Steps 'aka, the Rocky stairs' and through a throng of cheering supporters.
Because of the moment's cultural significance, and its sentimental association with its fans, you'd have to be nuts to attempt to fiddle with its content in an attempt to update and reinvigorate its impact, wouldn't you?
Throwing caution (and a significant VFX budget) to the wind is Ladbrokes with its latest spot, Rocky, which takes the titular character and surrounds him with hundreds of perfectly incorporated extroverts in a seamless blend of original footage and freshly-shot madness.
We were heartily impressed with just how well the trick was pulled off, so caught time with the brand: James Kennedy, UK Brand Marketing Director of Entain; the agency: Jon Forsyth, Acting ECD, and Lloyd Daniel, Senior Creative at neverland; the director: MJZ's Nicolai Fuglsig; and the post-house: Greg Spencer, Creative Director at Selected Works; to find out how they flew strong with the champ.
Unlock full credits and more with a Source + shots membership.
Show full credits
Hide full credits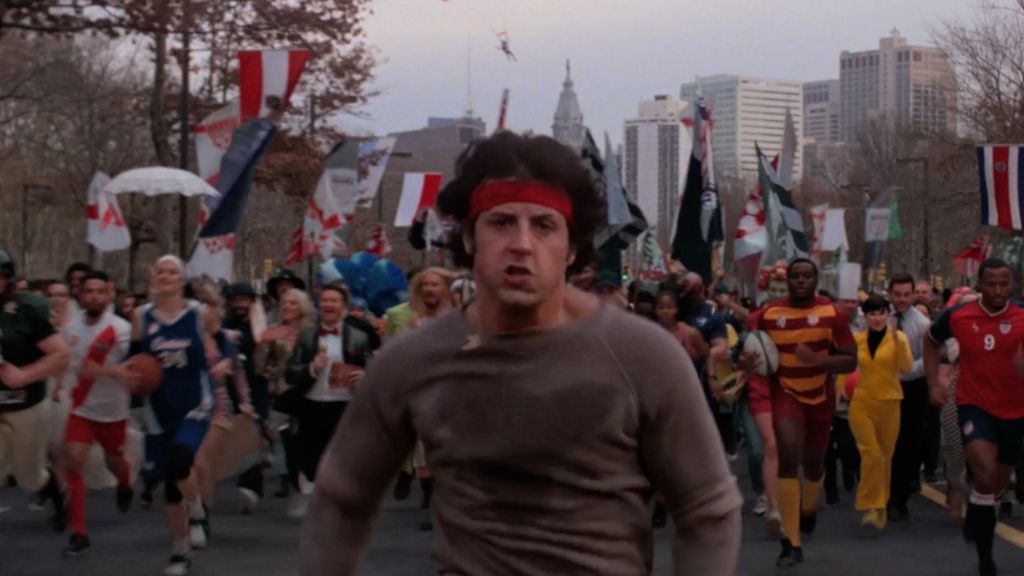 Ladbrokes: James Kennedy, UK Brand Marketing Director of Entain
What was the strategy behind this campaign? Why Rocky and why now?
We're on a mission to elevate the advertising in our sector and move away from purely odds-focused campaigns that dominate the industry. Of course, there's an important role for those messages, but first and foremost we want to entertain our audiences. Rocky is completely different from anything our competitors have put out.

You have to remember we're trying to fight for consumer attention against the likes of Netflix and Apple and this reflects how people want to be entertained.
What are your favourite aspects of the film? What would you hope your customers take away from it?
I love the simplicity of the film. At its heart, it's a guy on a run, joined by others that collectively celebrate doing it together. But when you layer in that the guy just happens to be a film icon, on one of the most famous runs in movie history and joined by a completely unexpected bunch of sports and gaming characters, it's magical. And the message of inclusivity and everyone playing together after a rubbish few years for all of us is a message I feel is perfect for this time.
At its heart, it's a guy on a run, joined by others that collectively celebrate doing it together.
I hope when people see the ad they enjoy it, it makes them smile and makes them feel positive about the brand. I also hope they see it and say "OMG, how have they done that?!"
How is the central film supported? Are there other elements to the campaign?
It's just one part of a much bigger and far-reaching campaign. Rocky is an icon and he is the spearhead for a whole universe of 'World of Play' characters that feature across communications at every customer touchpoint, from digital to retail.
We are also launching a series of digital and social activations to bring this to life. These will include Snapchat Lens-enabled posters which will bring to life characters from the film and invite users to enter the world of play.
Plus, the iconic soundtrack will also be making its way back onto the airways through a series of audio ads.
neverland: Jon Forsyth, Acting ECD, & Lloyd Daniel, Senior Creative
Where did the concept for the spot come from?
A childhood spent idolising Philadelphia's greatest hero. A Hollywood trend of beckoning nostalgic properties. A brand with ambitions as big as our own. This idea came from many places. What matters now is where it's going!
But if you want the full story, it all started with a question 'How the hell do we go bigger than last year?'
Our mission was still clear, to turn Ladbrokes into a global entertainment super brand. So, when in doubt, turn to Hollywood. In this case, it was the likes of Marvel's/ Tarantino's/ DC's cinematic universes made up of rich interlinked characters and properties. This was the inspiration for the Ladbrokes World of Play. But unlike Marvel, we did not have 70 years to build them into the zeitgeist. We needed to hit the ground running with a hero we all already know and love.
And who better to lead the charge than someone who blurs the lines between sports and entertainment: ROCKY!
The scene is potentially one of the most iconic in Hollywood history. Were there any worries that you wouldn't be able to get it and, if you did, you could potentially taint it for fans?
In simple terms, yes. Much like Rocky, this felt like an underdog story. The chances were slim but the possibilities were anything but. We simply had the audacity to ask.
In terms of having concerns about recreating such a famous scene, also yes. We were massively preoccupied about maintaining as much integrity of Rocky's run as possible. This is why we decided to take the far harder path of building our new world around his. We used the original footage, worked with all the existing camera angles, avoided any temptation to smooth out the imperfections of the original film, and kept Rocky just as he was in 1979.
Much like Rocky, this felt like an underdog story.
Hopefully, the die-hard Rocky fans will love seeing their hero's legacy live on, surrounded by an action-packed world of 2022. There are also plenty of easter eggs in there for the super geeks e.g. the two guys next to the pick-up truck in the food market scene are the grown-up versions of the original characters.
Our goal was always to honour the scene and treat it with the respect it's due. We feel like we have really achieved that.
Who do you speak to first on a project like this? The post house or the production company? How did you know it would be possible?
First we had to ask ourselves and our clients, were we prepared to really go for this? To shoot for something so audacious, never done before?
When we decided yes, we set to work finding the best in the business, to make the impossible, possible.
It was a perfect combination of people that gave us confidence. A world-class director (Nicolai Fuslig), known for both Hollywood feature films and blockbuster ads (Sony Balls amongst others). A new, hungry, talented post-production house (Selected Works) that had the brains, bravery and build capability to write the software needed to make the film a reality. A production company (MJZ) that really understands scale and ambition, despite all the unknowns. And of course, we needed the permission of one important A-lister in Hollywood…
When we got that, well, you don't start looking back after that do you?
How were the cast of characters assembled? Was there a checklist of who to include?
The question was asked; 'Who is worthy to run with Rocky?' Our answer was 'Who isn't?'
This film is launching Ladbrokes' World of Play, so to be true to that bigger concept - which will live on for years to come - we wanted to bring the widest range of people into the run as we could. Every style, every character, everyone!
It was an incredible opportunity to create the most varied and unravelling carnival of characters, that even the big computer gaming or iconic sports brands would struggle to do. A true World of Play, the perfect blend of Hollywood archetypes, sporting superstars and gaming mavericks.
Are we going to see a sequel? Please tell me there are plans for people to join Rocky and Apollo on their beach training montage…
As Apollo once said to Rocky; "There ain't gonna be no rematch" (but we all know how that ended). I'd say the legacy of this Rocky ad may have well and truly been set in motion, but for now Rocky has hung up his gloves.
Who knows who our World of Play will play with next?
Unlock full credits and more with a Source + shots membership.
Show full credits
Hide full credits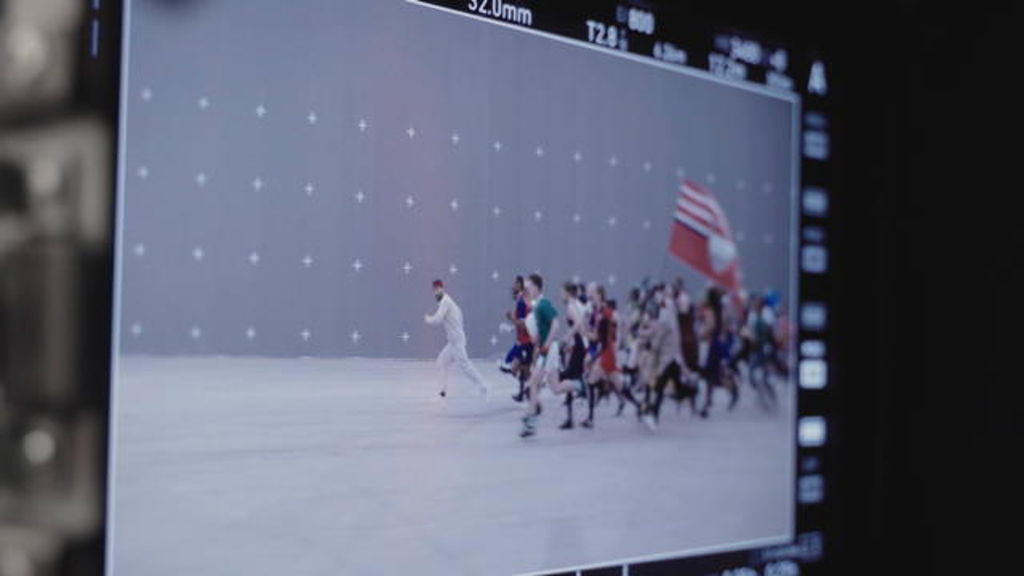 MJZ: Nicolai Fuglsig, Director
Where do you start with a shoot like this? How much did the logistics affect the creativity or vice-versa?
This was a really unique project in terms of its technical demands but at the centre of the spot is Rocky and one of the most iconic moments in film history - this is where everything started from and developing the creative became a process of making sure we carefully balanced and preserved the spirit of the original film, not undermined or diluted it.
Can you tell us how you shot the new crowd? What was the shoot like?
All of the new characters were shot using a pre-programmed wire-cam rig that mimicked the speed, height and framing of the original film. The process of getting to the shoot itself was very intensive but all of the working out we did in pre-production meant that I was able to direct the talent in much the same way that I would normally.
Any issues on the shoot? What was the toughest challenge to overcome?
I think the toughest thing to overcome was remembering that I couldn't tell George [Richmond, DOP] to reframe!
How did you match the lighting and filmic quality of the original?
We were extremely fortunate to have George as the DOP on this project and his incredible attention to detail and careful study of the original film meant that he created lighting which makes the blend between old and new totally seamless.
How closely did you have to work with the post-production team? How did it differ from other shoots?
The painstaking process of tracking every frame of the original 1970's material was the key to unlocking all of the physical elements of the shoot. Selected Works had a mammoth challenge in not only understanding how the camera moved and behaved but also what volumes it existed in and distances it travelled.
The painstaking process of tracking every frame of the original 1970's material was the key to unlocking all of the physical elements of the shoot.
Working back into real world locations that you cannot revisit but have to exist within as they were observed 40 years ago creates all sorts of rules and parameters that you have to accept and adapt to.
Is there a limitation to working with archival (and iconic) footage like this, or does it give you certain creative freedom?
Once you accept you can't change the foundations but you can build on top of them, what may at first seem like limitations can bring unexpected opportunities for creativity and experimentation.
Unlock full credits and more with a Source + shots membership.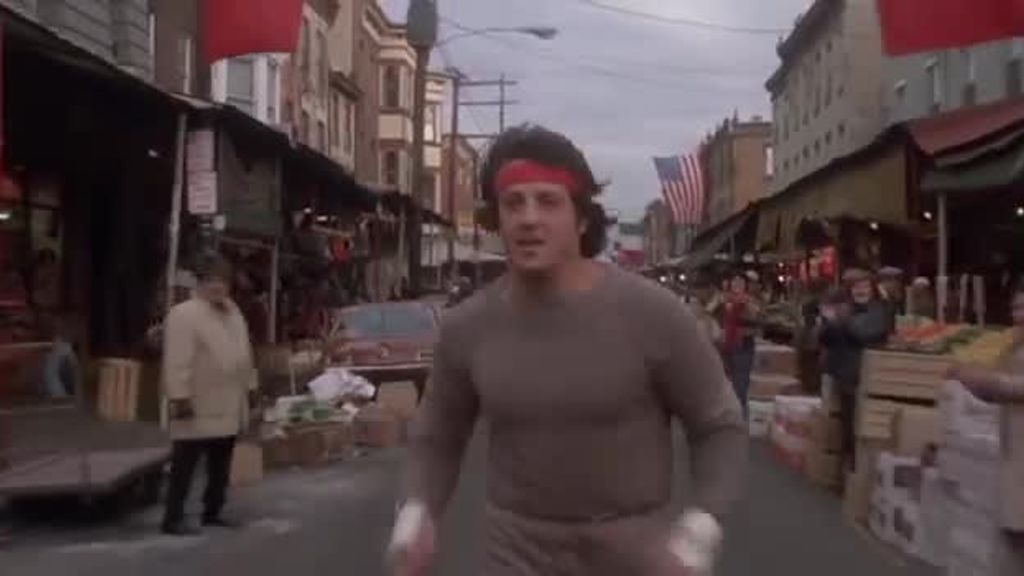 Selected Works: Greg Spencer, Creative Director
Can you tell us about the complexities of putting together a composition like this? What are small details that people might not realise have to be nailed?
In terms of complexity, this is as hard as they come. Nothing like this, of this scale, has been done before.
The final picture must look 100 percent real, so everything is won or lost in the small details. From the shadows of people to the lighting and the way they move around objects in the space, everything has to be perfect.
To us, even the smallest details mattered. We spent an insane amount of time getting hair detail back into the comps, to make it as photo-realistic as possible.
Our favourite two little details though, are how well the woman's hands are attached to the railing she jumps over at the start of the film, and the fact that our hero high-fives someone he runs past in a shot. This took a bunch of takes to nail on set!
Where do you start with a project like this? How involved are you in the shoot?
There was so much complexity in this shoot it's hard to know where to start! We were very involved in the whole project from the beginning. In fact, the shoot could not happen before we had gathered as much information as possible to work out the camera moves and the run lengths.
Firstly, we had to figure out if was even possible to camera track the old footage to extract the relevant lens sizes, camera moves and heights of the camera. As the movie was shot on a steadicam and on zoom lenses, this approach is as hard as it gets. Then we had to try and figure out how fast Rocky was running, so we knew and could match, the speed and distance our crowd had to run.
There was a fair amount of research: measuring streets, finding out the size of cars as well as any other thing we could get an accurate measurement off.
We sent a member of our team to the location of the original film to lidar scan and measure locations as well - though quite a bit had changed over the years!
We then needed to create a reliable camera move solution that was big enough and fast enough to do the required moves.
We sent a member of our team to the location of the original film to lidar scan and measure locations ... though quite a bit had changed!
The other main thing we were worried about was being able to control the lighting. Whilst it can all be camera-tracked perfectly, if the lighting and shadows are wrong it simply won't look right. So, we needed a studio big enough for the full-length runs as well as one big enough to build a proxy of the famous Philly Rocky stairs in.
The last thing we did before the shoot was to remove all the cast from the original footage so we could place our new characters where we wanted to without having to worry about any of the pesky old characters poking through.
We then also were very involved in the shoot days. We had to figure out a way to program the camera moves, as well as we set up a little post-production tent, taking shots from the camera directly as we were filming and making sure each worked before moving on. We worked very closely with the DOP, Director and Production who were all amazing and super understanding of the time required to do a project like this.
What was the hardest challenge to overcome? How was it achieved?
The hardest challenge was probably the fact that Nicolai wanted to film all the cast, in one pass. Usually, the way you'd approach VFX is to break it down into manageable chunks. Considering the number of people we needed to add, the shoot could have taken months if we had followed this approach, so just working out a way to shoot it was a bit of a puzzle!
We had plenty of pre-production time, so by methodically working through the process, the more and more confident the team became that our approach would work.