Talent
shots Unsigned: Max Bach
In association with
For our latest unsigned directing talent interview we speak with Max Bach. Here he talks us through his amusing short Adventure 001: Falconry Experience. We also discuss A Guernsey youth, the trials and tribulations of making a short film, and big plans for the future.
This month we talk with director Max Bach about his short film Adventure 001: Falconry Experience. Bach recently won the Long Advertising Content category at this years Porsche Awards in Ludwigsburg, Germany.

The spot advertises an online platform providing a variety of adventure experiences. The jury loved the quintessentially British style of the film, which impresses with its entertaining quality, gentle humour, captivating charm and a relaxed atmosphere.
Can you tell us a little about your background and your route into directing?
I grew up in Guernsey; a tiny island off the coast of France. Growing up there wasn't all that much to do so, through sheer boredom, I ended up making films for fun. I dabbled in stop-motion Lego films, made animated music videos for Tenacious D's songs using MS Paint and Windows Movie Maker and eventually, I picked up a camera and made a few silly films with my friends.
When I turned 18, I left Guernsey for Swansea University to study Computer Science in the hope of becoming a Games Programmer… however, this was a short-lived dream when I came to the realisation that I hated Computer Science. In fact, the only bit I enjoyed was creating the ideas for the games; the characters, world and story behind them. With the intention of changing career paths, I looked back on what I enjoyed doing when I was younger and I remembered my days of making silly films, that's what I wanted to do.
Unlock full credits and more with a Source + shots membership.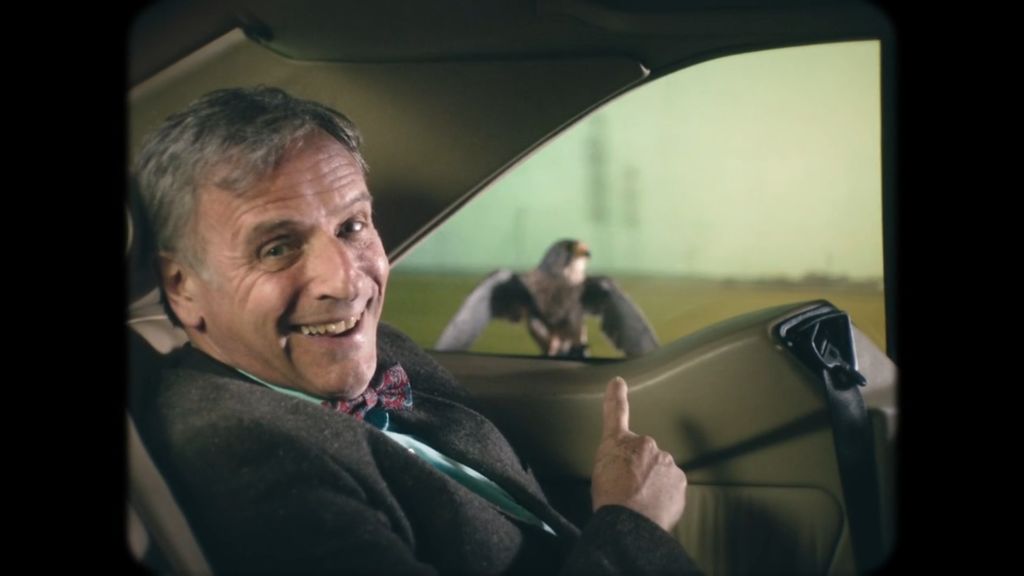 Would you say you have a directing style? And if so, how did you arrive at it?
I think my style has developed overtime from watching various forms of media, soaking it in and latching onto ideas that I like. I've been equally influenced from watching a two-minute YouTube video as I have watching a three-hour film. However, I'm definitely drawn towards comedy and finding ways of elevating a joke using visuals.
I'm definitely drawn towards comedy and finding ways of elevating a joke using visuals.
Did you study filmmaking? Where did you learn your craft?
After Swansea, I went to study Film and TV for three years at Royal Holloway. I was introduced to a whole new world of cinema with films like; Fallen Angels, The Cook, the Thief, His Wife & Her Lover and Days of Heaven but I never really got the chance to work on anything practical.
Then I graduated in 2020 and the world had gone to rack and ruin. Feeling a little lost, I decided to carry on my education in lockdown by reading a bunch of books on screenwriting and filmmaking, watching and studying an unhealthy amount of films, TV, music videos, short films and commercials and making some spec ad's in the form of crappy animatics. Then in late 2020, I applied to the NFTS Directing Commercials course and I got in.
The NFTS is where I really developed my craft. They taught me about everything that goes into making a commercial; from making treatments to working with actors and everything in between. Then, the chance to work on three commercials through every stage of production helped me figure out how I liked to work, and what kind of films I want to make.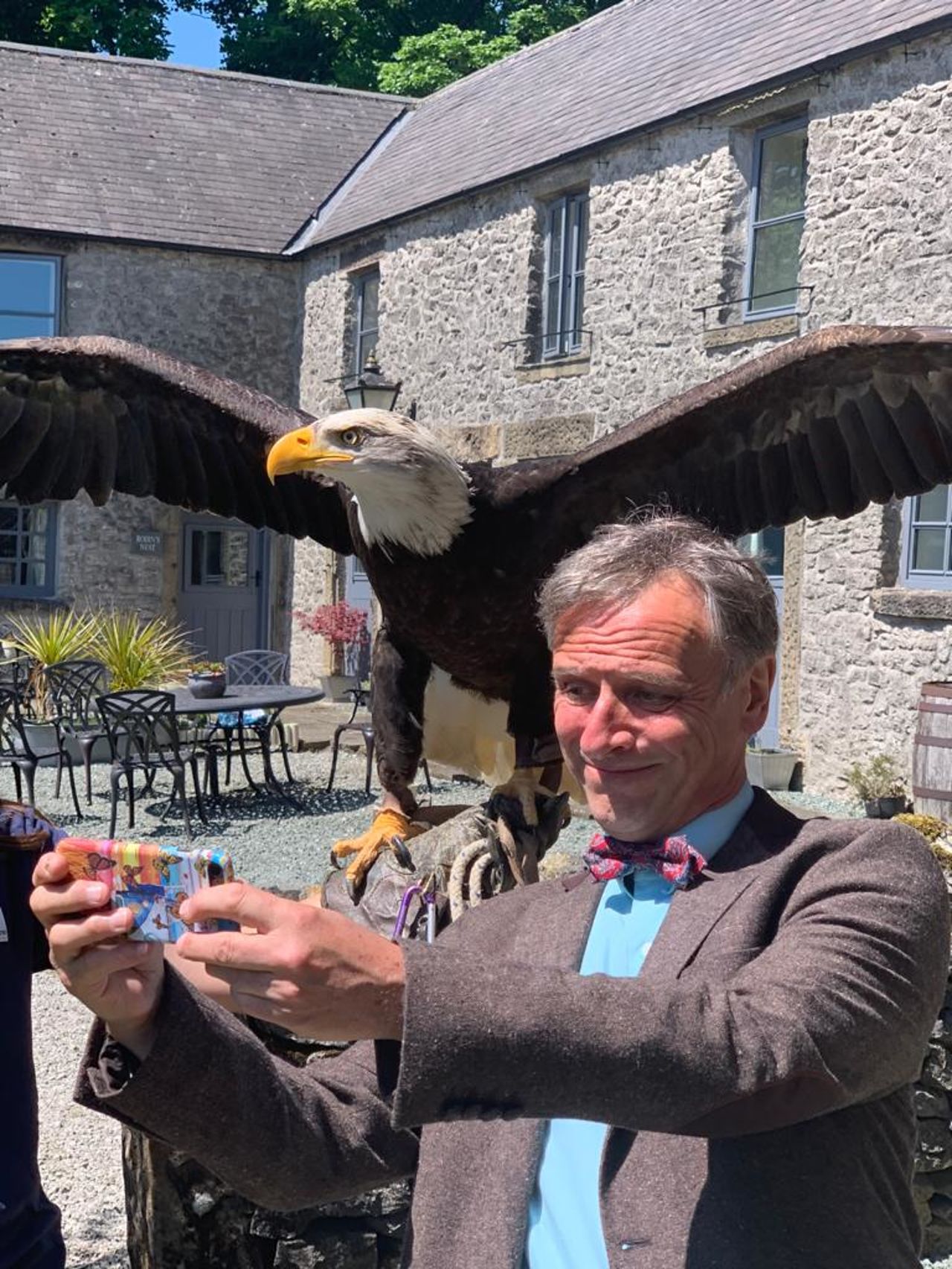 ABOVE: Behind the scenes on the shoot.
What was the inspiration for Falconry Experience?
When I first saw the brief I was honestly a little stumped. The brand specified that they wanted something "fun and educational", which eventually led me to start thinking about old educational kid's shows from the '70s. A visual of a presenter like Bill Nye/Mr Rogers sitting in a chair, reading us some fun facts about birds popped into my head and I had my eureka moment.
I then developed the idea from there, drawing on additional references from films like Paddington 2, Amélie and Moonrise Kingdom.
What other directors' work do you admire?
I'm a big Edgar Wright fan. I distinctly remember in 2010, after watching Scott Pilgrim vs the World, I stole my dad's camcorder and tried to remake the film from memory; there's probably footage of me pretending to punch myself and turning into coins somewhere out there.
Dougal Wilson has also been a big influence for me. He consistently produces outstanding work, and the fact he can make you cry over a penguin in two-mins is a testament to how good he is.
I could probably name another hundred directors whose work I admire but I'll whittle it down to eight; Spike Jonze, Paul King, The Daniels (counting them as one), Oscar Hudson, Ian Pons Jewell, Terry Gilliam, Ninian Doff and, most recently, Aube Perrie.
ABOVE: A zoom call with a bird...
Where do you find the inspiration for your projects?
Everywhere and anywhere. Besides watching a lot of stuff, I enjoy walking around and people-watching. Often I come up with ideas due to the awkwardness of my own day-to-day life, like a short film I made for Straight 8 about a guy who sneezes in his hands and has an anxiety-filled nightmare looking for a place to wipe his hands… this didn't happen to me exactly, but the real story wasn't too far off!
What were the biggest challenges you faced in pulling this project together?
Other than dealing with birds and working on a tight budget, the toughest challenge we faced with the film was discovering all of our sound from the day was corrupted, gone!
Myself and the editor, Donya Maguire, ended up trying our best to sync up our voices to the edit… which was a very strange sight to see and hear.
We then got our narrator, Richard Vranch, into a recording studio for a day to re-record all of his lines, and he absolutely nailed it. Finally, with the help of the sound design wizard, Itzel Gonzalez, we matched up the dialogue as accurately as possible and in the end, I think it's pretty unnoticeable!
How long was the shoot and what was the most challenging aspect of the project?
The shoot was one day, which actually went very smoothly. I'm quite an anxious person so I made sure to prep the film as much as possible with storyboards and a crapamatic (which is like an animatic, but more crap). Thanks to this, going into filming we pretty much knew exactly the shots we needed to get and how long they needed to be.
Occasionally they would try to fly off and, because they were on a leash, they'd end up hanging upside down flapping about for a bit.
Perhaps the most challenging part of filming ended up being the birds. Occasionally they would try to fly off and, because they were on a leash, they'd end up hanging upside down flapping about for a bit. However, their trainer, Carly Inskip, did a great job of calming them down and getting them back on track.
ABOVE: Behind the scenes on the shoot.
What have you learned during the process of making the film?
So much. The falconry film was my first time directing with a crew, so I learnt the importance of collaboration and making sure everyone is comfortable on set.
Additionally, I realised how important prep is and making sure that our sound is recording!
What are your hopes and plans for the future?
To keep making cool stuff!
I'd love the opportunity to work on some fun commercials going forward, but currently, I'm gearing up to make three micro-shorts, and I've also been planning a music video for a local Guernsey artist that we're hoping to film this winter!
Take a look at Max Bach's shots Unsigned page here.
You can check out some of the amazing work put out by unsigned directors in our monthly shots Unsigned Showcase, here.