Inspiration
Selina Miles: A Few Of My Favourite Things
We speak to the Bindery director about her love of analogue, the art that tells her story and the camera-department-enraging way in which she stores her kit.
Australian director Selina Miles is well-travelled, having worked in over 20 countries worldwide, with representation in New York (Bindery), Sydney (Scoundrel), Paris (Art Bridge) and London (MindsEye).
Starting off as an editor, Miles' ability to direct content featuring non-actors and ongoing interest in crafting compelling docu-style films has seen her work for brands such as JD Sports, Pepsi, Red Bull and Ubisoft as well as create her own award-winning feature documentary Martha.
We caught up with her in lockdown to see what she keeps around her home office.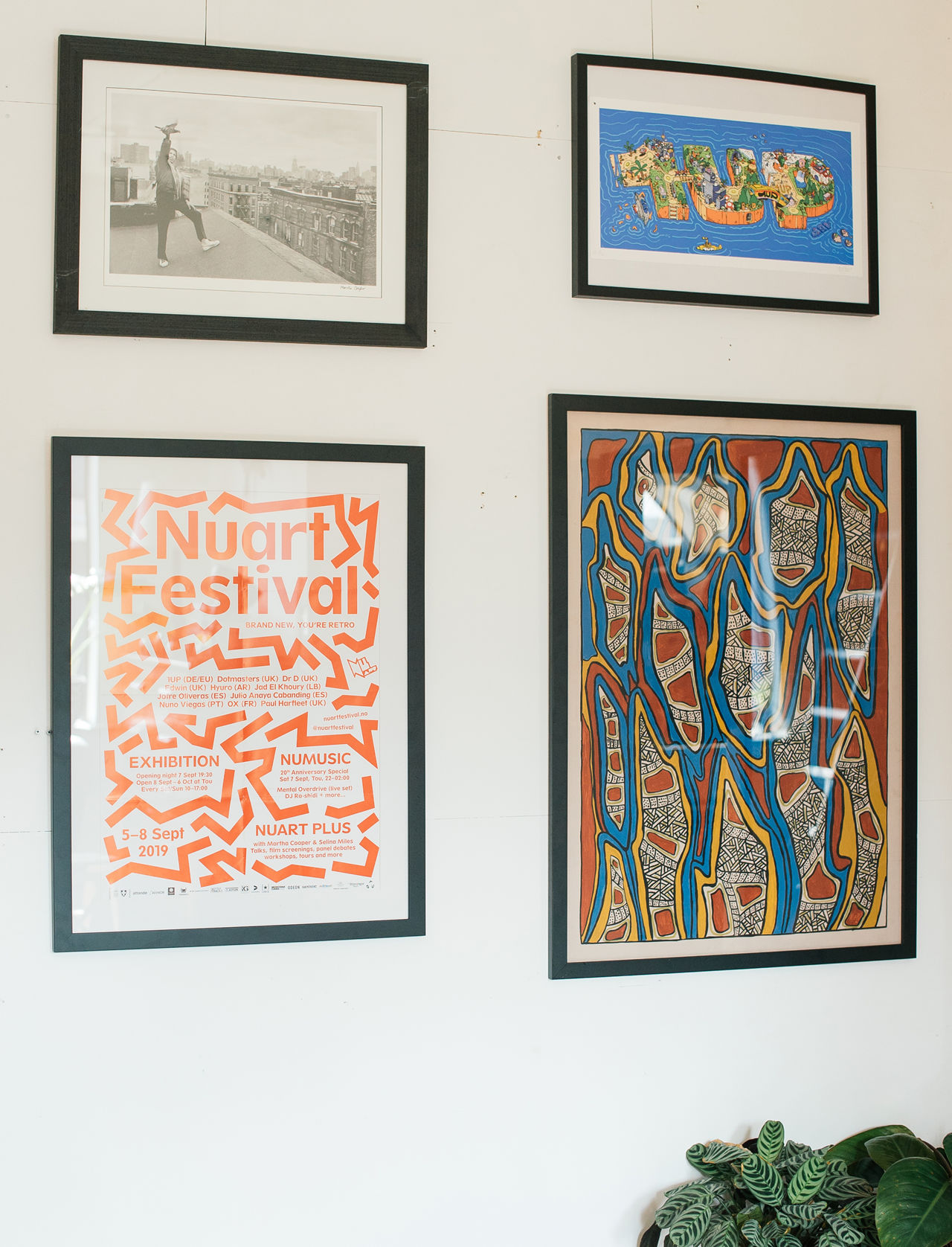 The Art
My career really started gaining momentum when I was about 25, and for the first five years I was travelling full time and living out of a suitcase, with very few possessions, and no permanent address.
It's nice to have finally landed with a studio in Sydney that I can call home.
Each piece of art on the wall has a story, and links to a project somehow. Many are gifts from friends.
It's inspiring to be surrounded by the work of people I've met along the way.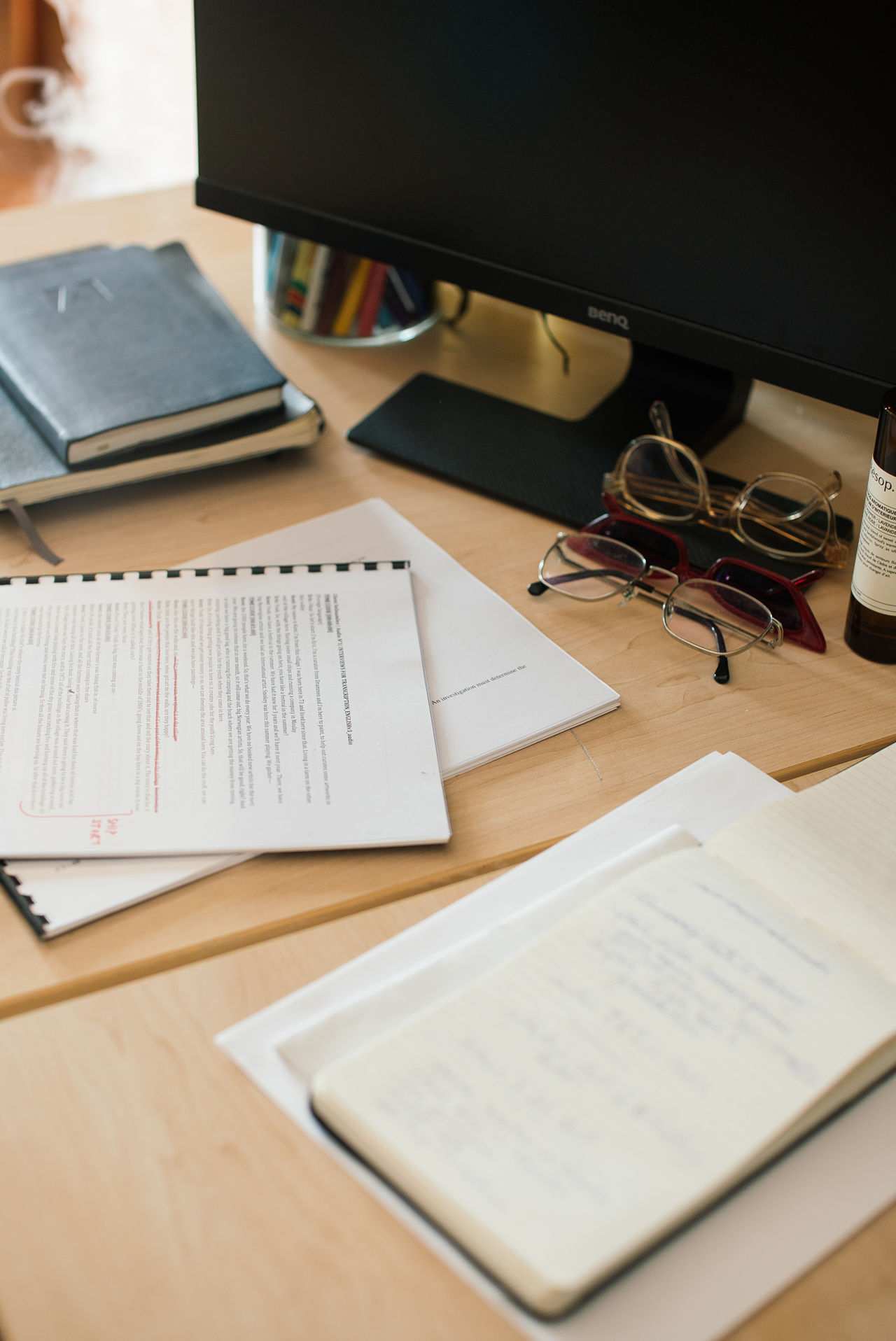 The Notebooks And Transcripts
I'm an avid note-taker, and more recently I have gotten into paper cutting for doc, something that I first learned working on Martha.
Having started in short form and online content, I had never really relied on paper cutting, and at first it felt unnatural and counterintuitive, but now I realise it's an effective way to quickly assemble and shape a story without being distracted by the limitations of your material.
Once you have the story right, it's amazing how you can bend the material to suit. I'm definitely a convert in that aspect!
As environmentally aware as I'm trying to be, I do still really enjoy working with printed transcripts, and love the process of taking these to a cafe and getting lost in the possibilities when starting out on a new edit.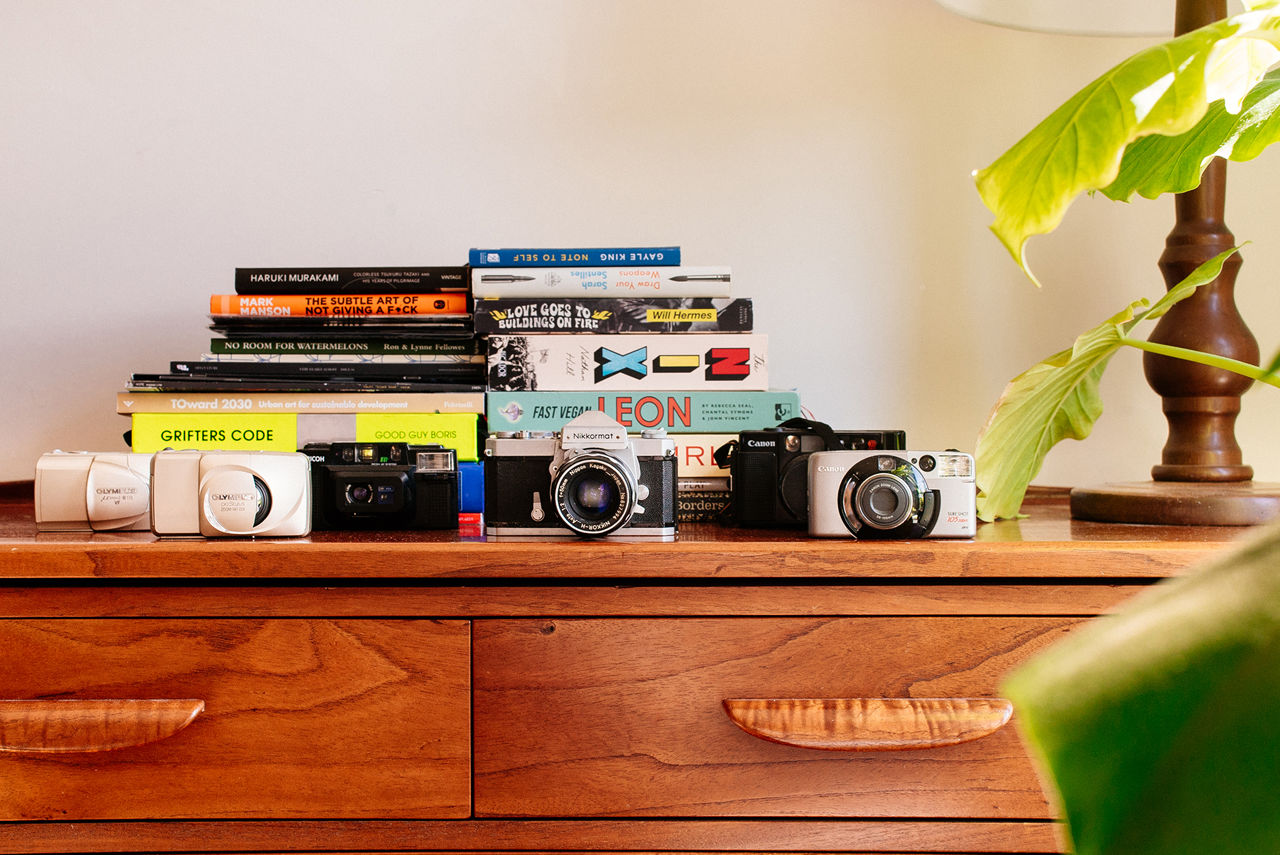 The Analog Collection
I still shoot a lot of graffiti and street art in my spare time, and compact 35mm cameras are perfect for this – you can chuck them in your pocket and grab those moments that would be missed by a bigger setup.
Most of these are fallen soldiers, having been broken on one mission or another.
The books are mostly a mix of photo books from friends, and cookbooks.
This year, around the time of the awful Australian bushfires, I switched to a plant-based diet, almost entirely for environmental reasons.
I mostly enjoy it, but can get a little tedious.
A few good cookbooks have really helped ease the transition.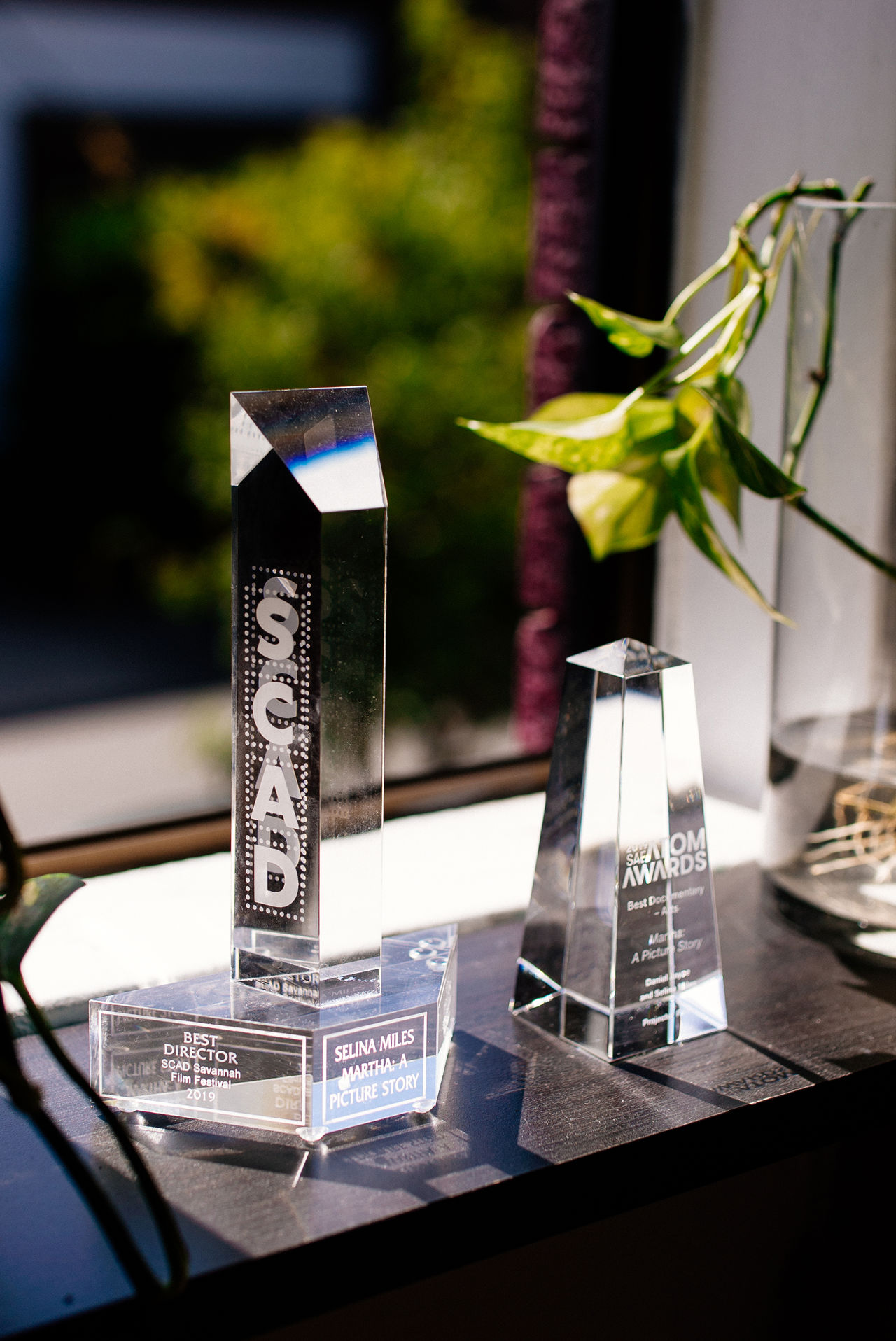 The Awards
The first two awards we won for Martha were both of these clear, prism-like objects.
I keep them on the windowsill and they cast rainbows all over the studio.
I'm super proud to see how well the film was received.
It's great motivation to keep these in sight while developing the next project.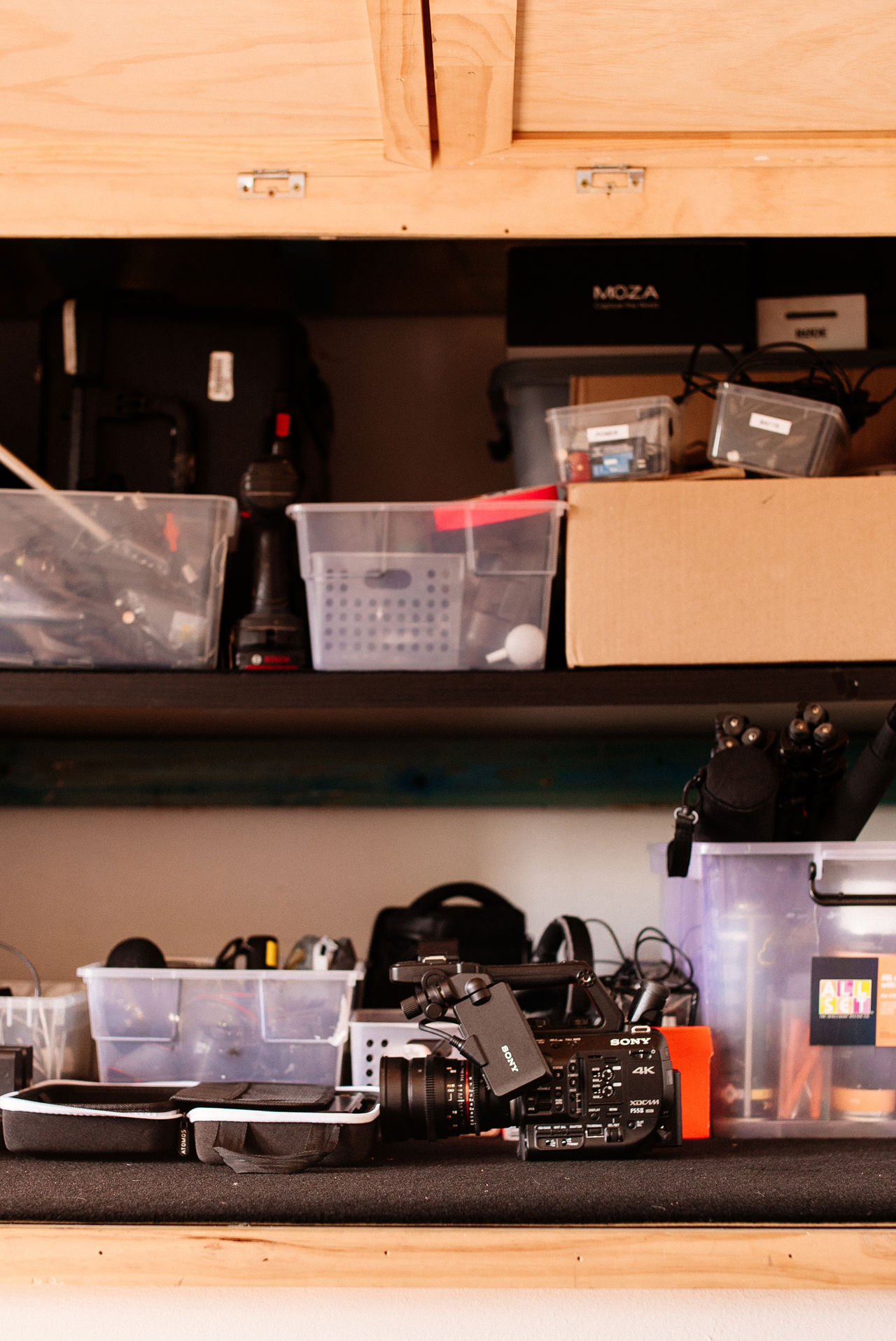 The Gear
Most of my camera department friends have a conniption when they see how I store my gear!
It gets used so often that it's a constant mess.
Being able to self-shoot has been integral for me, especially on Martha, where I shot about 50% of the material that made it into the film.
Lately I've been shooting on a Sony FS5 with the Atomos Shogun, which allows ProRes RAW recording. I think you can achieve a really professional image from such an affordable and lightweight setup.
Being a director who also shoots and edits has been a huge advantage for me over the years, and has removed many barriers to getting my passion projects made.