Craft
Sam Huntley takes us back to the world of Zoomer
We speak to the UK-based director as he returns to the Kansas setting of his 10-year-old documentary for a follow-up.
Ten years ago, filmmaker Sam Huntley introduced us to Mary DeBoutez Zellmer-Fenoglio, the too-good-to-be-true madcap owner of Kansas roadside nik-nak repository Zoomer's Treasures. His feature length doc, titled Zoomer, was a hilarious and heartfelt portrait of a true American individual.
To mark the decade anniversary, and to catch-up with his friend, Huntley made the trip back to Pittsburg with camera in hand to shoot a follow up - Zoomer's Treasures. Combining older footage with the newly filmed material, the film, now in its editing stage, aims to bring the audience up to date on what's happened in Mary's incredible existence.
Following a teaser film (brilliantly referencing Robert Zemeckis' Used Cars), we caught up with Huntley to chat about his trip down memory lane.
Unlock full credits and more with a Source + shots membership.
Show full credits
Hide full credits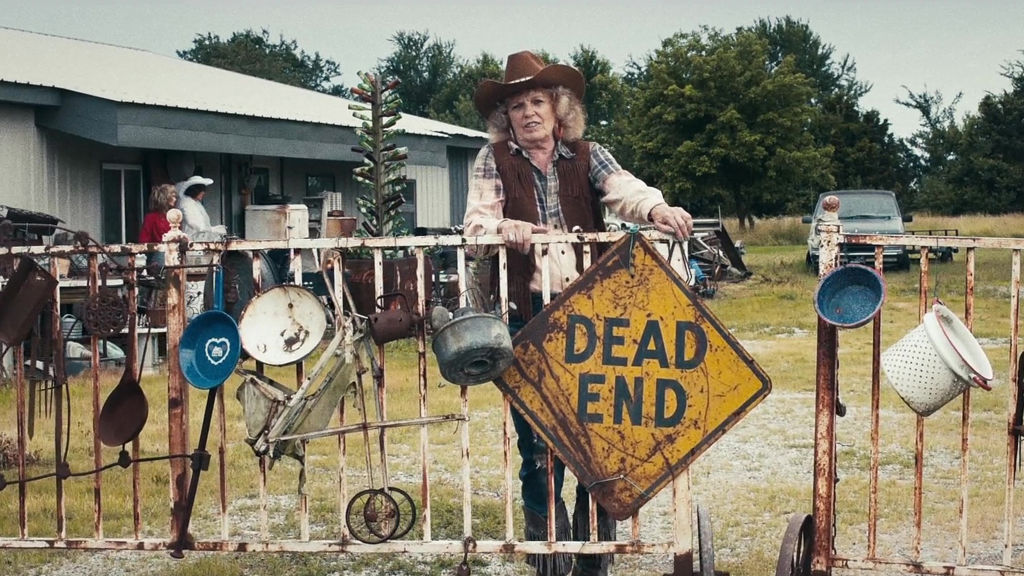 What made you want to go back to visit Zoomer and her treasures?
In a word, Mary. She's without doubt the funniest, wildest, most charismatic person I've ever met so any opportunity to go back and spend time with her can't be missed! But also (scarily) it's the tenth anniversary of when I first filmed her and it just felt like the right time to do it.
We've kept in regular contact over the years so I've watched from afar as her life had gone through a lot of ups and downs; having to overcome a number of personal losses, including the death of her beloved husband Kenny, the economic downturn affecting her once thriving thrift store business, and other events which served to continually frustrate Mary's attempts to move her life in the direction she had always dreamed of. So much had happened over the past ten years, it felt as if Mary was entering a new phase of her life and I thought this would be interesting to explore.
What makes Mary such a compelling character to me is the fact that no matter what life throws at her, she never gives up and always seems to bounce back, and she's been that way all through her life, even when the odds have been stacked against her and again that's something that compelled me to want to film her again.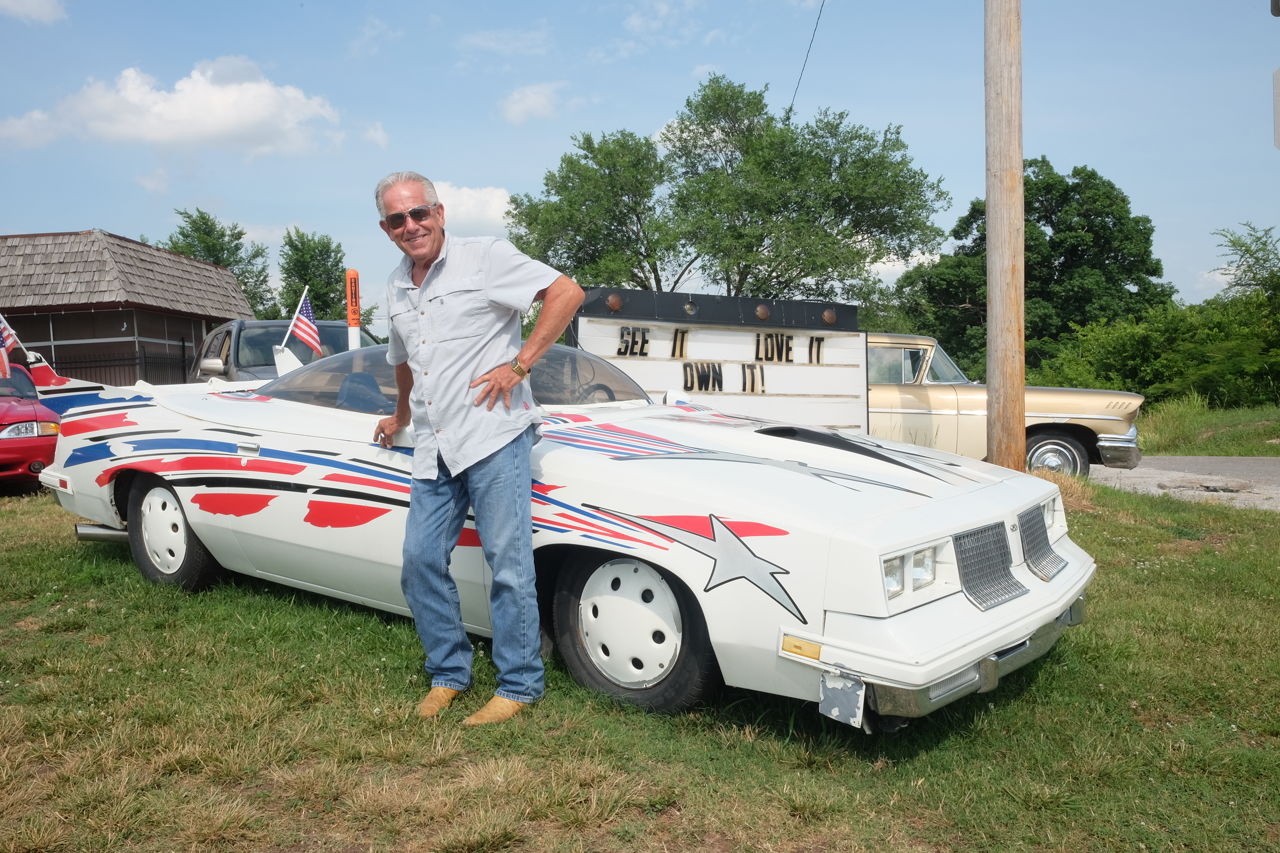 How was it going back? Were there any surprises?
It was amazing! As I say, any time spent with Mary is guaranteed to be fun and this was no different. On my first visit I experienced my first tornado on the very first night I was there which was pretty shit scary, but it kind of summed up everything about making the film, and to some extent Mary's life!
This visit was another full on immersion into the Kansan way of life; meeting a load of amazing characters, going to the karaoke bars, flea markets, diners, the shooting range (shooting a 44 Magnum was a highlight), hanging out on a ranch, strip pit fishing... it was just a really great experience.
But it was also slightly surreal, just knowing what had happened in both of our lives since we first spent that time together, and I was interested to see how that would influence what we filmed. For me personally it's the first time I've ever revisited something I'd filmed before, so apart from the intense feelings of déjà vu, it was interesting just comparing how I approached things stylistically ten years ago to now. Sometimes looking at stuff you shot years ago can be like going over old school work – you feel like your sensibilities have changed and you would do things totally differently if given the chance. I definitely had some of those feelings; I'm sure my style has altered or evolved over that time, but ultimately I still love the original stuff I shot so it was more about thinking how best to combine it with the new footage, both visually and structurally.
I guess the main surprise was that Mary had just recently started a relationship with someone, a local guy called Rusty. In a way it kind of signalled her finally trying to move on with her life after a long period of mourning and it definitely influenced what we filmed and the direction the film took. It very much became about her trying to rediscover her love of life, overcoming any feelings of guilt or doubt and working out what she wanted to do with the rest of her life, and how this contrasted with how she felt ten years ago.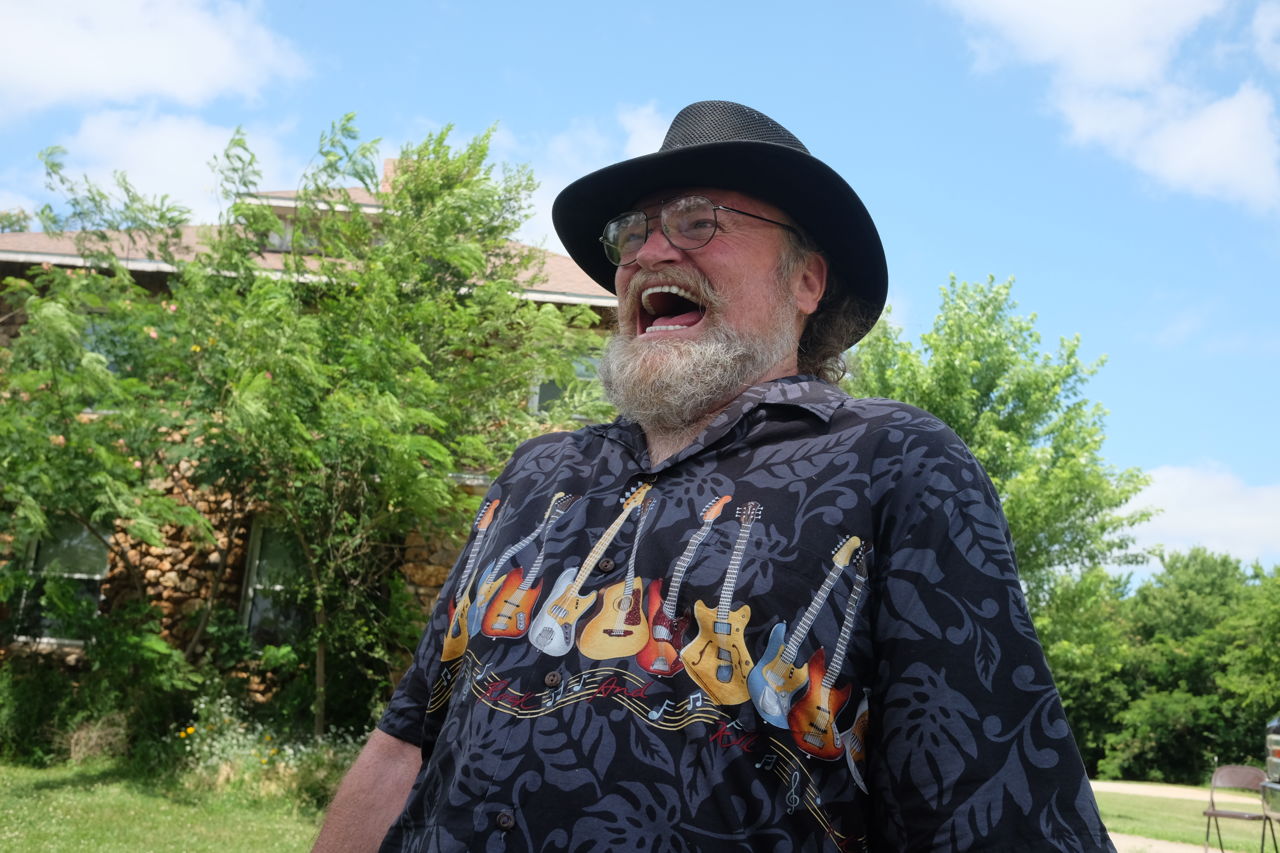 What were you shooting? How did the shoot go?
The original film was very much a portrait film focused on Mary and her life within the confines of her shop and her house; hanging out with her (many) cats, serving some of the typically quirky characters that would come into her shop and looking ahead to retirement with Kenny. It also looked back to some extent at her childhood; dealing with the poverty of the time, her relationship with her dad, losing her mum at a young age and the continuing effect that that all had on her and her brothers and sisters.
But this new film is about someone who's now in her early seventies looking back over her whole life with a new perspective. It's about her trying to understand and accept the stuff that's happened to her, whilst still trying to forge ahead with her own path in life. So whilst I still shot a lot of stuff with her in and around the house, this time the focus was very much more on her life away from home, in tune with her new outlook. For example I filmed her reminiscing with old drinking buddies, hanging out at the diner she worked in as a kid, fishing, getting her hair cut, dancing at the local bar, or eating at Rusty's house. So, as well as still being a portrait of Mary, the new film is broader in scope, encompassing more of the people in her life, her hometown and explores a number of new themes. As someone once described her, "she's the real Miss America!".
On the whole the shoot went great. Given the nature of the film and my relationship with Mary I was working on my own, with no crew, which can be quite taxing – especially in the Kansas heat! Having to shoot, record sound, log rushes...do everything basically is a lot to keep on top of, before you've even thought about what you're shooting and how it'll all fit together, and it's been a while since I've had to work like that. But I actually really enjoyed it. I started out making films that way, and it really forces you to think on your feet and be creative with what you've got.
The 'Zoomer's Treasures' teaser is a perfect example of that. We were just talking about things we could do to drum up some attention for her business and I had the idea of doing a commercial in the style of those great American local store commercials. We both love the Robert Zemeckis film 'Used Cars' and the in-film car lot commercial, so I thought it'd be funny for her to start smashing shit up and taking the world to task for not buying her stuff. That quickly escalated to her shooting stuff, before finally she said "why don't we just blow some shit up?!". So I wrote an outline script, Rusty rigged up some explosives and we shot the whole thing in a few hours (after having had to literally run for cover from an insane storm from a nearby tornado that came out of nowhere!).

Obviously it's great working on a commercial with a crew and more resources, but it's also really satisfying making something completely on your own, and although there's a lot of pressure knowing that it's all on your shoulders whether the film succeeds or fails, it can be a positive pressure. And, for a project like this it's literally the only way it could've worked – it wouldn't be possible to get the footage I got working with a crew because so much of it is just about myself and Mary hanging out and the trust between us.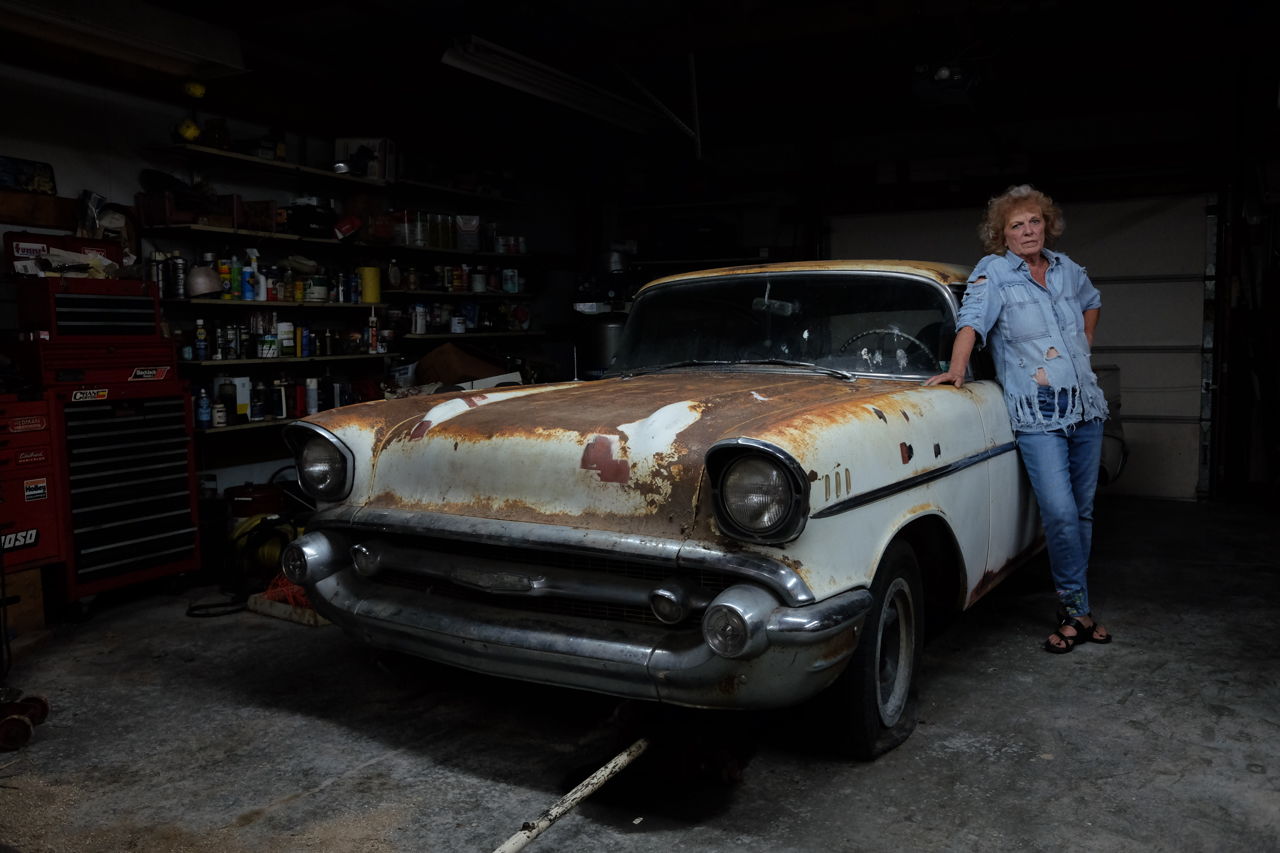 How far in are you already? What's the end goal?
I've just started editing. After much toing and froing I've decided to cut it myself which wasn't the plan originally, but I think in a way it's the best/only way for it to happen. I'm so close to the footage and Mary that it's difficult for someone else to know exactly what I'm after. It's a fairly daunting task, and especially difficult to fit it in around pitching/shooting other jobs (and looking after my six month old son!), but I've made a solid start and I'm happy with the footage I've got so it's just a case of keeping the momentum going.
I shot the 'Zoomer's Treasures' teaser as I wanted something to put out as a little introduction to Mary whilst the film was being worked on. Thankfully it's been well received so it gives me a bit of extra motivation to keep going with the edit!
The end goal is purely to get it seen by as many people as possible, whether that's through festivals or other avenues. With the original film I felt that perhaps, at the time, there wasn't necessarily the same appetite for portrait films that there is now. Although the film was really well received, it was also difficult to get it widely seen as a lot of people in 'authority' told me that people wouldn't be interested in it because it was just "about a woman in Kansas". That was really frustrating, however, I feel like the tide has turned in that respect now as generally there seems to be a much bigger appreciation of, and desire to see portrait films or films that don't necessarily have a traditional narrative arc. There's also a lot more platforms to showcase work and get it seen that didn't exist back then.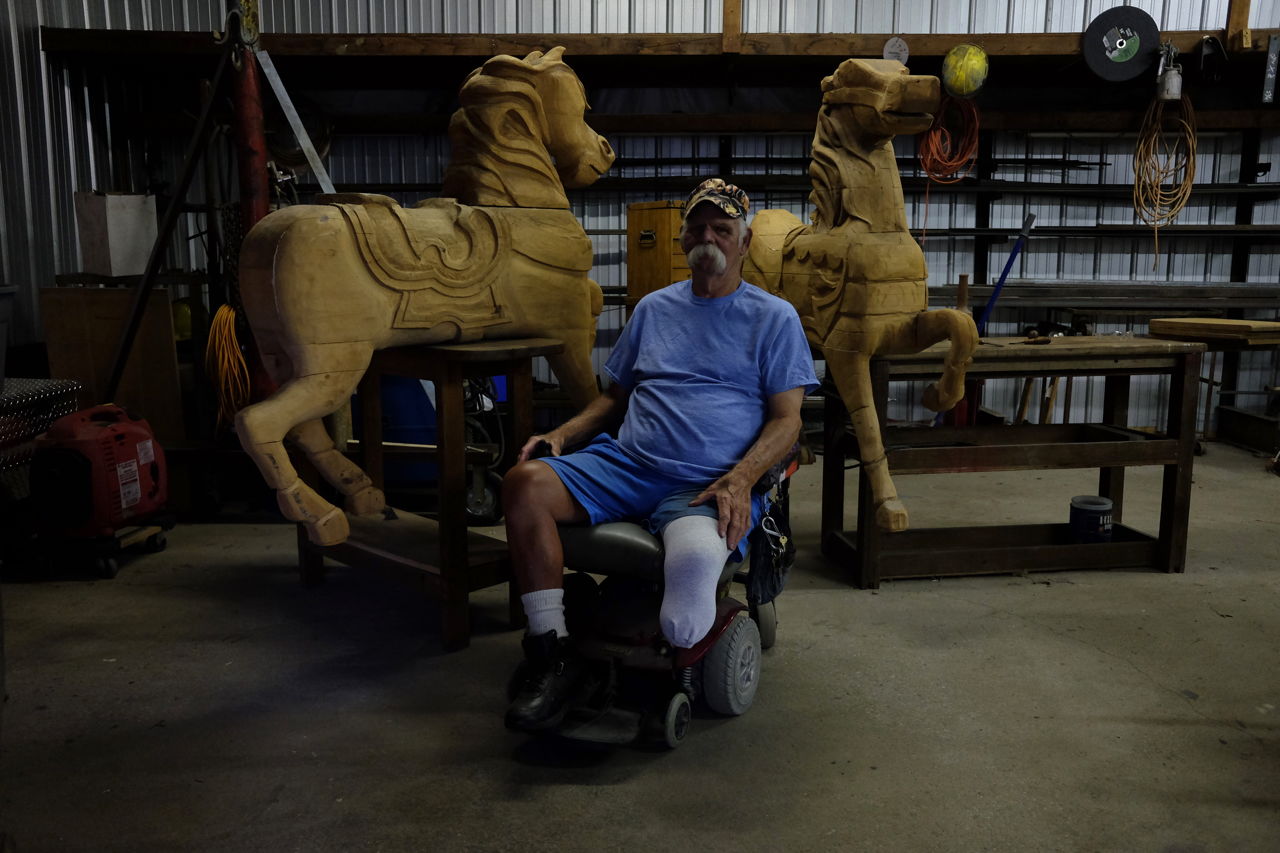 What impact did the original film make on you, ten years ago?
It had a huge impact. It was the first big project I'd undertaken on my own and it gave me the confidence to know that I was capable of producing interesting work as well as the conviction to make the kind of films I want to make. I'm still really proud of the original stuff I shot and I actually still use the original trailer as I think it still stands up really well. It also got me recognised by the ad world and acted as my route into directing commercials.
In fact a lot of the way I approach filmmaking, be it on a personal project or a commercial shoot, evolved out of things I learnt on the original film; like how to engage and make people I'm filming feel relaxed and at ease or how to tread that fine line as a director of imposing your style on something without over complicating things. It was a real crash course in many ways, but it's definitely one of the most rewarding things I've done in my career to date – plus I made a life long friend in Mary!
Aside from this, what are you up to at the moment?
I'm currently working on another long gestating project called Back Of Me Door; another long form documentary about a group of lads in Stockport who all attend the 'world's only darts academy' and dream of becoming professional darts players. I've been making it with a mate Dave Anderson [creative at Ogilvy], filming off and on for about seven years, and we're in the process of cutting a rough assembly together ahead of going back to film 'the ending' later this year.
Aside from that I'm writing a narrative short I've been thinking about for a while, prepping for a commercial shoot at the end of the month and pitching on a few other things… and changing a lot of shitty nappies!