Talent
Patrick Milling-Smith: Setting the stage for Lion-worthy film craft
The SMUGGLER co-founder, film and theatre producer, and 2022 Cannes Lion Film Craft Jury President speaks to Jamie Madge about his big breaks, stage smashes, and how the moving image remains relevant in increasingly virtual times.
Co-founder of an award-winning production company, producer of a Tony Award-winning musical, sitting on the board for genre-smashing theatre company Punchdrunk; it's safe to say that if Patrick Milling-Smith had a feathered cap it would put most peacocks to shame.
However, in his role as Jury President for Cannes Lions 2022's Film Craft category, Milling-Smith is calling on his 20+ years in the business to guide the minds of his esteemed panel through a category that straddles technological advances and established techniques to do what it does best: tell stories.
In this interview, on the eve of the awards announcement, we speak to the SMUGGLER EP about his journey to the top, what great film craft looks like and how the category remains relevant in today's ever-more-interactive times.
Tell us a little about your background: where did you grow up and what was your route into advertising/media? What were your big breaks?
I grew up in the UK and attended a very old school military boarding school until 17. I left pretty good at marching around a parade ground. Obviously as invaluable as it sounds.
I then went on to a very short-lived run at university to study English. I had a notion that I wanted to do something in film or theatre but was clueless as to how one might get into the industry, or what the industry really was. A chance meeting turned into a job offer as a runner on a project at the BBC.
I had a notion that I wanted to do something in film or theatre but was clueless as to how one might get into the industry.
I quit university and loved the whole experience of being around a creative endeavour. From there I sent my newly minted runner/PA resume out to production companies and was fortunate enough to land a PA job for the creative director, Paul Arden, at a production company called Arden Sutherland-Dodd (ASD) in Soho, London.
I'd say the 'big' breaks come at the beginning. After becoming a line producer at ASD, Partizan London, and Satellite LA, I met Brian Carmody (also at Satellite LA). Brian and I were naive enough to think we should start our own company.
That was twenty years ago.
Above: Some Cannes Lions-winning work from SMUGGLER's past to present.
SMUGGLER is a hugely successful production company. What's the one thing that's needed above all else?
That's very kind of you. I'm feeling the pressure now for a coherent answer!
A general creative restlessness and true enthusiasm are a good start. We've always been very open to evolving and getting out of our comfort zones. I think that keeps it interesting for everyone. And that's across the board. From the way we pitch jobs, to the way we execute, to who does what inside the company.
SMUGGLER is a twenty-year-old company that still feels like a start-up.
That, in combination with curiosity, healthy communication, and the genuine belief that a good idea can come from anywhere. I think when you get the alchemy of all that right, the fundamentals, then the culture of the company can be more ambitious and fearless.
SMUGGLER is a 20-year-old company that still feels like a start-up in its DNA because we're all, for the most part, as curious and interested as year one. That enthusiasm, either directly or indirectly related to what we do for a living, arguably makes us all more fun to be around, I hope, and the work better as a result. Enthusiasm and belief are so important. 'You are the company you keep' and if you are surrounded by talent you believe in then it's all the easier to champion the directors and company better.
What's the key to developing your directors? How do you balance creative integrity with commercial validity?
There's no one size fits all approach to developing talent and every director's path is unique. A career can of course be just as defined by what you say no to as what you say yes to but there are good arguments for many contrasting approaches. As long as you have some clarity or idea as to what one can get out of a project then experience is an invaluable thing.
There's no one size fits all approach to developing talent.
When you're trying to find those special pieces that help drive a reel and director forwards then trusting the agency and clients' ability and appetite to protect the project and the process is often as important as the script itself.
If everyone up the food chain actually wants to swing hard and make something good then you have a fighting chance.
Above: SMUGGLER director Mark Molloy's series of Apple films that have navigated the pandemic with its mostly crew of characters.
This year you're heading up the Film Craft jury in Cannes. The industry, as with most, has been through a lot of turmoil in the past couple of years, so is there anything you're looking for in the work that reflects that?
If there's an insight that's inseparable from the zeitgeist it could have the potential to really strike a chord. But in general, I'm drawn towards good ideas and filmmaking in support of those ideas. And my reaction is usually quite instinctive and immediate.
Did it make me feel something? Was it inventive? Evocative? Doing something new? Was there a point of view and could this be attributable to only one person's hands?
I'm drawn towards good ideas and filmmaking in support of those ideas.
If you find yourself analyzing what others think of something rather than your gut instinct, it is usually weaker than the piece of work you watch and immediately want to talk to people about.
The best work stands on its own two feet and speaks to the moment while simultaneously being timeless.
With technology constantly appearing as the new Wild West in advertising - NFTs and the metaverse being buzzed around freely - how do you think categories like Film Craft remain relevant and exciting?
That's fighting talk! It still feels relevant and exciting to me.
For me, film craft is one of the categories that feels the purest of all at Cannes. It's not lost and awash in case study videos, perceived impact through media impressions, etc. Not to seem like a Luddite, but it's a reminder of why I love what I do and why I started in this business in the first place. It's a way to revisit the year's best work and it's the most direct reminder of the evocative creativity in our industry that lit us up in the first place.
With regards to NFTs, the metaverse, and the lot, I'm a huge proponent of innovation and when new technologies are used in a way that feels organic to a brand or additive to the conversation or storytelling. Sometimes that's tied to film craft, other times it's something a bit different or separate from the creativity that's required to write a good script.
I will say I've been the most interested in the fine art and fashion space as it pertains to NFTs and the metaverse and, of course, filmmaking opportunities.
Unlock full credits and more with a Source + shots membership.
Show full credits
Hide full credits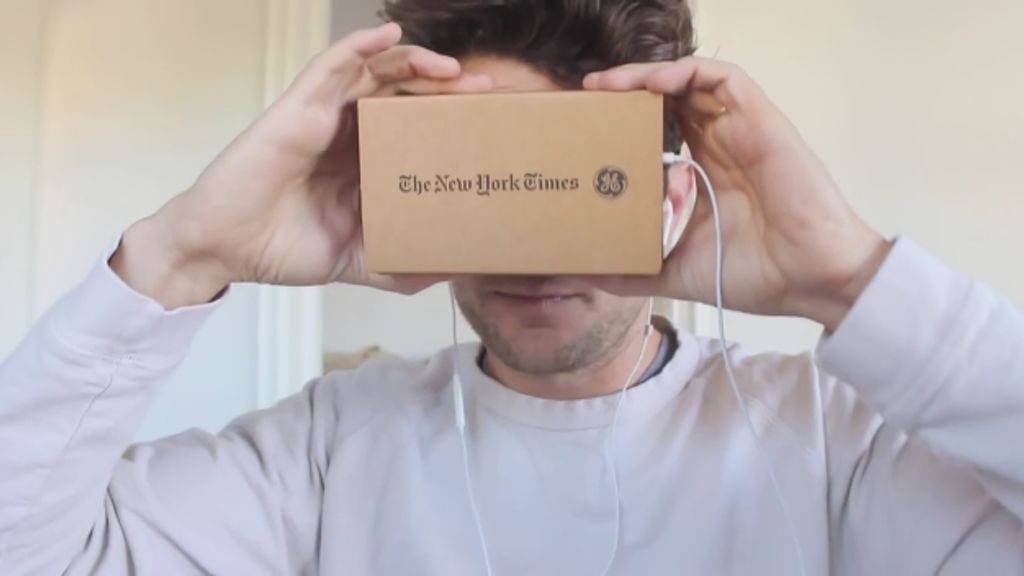 Above: The Displaced, a New York Times project created through Milling-Smith's medium-agnostic content company, division7.
How do you anticipate dealing with the festival's workload, as the demands of viewing, assessing and choosing and deciding what is award materials can be pretty all-consuming? Do you have tactics in place for guiding and directing your jury?
It's certainly more than I expected. Trying to come up with remotely articulate answers here is causing additional stress!
From a workload perspective, it's all in the preparation. I have an incredible jury of dedicated, thoughtful, and passionate industry leaders.
It's a lot of work for everyone but I think we all feel pretty honoured to take it on.
This is the first in-person Cannes Lions for a while; is there anything you're looking forward to in particular?
I'm looking forward to seeing and catching up with so many colleagues in our industry.
The production community is quite close-knit so looking forward to seeing a lot of people in person for the first time in a while.
Have you seen a shift in the way stories are being told on film? How do you navigate that?
Sure. I think there is a shift in how you keep an audience engaged, especially one that's grown up on Call of Duty and YouTube. The pacing is less forgiving now. Our brains are wired in a different way.
You have to earn attention quickly and be interesting enough to hold on to it.
We are competing for the eyeballs against all sorts of amazingly made content, be it video games, HBO, Netflix, or social media etc, etc. You have to earn that attention quickly and be interesting enough to hold on to it.
I actually think that's a really positive thing for craft in some respects. Spots have to step up to earn it. Own it, fill the senses, and wow people with the camera language, visuals, sound, etc.
Be brave and be commanding of your craft.
Above: Once, the award-winning musical produced by Milling-Smith, based on the film of the same name by John Carney.
Tell us how the musical theatre aspect of your CV came about. Was it always in the long-term plan or did Once provide an opportunity too good to miss?
Theatre has always been something I personally wanted to explore. I'm not sure I ever imagined producing any musicals but Once was indeed an opportunity that just felt very natural and of course, turned into a great adventure and learning curve.
We are working on a few more now, one of which, Sing Street, has us teaming up with playwright Enda Walsh and producer Barbara Broccoli again. We open in Boston this summer.
How does your theatrical experience inform your film work? Do you see a cross-over between the two?
I think good is good, whatever the medium. Our goal has always been to be a company and team that can tell any story regardless of the medium and it's something I'm very proud of. The fundamentals are the same. A good idea and strong writing attract a great director and a first-class crew.
Theatre has always been something I personally wanted to explore.
From there you have a chance of making something you are proud of. We try and ask ourselves, regardless of what medium the idea is in, whether there is a compelling reason for it to exist.
I'm not certain we always get it right but we do try and spend our time on things that we believe have real potential.