News
Panda Express find moments worth savoring this Lunar New Year
Panda Express invites everyone to find moments worth savoring this Lunar New Year.
Panda Express, the largest family-owned and operated Asian dining concept in the U.S. launched Traditions Shared by Los Angeles-based agency The Many in celebration of Lunar New Year.
The new three-minute film, made in conjunction with Strike Anywhere and director Erica Eng, is a heartwarming story that invites the world to celebrate the traditions of Lunar New Year with Panda Express through the experience of good food, family and togetherness, especially those who might be unfamiliar with the holiday.
The short film, shot safely in Los Angeles amidst the Covid-19 pandemic, follows a young boy, Jordan, through his first Lunar New Year celebration with his neighbours, The Lee's, who celebrate every year with all of the traditional trappings of the holiday - mandarins for prosperity, authentic Chinese dishes and decorations, and of course, the giving and receiving of lucky red envelopes. As Jordan is invited into The Lee's home to experience the Lunar New Year festivities for himself and learn about the foods, customs and traditions that surround the holiday, so too is the viewer.
Unlock full credits and more with a Source + shots membership.
Show full credits
Hide full credits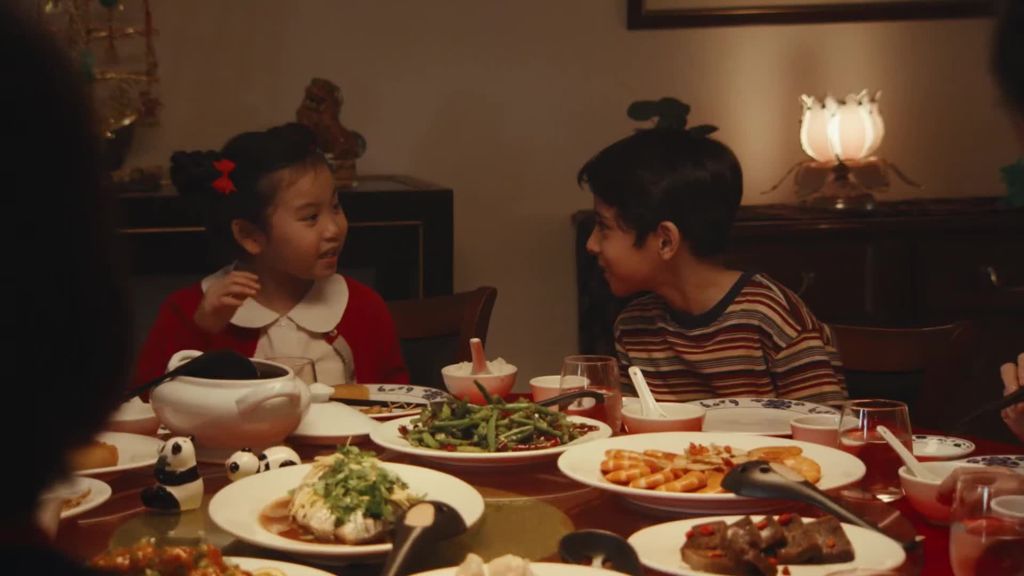 It's not until Jordan is leaving that the film takes a twist, revealing that the celebration he experienced is actually set in the past and that this year, as many families are separated, Lunar New Year looks much different. There are fewer decorations and fewer people. We see The Lee grandparents celebrate virtually with their family members, and as the film nears the end, there is a knock at the door—in an act of socially distanced kindness, Jordan, keeps the tradition of sharing good fortune alive by giving The Lee's a box of Panda Express Spring Rolls, symbolizing prosperity for the new year - the same dish he fell in love with during Lunar New Year many years ago.
The film concludes with Jordan's own family sitting around their table celebrating the holiday and not only keeping the custom alive, but also passing down the traditions of Lunar New Year to his own son around a warm and inviting table spread with a Panda Express Family Meal.
"As a family-owned American Chinese brand, Panda Express has the unique opportunity to tell culturally significant stories in a way that connects people through shared values of Lunar New year, and that's food, family and togetherness," and Kevin Holmes, Executive Director of Marketing Communications at Panda Express. "In approaching this short film, it was important for us to focus on authenticity for not only the holiday but also for our current times. Through the different character arcs and perspectives, viewers are able to understand the rich meaning behind Lunar New Year in a way that has never been done before. 'Traditions Shared' is Panda's well-wish for our guests—that they experience the good fortune they aspire to find in this new year."
"For a number of years, Panda Express has celebrated Lunar New Year by inviting those familiar and uninitiated with the holiday into the traditions that make it so special," said Kylie Wu, Senior Brand Director at The Many. "We are incredibly proud to have partnered with Panda this year to support their efforts in bridging American and Chinese culture. This film brings to life what Panda ultimately stands for - progress - and we look forward to continuing that message through the stories we tell together."
Directed by Strike Anywhere's Erica Eng, the behind the scenes was as intentional as the film itself. In regards to assembling the crew, Eng said, "It was important to have Chinese Americans in the roles that mattered to maintain cultural authenticity. From our production designer bringing items from her own home to decorate our sets, to our food stylist pulling inspiration from her own family's Lunar New Year meals, we wanted to make sure our culture was portrayed as correctly as possible on-screen."