Insight
Meat-free marketing: from 'Got Milk' to Post-Milk
There's something suitably organic in the way vegan culture has developed. Ingredients including increased eco-awareness, improved products and the evolution of social comms, have bubbled up into a perfect plant-based stew that's tastier than ever. So are brands leading the conversation or playing catch-up? Carol Cooper investigates.
In the recent documentary Apocalypse Cow: How Meat Killed the Planet, presenter and activist George Monbiot imagined foody conversations with possible great grandchildren.
They went something like: "So hang on Grandad, you're saying people used to take eggs from inside chickens and eat them? And that you squeezed white stuff meant for baby cows out of mummy cows and put it in on your cereal? Yeuch!"
You can visualise the tots of the future wrinkling their little noses up in disgust.
Above: Apocalypse Cow, with presenter and activist George Monbiot.
It aired on Channel 4 on 8 January, when Veganuarists would have been full of the early zeal of their plant-diet pledges, eschewing meat to chew on wittily named TV dinners, not-dogs and such. It's a sign of the times that Monbiot's film – with its unabashed anti-meat and dairy agenda – was shown primetime on a mainstream channel.
This year a record 400,000 people signed up with the UK-based non-profit group Veganuary, up from 250,000 last year. Plenty more will have tried it without signing up.
Food Standards Agency stats show the number of vegans in Great Britain quadrupled between 2014 to 2019, to reach 600,000.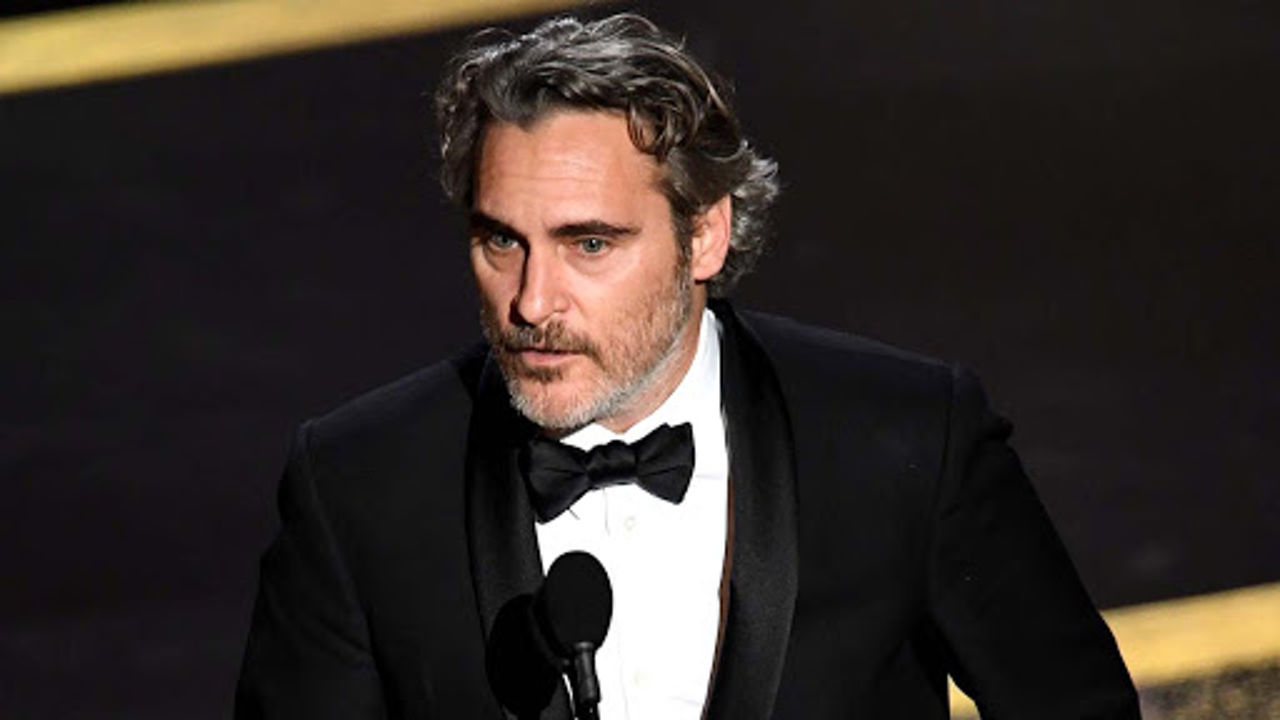 Above: Joaquin Phoenix making his OSCAR acceptance speech, in which he was vocal about the vegan diet.
Veganism is everywhere, even cropping up at the Oscars, where Joaquin Phoenix made his emotive post-milk plea for bovine rights.
Signs are that this is no trend, but a major shift in consumer habits.
Harry Turpin, founder of The Savourists, a savoury vegan protein bar, believes, "the rise in veganism will continue and will become a mainstream diet, with millennials and Gen Zs leading the way."
Nicky Vita, Joint Head of Planning at VCCP, the agency behind TVCs for vegan cheese Violife agrees the young are leading the charge; "There are startling numbers that suggest that things are going to continue in this direction - one in ten schoolchildren is vegetarian or vegan, so we're starting to see a generational shift that I expect will only get larger."

Unlock full credits and more with a Source membership.
Show full credits
Hide full credits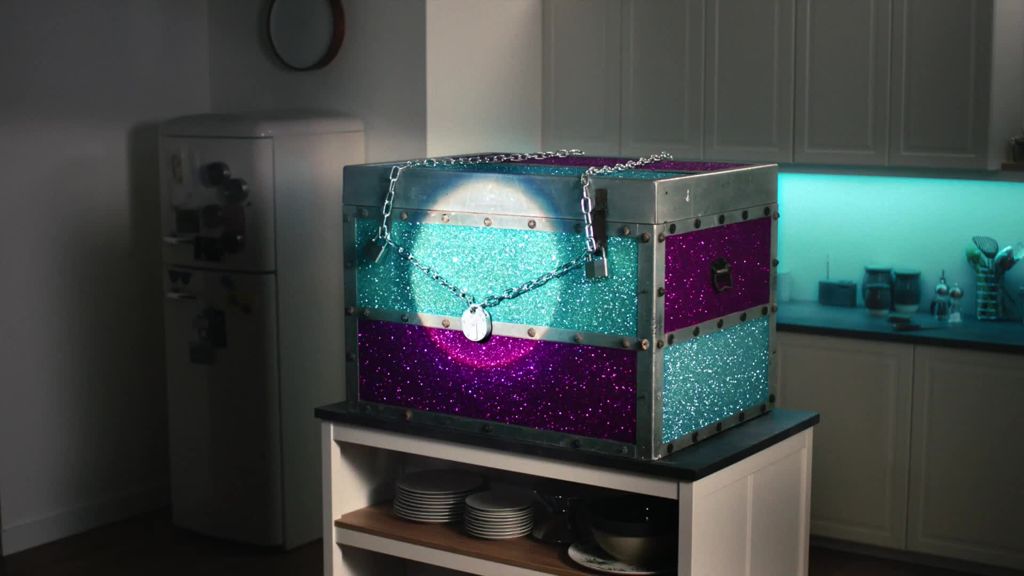 Gone are the days when vegans might have been portrayed as hungry, hemp-wearing hectorers. Today's vegans are cool, being part of a more ecologically-woke generation, they don't have to be quite so… vegangelical – and neither do brands. "Consumers looking for plant-based options will know what to look for, brands don't have to shout about it in the same way they used to," comments Turpin.
The rise of food-agramming and sharing of social content from vegan celebs, chefs and influencers have been driving the movement, more so than advertising by larger brands.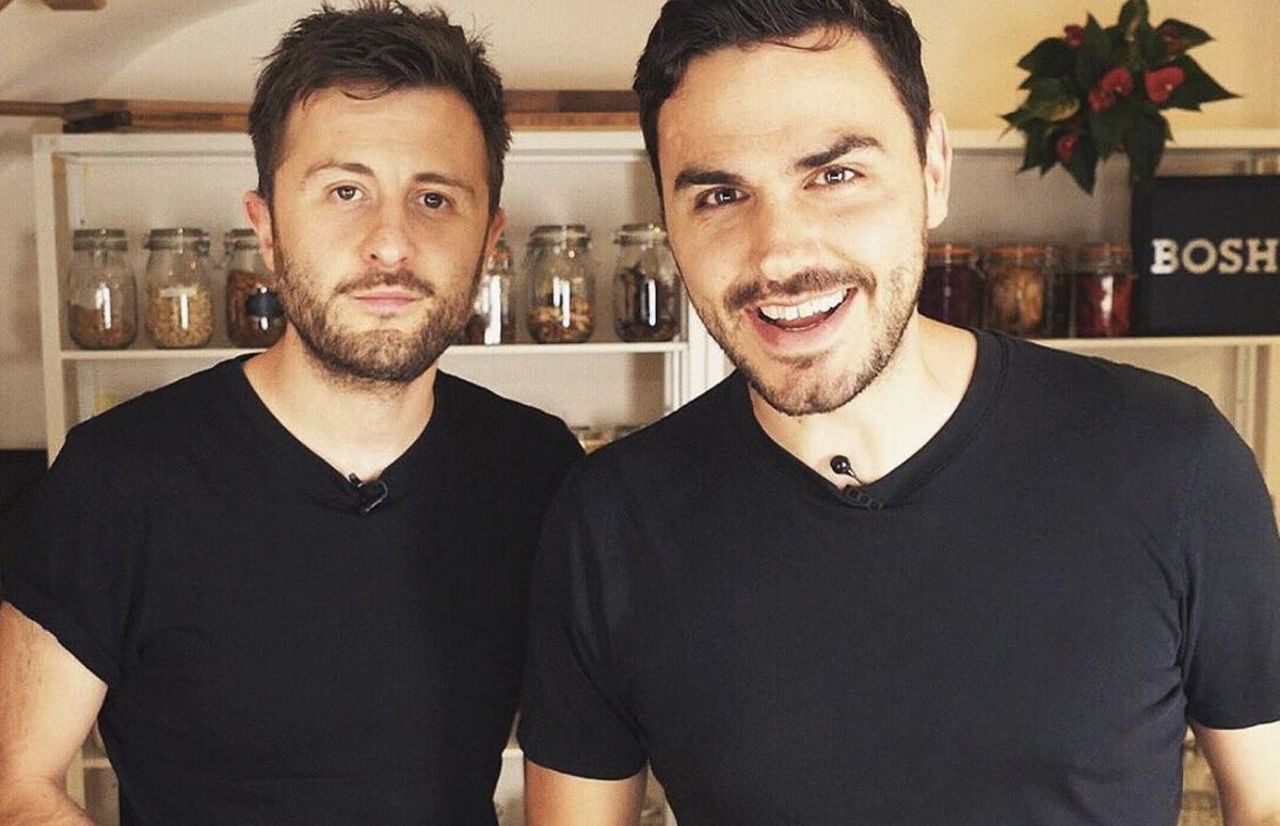 Above: Bosh!, the vegan influencer duo who now present ITV's Living on The Veg, the first all vegan nationwide mainstream TV cookery series show.
"Social media gives consumers and brands of all sizes a voice, that previously could have only been accessed by big companies," says Turpin. Though OOH and social have been the main platforms for vegan marketing, that's starting to change.
"I'm definitely seeing more scripts for TVCs," says renowned food and beverage director Mike Matthews, "I often get asked to create food spots that emulate the look and feel of meat with none of the guilt attached."
Unlock full credits and more with a Source membership.
Show full credits
Hide full credits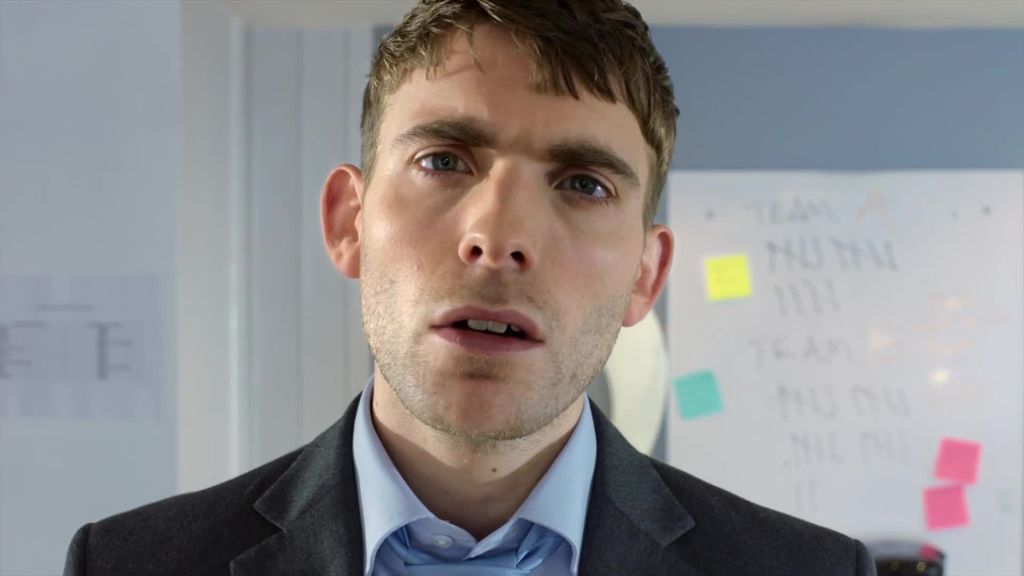 Michael Cumming, the Moxie Pictures director who helmed the Violife spots has noticed, "a big increase in advertising in this sector in the last year. Violife was the first vegan cheese to advertise on TV. Rather than the earnest, almond-flavoured, approach, they wanted to do something a bit silly and a little strange. Classy but fun."
VCCP's Vita thinks vegan marketing now falls into two categories: "There seem to be two angles – either vegan foods as an addition to your current repertoire (flexitarian style) or the 'do it for the cows/ do it for the planet' stance. I think more brands will lean into the softly-softly approach (take those small wins), at least in the short term.
"Brands like Oatly have had brilliant coverage and exposure for going the other way."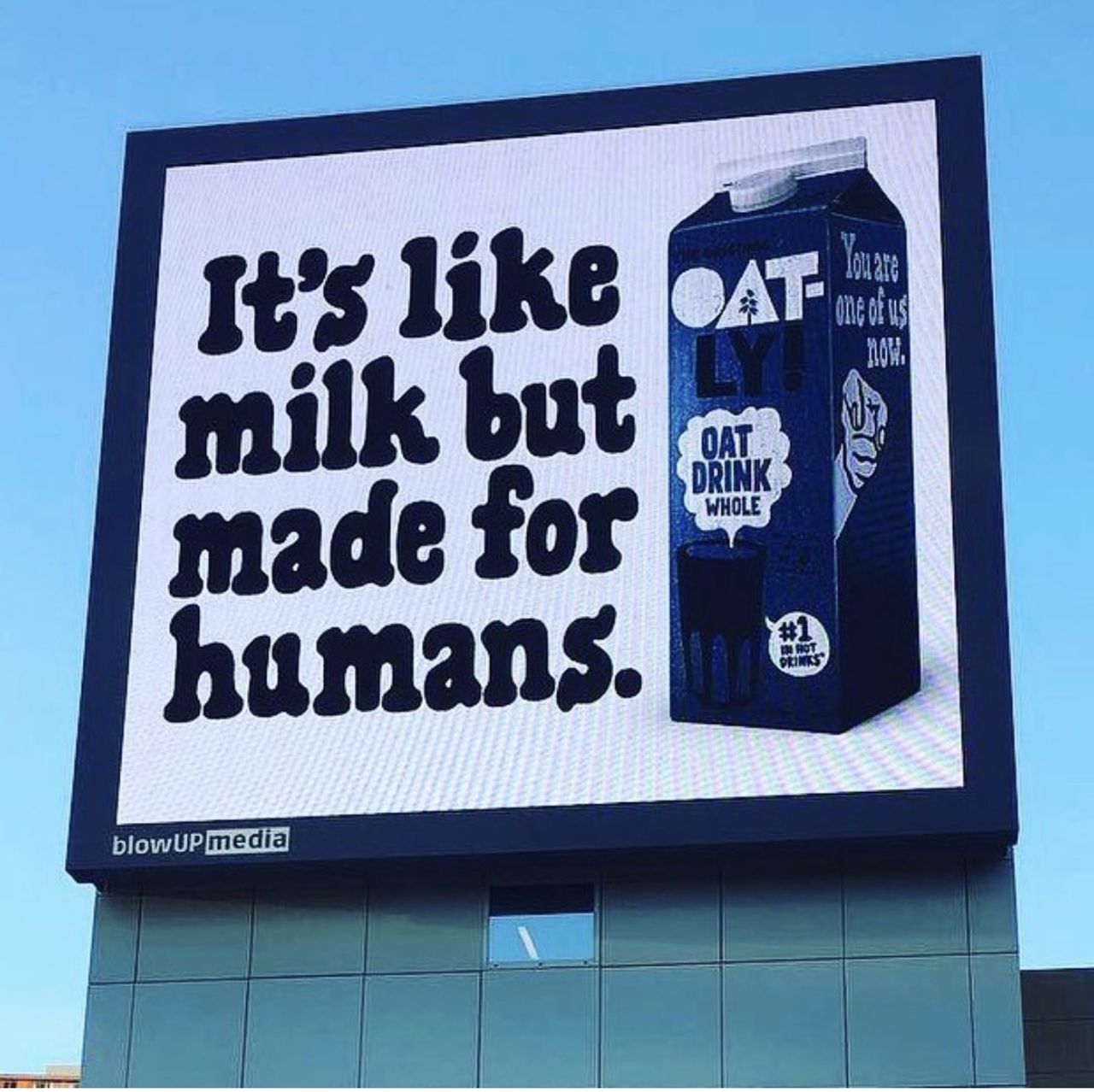 Above: Oatly's controversial 'Made for humans' work.
Advertising relies on pushing emotional buttons, and there's surely no other area of food marketing with access to such strong sentiments as veganism. Alt-milk leader Oatly stands out as a pioneer in wielding emotive, animal-friendly messaging.
In 2014, in its home country of Sweden, OATLY, was taken to court by a very cheesed off Swedish Dairy Association for posters stating: "It's like milk, but made for humans." Oatly lost the case, but the press was good and sales soared. Oat milk became cool and reached hipster central locations around the world from Berlin to Brooklyn.
In 2018 Oatly brought the "made for humans" message to the UK, spending £700K on OOH across various London hotspots. In March last year, it ran a bold "ditch milk" campaign of print and OOH at the London coffee festival.
Above: Oatly's distinctive outdoor work.
This year, it broadened its reach beyond the capital, with posters in cities around the UK carrying knowing, self-aware ads that gently teased both its cool urban consumer base and marketing itself.
The Oatly story is a classic example of a popular tone in vegan advertising – bare-faced cheek. In 2012 the Oatly board hired Toni Petersson as CEO. An entrepreneur from outside the food sector, he brought a fresh naivety to the role. Here he is being freshly naïve in a delightfully on-point early ad.
Unlock full credits and more with a Source membership.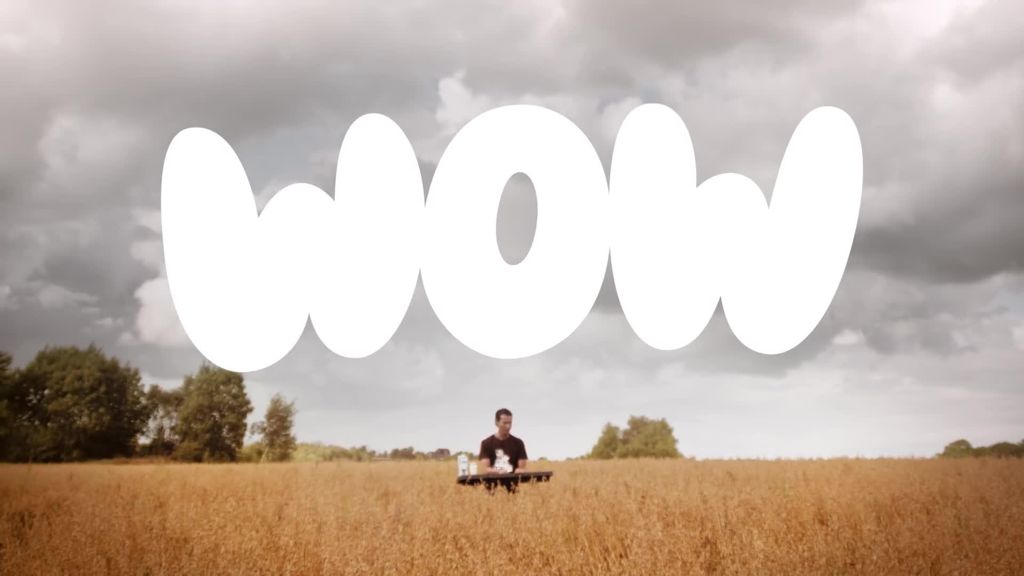 Together with creative director John Schoolcraft, they rebranded with bold cartons that fully utilised packaging as the primary source of marketing comms – something that small plant-based suppliers with no budget for above-the-line rely on.
With its loud, informal style and punchy mission statements scrawled all over the pack, even Oatly employees worried that the new packaging looked 'childish'. But it's a style that has come to be a hallmark of vegan/veggie brands.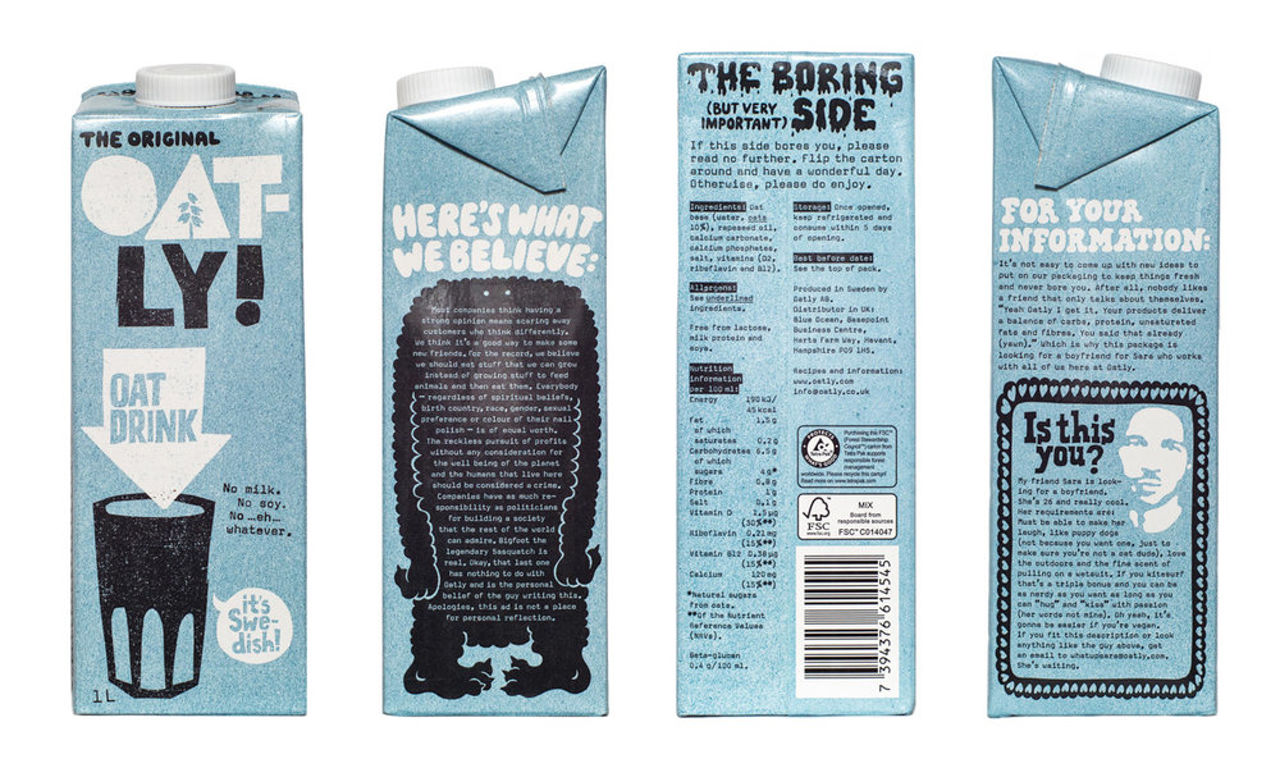 Above: Oatly's unique packaging.
Fonts are in scratchy, handwriting forms, birds, bees and happy plants frolic around the packs, betokening a natural world the brand is helping to sustain. There's a whole lot of wholesome cuteness going on. The message has been we're niche and nice. A recent survey by online marketplace onbuy.com showed that 74 per cent of UK consumers perceive food brands that offer vegan products as 'caring'.
As with the humorous Violife spots, the new vegan marketing also aims to distance the meat-free market from its more hardcore animal-rights roots and present it as a fun option. Puns have been pressed into service. Plant-based brand Squeaky Bean, for example, announced its mandate to "challenge the squeaky clean image of veganism.
Forget fibrous cardboardy health food, this stuff is dirty.
The message is also that vegan food can now be indulgent. Forget fibrous cardboardy health food, this stuff is dirty.
The Dirty Vegan is a cookbook and BBC Wales TV series, but also a a plant-based gourmand; a consumer of plant-based calorific, junky comfort food who likes their jackfruit pulled and porky and is drawn to saucy names like Temple of Seitan (producer of fried 'chicken' takeaway).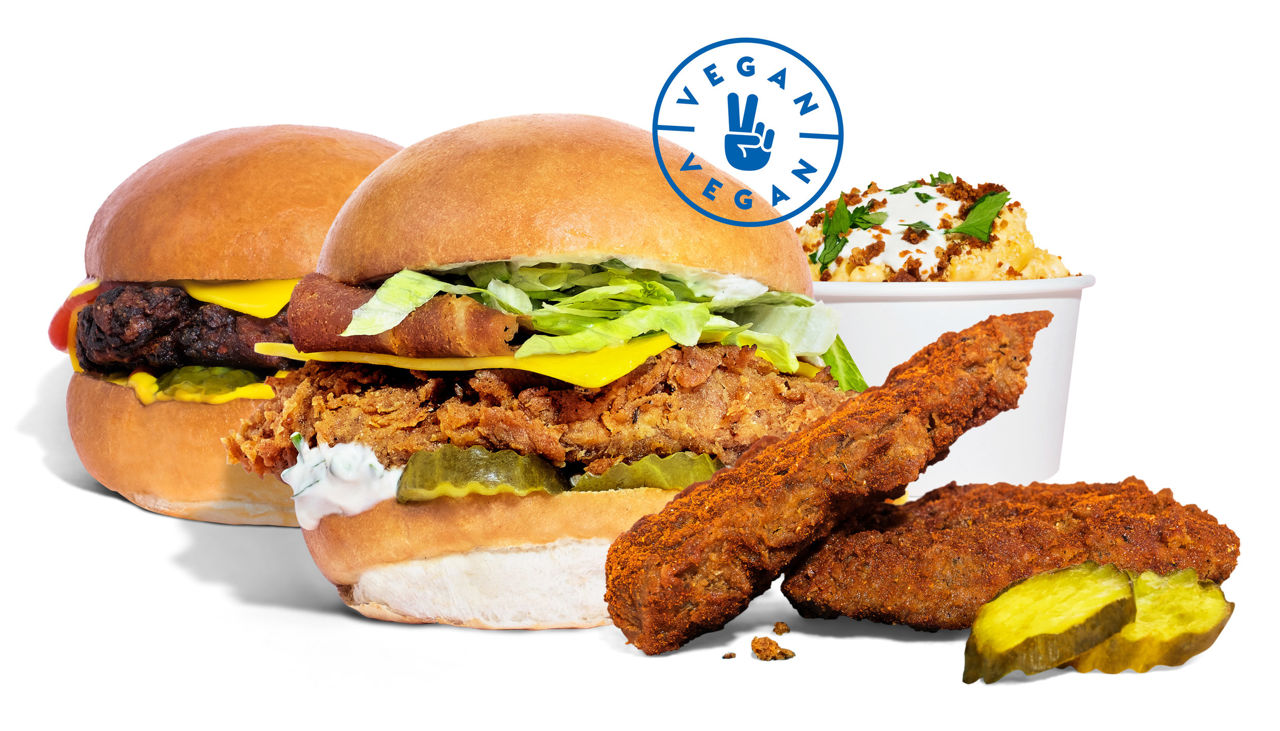 Above: The Temple of Seitan's vegan offerings.
"If I want a burger, I want filth," says Matthews, noting that vegan food has become, "sexy and the people who eat it are hot. These are on-trend recipes that we all want and love. Last year, we were all experiencing 'Flygskam' (aka flight shame). Now we're feeling 'Meatdelete'."
Producers and marketers agree it's an exciting time in the food and drink industry, particularly with the involvement of larger brands, who've possibly been slower to respond to increased demand and have been clambering on board, simultaneously signaling – while helping to fuel – the vegan boom. "Smaller brands can be more dynamic, reacting quickly to changing markets and tastes, making the big brands take notice," says Turpin.
And in supermarkets, gone are the days when vegan options meant a few Quorn or Linda McCartney bangers becoming permafrost in the freezer aisle, they now offer a smorgasboard of choice and own brand products.
Though Sainsbury's touched on the nature-loving hippy vibe when it launched its plant-based range 'Love Your Veg' in 2018, the cutesy set of 'feels' that's open to smaller hippy/hipster challenger brands doesn't quite fit with the bigger names.
In the past, vegan food has been a bit worthy and hippy-ish; the knit-your-own-yoghurt brigade, now the market has changed.
Largely the tone has moved to a smarter more adult vibe. With that bastion of maturity and common sense, Marks & Spencers, getting involved, vegan food has 'grown up'. Apart for a little playfulness in titles such as 'Chilli Non Carne', its Plant Kitchen range is sober, reassuring, with modern colours and a font that is neater, though still apes the handwritten style.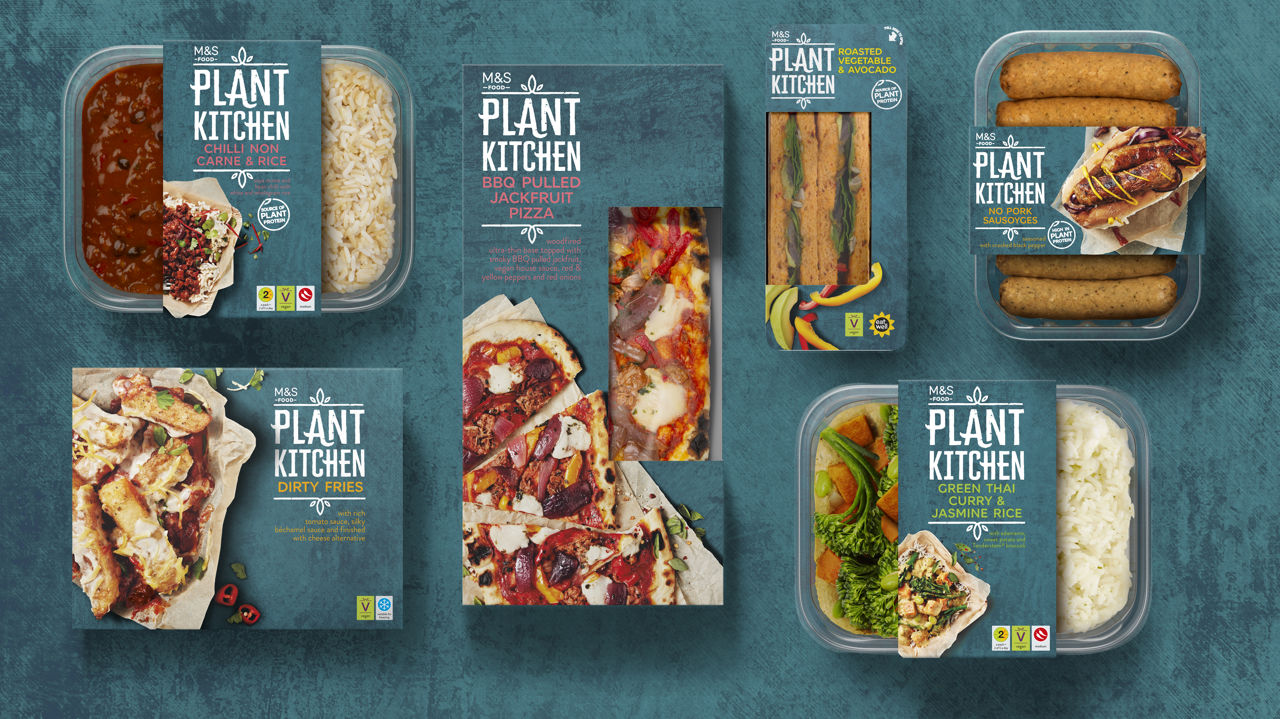 Steve Irvine is creative director at Coley Porter Bell, the agency behind Plant Kitchen, which launched in January 2019. "M&S have a plethora of different products, including a vegetarian range but that wasn't acting like a brand. So they wanted us to created a brand within their portfolio," he explains. "We created an identity that they can use, not just in packaging but across in-store communications, it needed to stand out. That's why it has that large font, character and personality. We were lucky we hit the zeitgeist – in the past, vegan food has been a bit worthy and hippy-ish; the knit-your-own-yoghurt brigade, now the market has changed."
The products have changed too, so that flavour is justly a strong element of marketing. Food tech improvements have led to such innovations as the US brand Impossible Burger, which now sold in more than 3000 restaurants across the States it fooled taste testers with its mimicking of meat's 'heme' protein molecule.
Colours associated with vegan/veggie food had always been green or beige, or shades of hessian. Our colours are now brighter, foodie colours.
"People are trying to cut down on meat, not taste," says Irvine. "We took our inspiration from food festivals, from Borough Market, where people are really enjoying food. Our typeface was inspired by chalk boards, it has that texture, that scratchy, street-food edge. Vegan food has quite a young audience, it's instagrammable. We wanted to change the colour coding, too. Colours associated with vegan/veggie food had always been green or beige, or shades of hessian. Our colours are now brighter, foodie colours."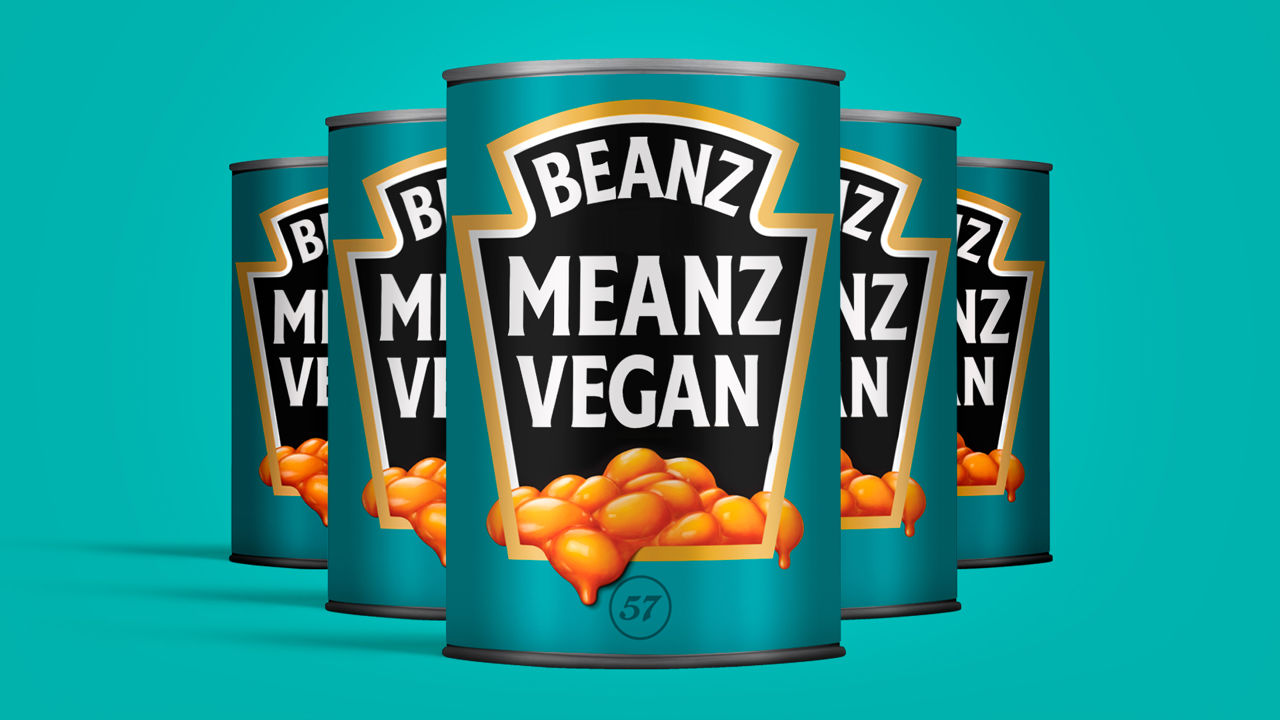 Some big brands have been in the enviable position of not having to cook up a new plant-based identity, but have been able to point out that, hey, they've been vegan all along. Heinz, for example, repurposed its iconic 'Beanz Meanz Heinz' slogan as 'Beanz meanz vegan'. Lolz. Press OOH and social ads were supported by limited edition cans released for Veganuary 2020.
This take on the humble baked bean as the ultimate in plant-based convenience food is yet another example of how the 'new veganism' has expanded out from the urban elite niche to workaday, reasonably priced mainstream nosh that's as good for the ordinary bloke on the street as it is for the non-binary, XR member cycling up Muswell Hill to Planet Organic.
Mark Whelan, CCO of Havas UK, the agency behind the Heinz campaign, notes the radical change in vegan culture. "Originally, the argument was animal ethics – which while important, didn't actually translate into widespread behavioural change. Now it's about the climate emergency as well – a far more mainstream media and conversation topic. As more people talked about it, brands begun to get involved – leading ultimately to a wider, better-quality range of vegan options. Which, of course, led to more people talking about it and taking up a vegan diet."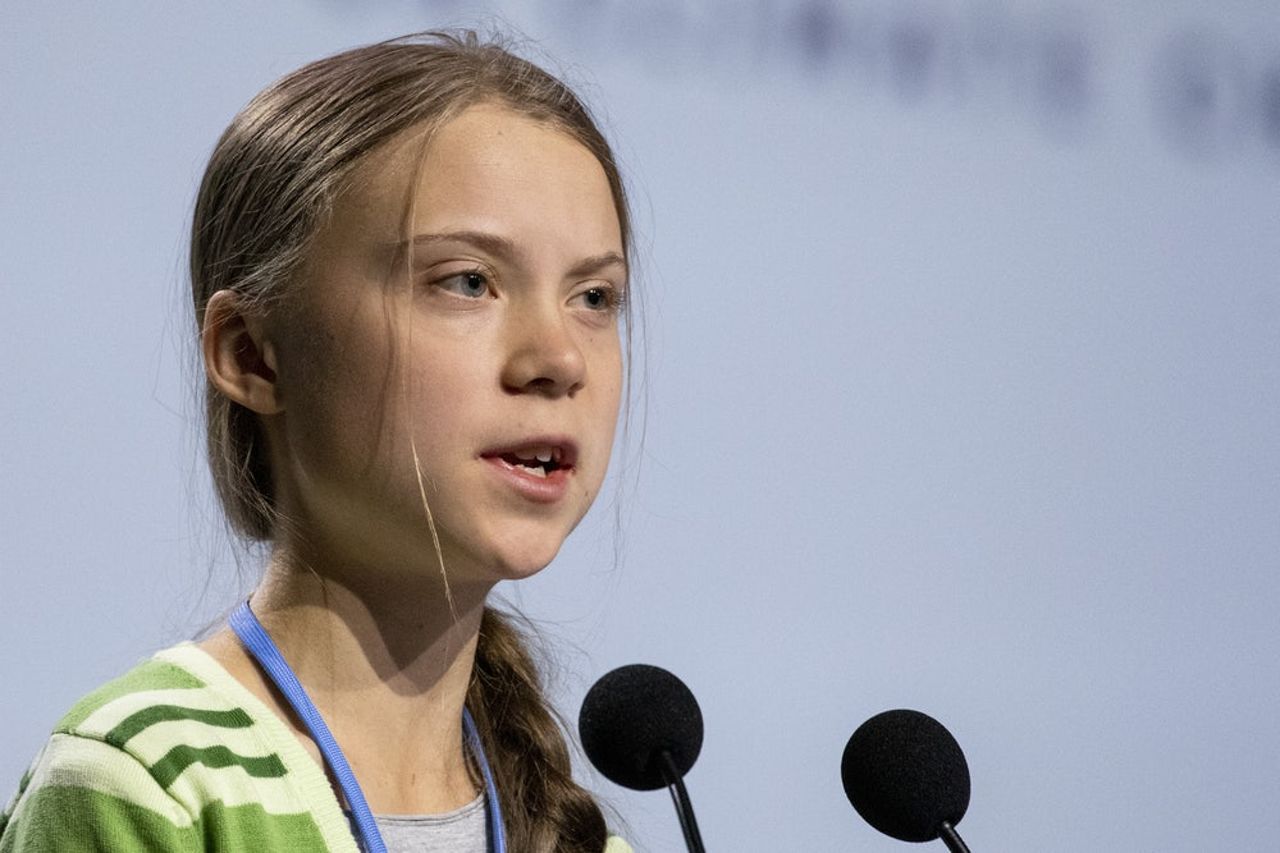 So, climate anxiety's stimulation of the appetite for plant-based options means there's a direct line leading from Greta Thunberg to Gregg's vegan sausage roll, possibly the most famous herald of the 'new veganism' and a launch that's been celebrated as the PR event of the decade.
A prime example of cheekiness in vegan marketing was when Greggs, the UK's biggest bakery chain, launched a plant-based sausage roll in January 2019 by parodying the launch of a new iPhone. Journalists were sent surprise samples packaged in iPhone-style box, and the health angle was also utilised, with Greggs releasing information on how its vegan sausage roll actually contains more protein than its meat counterpart.
But the real coup was its handling of social media when the hapless Piers Morgan accidentally helped boost the campaign's Twitter campaign. Gregg's ripost to his mocking of the "PC-ravaged clowns" who had adapted its best-selling product for vegans, was a witty 'Oh hello Piers, we've been expecting you.'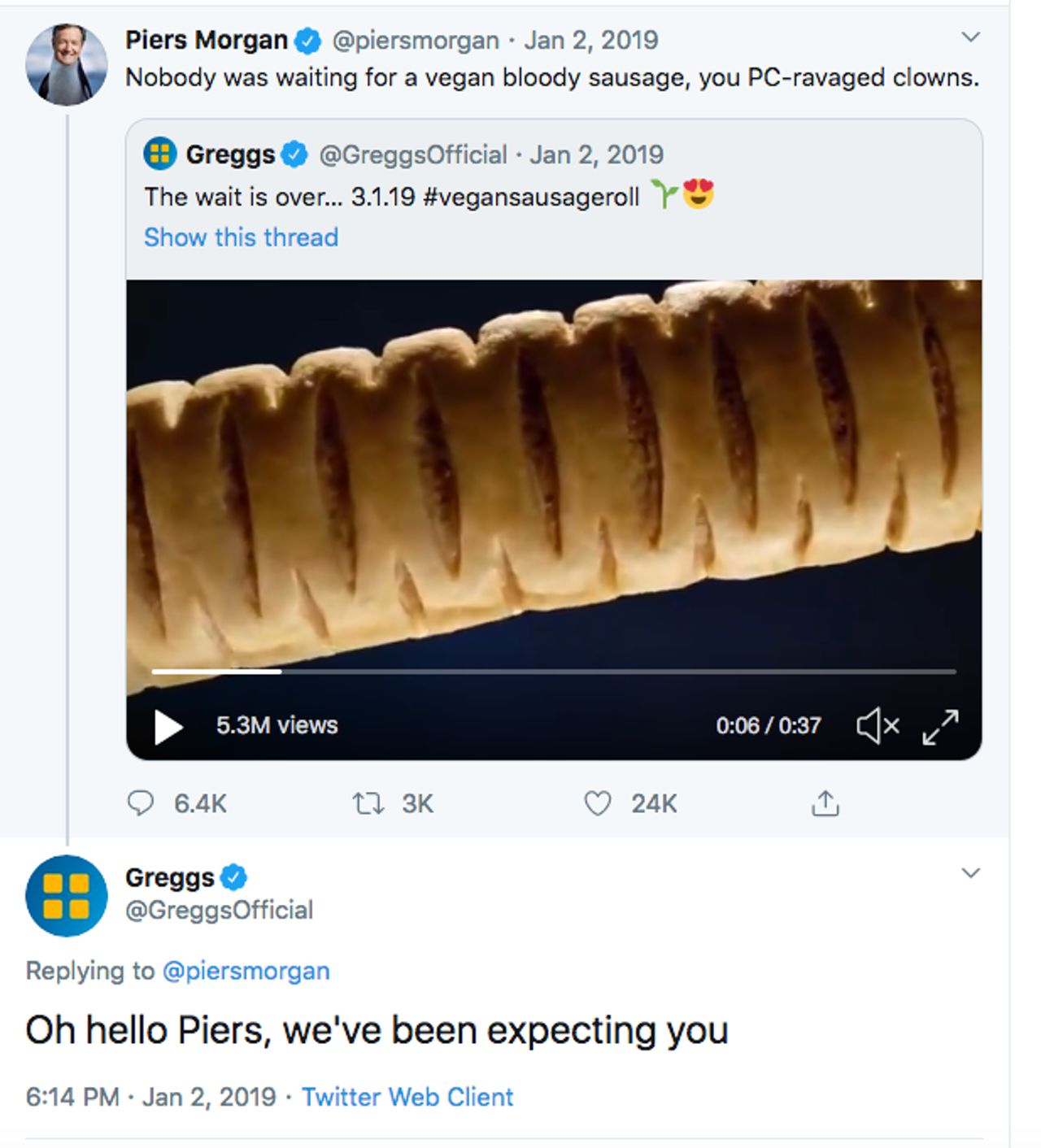 Greggs total sales increased by 13.5%. Soaring profits allowed for a £7m bonus to be split between the chain's 25,000 staff.
Onboy.com stats show that 'Greggs vegan sausage roll' is Googled a lipsmacking 14,800 times a month. Mark Whelan praises the stunt as a "watershed moment. The commitment – the fact they properly went for it as a permanent product, and the launch – the Apple-esque unboxing – was terrific, and set the standard for everything that's come since."
There will be people who will object to a vegan KFC, just because of its association with chicken, but I think any opportunity to reduce meat consumption – whatever it takes – has got to be a good thing.
Bare-faced cheek has been also come in handy for the fast food giants – not hitherto noted as exactly animal or planet-friendly – who in their haste to join the vegan trail have had to execute some nifty manoeuvres.
In May last year, KFC launched a decidedly meaty product with a complex campaign created by Mother that joined the vegan conversation by taking an oh-so-gentle swipe at it. Placing posters outside certain Greggs stores, it encouraged consumers to indulge in the I Love You Bacon Burger before turning vegan, the copy talked of vegans 'eschewing meat and embracing the aubergine' and while appearing to bemoan its timing in launching a meat feast during what it dubbed 'the year of the vegan', it leveraged the taste angle by saying "Bad timing never tasted to good."
KFC had to brace for another 'year of the vegan' when it launched it own vegan Quorn fillet dusted with those celebrated herbs and spices in time for Veganuary 2020. "I know there will be people who will object to a vegan KFC, just because of its association with chicken, but I think any opportunity to reduce meat consumption – whatever it takes – has got to be a good thing, right?" says Matthews.
Turpin loves how the campaign was handled. This time, instead of slightly mocking vegans, KFC took a swipe at part-time January only vegans: "at the end of Veganuary, they advertised that on 1 February, the burger would be half price, inviting the 'real vegans to please stand up'."
So what challenges might advertisers in this sector face going forward as climate and environmental crises necessitate new less land-based forms of food production?
In Apocalypse Cow, Monbiot samples a nutritious protein cereal that Finnish pioneers have made from bacteria and air. Though it's not strictly vegan, more animal/planet-friendly meat could well be efficient cultured meats grown in labs from animal cells.
Both options have a 'yeuch' factor to overcome. But for years, humans have ignored the yeuch factor of drinking fatty enzyme from cow's udders and avian embryo casings, surely with the help of some canny creatives we'll grow to love bacteria-based alt-meat treats.
Yum.