Work
Greenpeace's waterfall of waste
Greenpeace highlights what would happen if the average 1.8 million kilograms of plastic waste that the UK exports each day was dumped on Downing Street rather than on other countries.
Unlock full credits and more with a Source + shots membership.
Show full credits
Hide full credits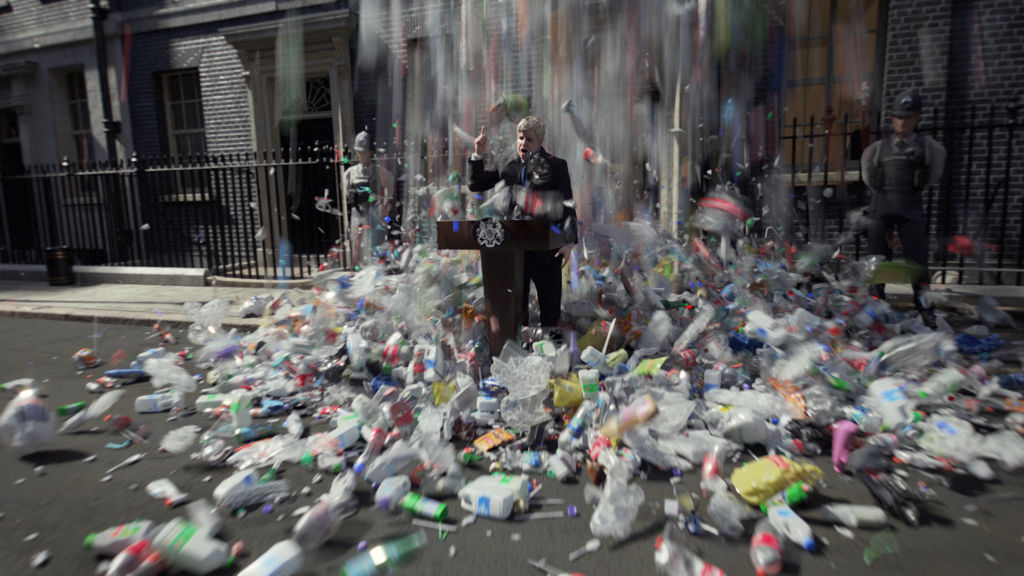 A brilliant but frightening new campaign from Greenpeace features a bumbling British prime minister spouting platitudes about protecting the planet while being overcome by a tsunami of plastic waste.
Voiced by two of Britain's best impressionists, Jon Culshaw and Matt Forde, the animated film holds Boris Johnson and the government to account for the plastic pollution crisis the UK is creating overseas. Greenpeace states that the UK exported 688,000 tonnes of plastic packaging waste in 2020, which equates to an average of 1.8 million kilograms a day. It is illegal to export plastic waste unless it is destined to be recycled or incinerated in an energy-from-waste plant, but a Greenpeace investigation in March 2021 uncovered new evidence revealing that UK plastic bags and packaging are being dumped and burned in Turkey.
The two minute film, called Wasteminster, was created through Park Village, alongside artists Studio Birthplace and their CGI partners Method & Madness, and directed by Jorik Dozy and Sil Van Der Woerd. The team built an exact digital replica of Downing Street and, using library photographs and satellite imagery, they went into incredible detail, right down to the light fittings. CG Director Alex Scollay and his team used the power of a bespoke VFX data simulation, high-end CGI and modelling to create the dynamic flow of 1.8 million kilograms of plastic, with the individual items of plastic interacting with each other in a physically accurate manner thanks to 'Tyflow' software.
"We didn't want to put words into Boris's mouth so we went through hours of interviews and speeches by Boris and the government where plastic pollution and the environment were discussed and quotes were extracted," said Van Der Woerd and Dozy. "All statements in the film were made by Boris and the government."
"The dedication and outstanding technical ability that has gone into this animation is phenomenal, said Nina Schrank, Senior Campaigner at Greenpeace. "We're so grateful for the creativity of Studio Birthplace and Park Village, the ecological ethos of directors Sil and Jorik, and the CGI skills of Method & Madness. This powerful film shows the shocking truth about what happens to plastic that the government tells us is being recycled but is being exported for other countries to deal with. And who better to enlist for the voiceovers than impressionists from the legendary Spitting Image, the impeccable voice talents of Jon Culshaw and Matt Forde?"