Talent
Directing quartet 4 THE COOL on striking YDA Gold through father/son bonding
When directing brothers Michel & Nico decided to spend lockdown collaborating with their ten-year-old boys, Sacha and Robinson, on a filmmaking educational project, little did they realise it would lead them to viral success and awards aplenty. We sat down with both fathers and sons to find the secret to staying Forever Young.
Sasha and Robinson (the sons)
Whose idea was it to make the film?
Robinson: I don't even remember!
Sasha: That's what I ask at the beginning of the film: "How did this start?"

R: I know we asked the dads to make a new film...
S: And we said, "something better than the last one. Like a real Movie!" That's what we told them…
Were you excited at the prospect?
S: Rob was excited. I am never excited by anything. My dad said, "Let's do one film, but it will be long and a tough project!". I told myself, "fuck! we created a monster… we have killed our summer!"
I was really excited [by the idea of making the film]. I am by everything!
R: I was really excited. I am by everything! Even if I cannot really focus too long, my first thoughts are positive. I love spending time with Sacha, my dad and my uncle, so it was a great opportunity.
Who chose the films to parody?
R: We did...
S: No, they did.
R: Yeah, maybe Sacha is right. At first, the idea wasn't to parody films - Michel and my dad wanted us to watch movies to learn…
S: ...and when they came asking for our ideas, the only ones we had were to reproduce scenes we really liked…
R: … so the dads told us, "that's a fantastic thing to do!"
Unlock full credits and more with a Source + shots membership.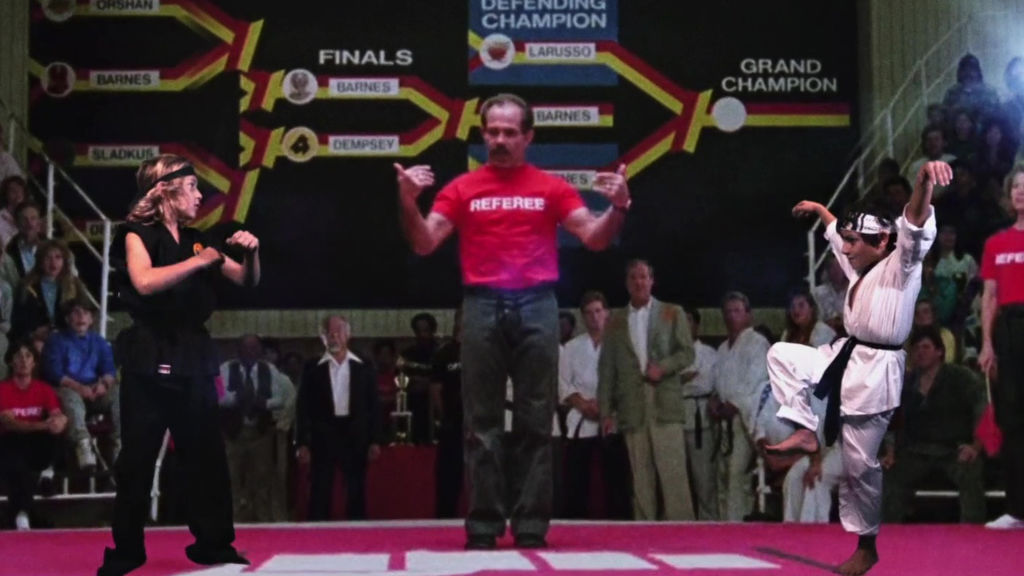 Were there any that your dads wanted that you didn't, or vice versa?
R: We were ok to do everything because we trust each other. That's what actors do!
S: There was one. With American Beauty, I was supposed to be naked on the ground in the middle of roses. I don't mind being naked, but on camera it was pretty new! I asked if I could be in trunks instead, but they told me it was more realistic if I stayed naked on the ground. In the end, they didn't even use a shot with my full body in the frame. I could have stayed in my trunks!
How do you rate your dads as directors?
R: I can't judge them. To me, they are the best!
S: Same, but they are the only ones we worked with so far...
R: True. So maybe they are really bad, but we don't know it.

Are you going to beat them at their own game one day?
R: I don't know. Directing is a lot of frustrating work; a lot of writing and preparation. I prefer acting - that's fun.
Directing is a lot of frustrating work.
S: Same. I feel I had more fun acting than directing, though my dad told me we started our directing career with a tough one! Acting or directing, I always want to be with Rob, Dad and Nico! We're the 4 THE COOL - I don't see myself doing that alone.
What was your favourite film to parody? Which one did you have the most fun shooting?
R: I love the Titanic part. I don't remember if it was the best to shoot, but it's the funniest to watch.
S: I love science fiction, so I loved the War Of The Worlds scene; imagining having a massive alien tripod front of us. It's one of the first green screen sequences we did and was a great experience to see the results. I loved it.
R: I loved The Karate Kid - maybe because it became my favourite film ever. I've watched it more than 20 times since. For me, it was the most enjoyable because I trained hard to do the perfect crane kick…
S: ...and you did it great!
R: Thanks. You did one hell of a stunt… so you helped me well!
S: I loved the stunt scenes! I am the action dude, where you're so good with drama scenes.
R: We're a good team.
And which was the toughest?
R: Everything that took too much time! I'm not good at focusing for too long. Wayne's World was a bit tough. We had to stay static on the car and it was freezing, and I was a bit nervous. In the end, I was really bad - you don't even see me talking in that scene!
S: The attic scene was a tough one, because it was done during summer and it was probably 50 degrees inside!!! But the worst, for me, was The Fifth Element costume.
R: Ahaha, that one was awful.
S: It was made with tape and I had to rip it off.
R: Fortunately you don't have body hair yet.
S: It still hurts!
How did your friends feel when you showed them the film? Are any of them clamouring to be in the next one?
R: I showed it at my school; I did a presentation to my class with my teacher. My friends LOVED it! After the screening, we were able to watch a movie from the list each Friday afternoon. It was great to continue that way and have our teacher involved in this project. All of my friends would love to be part of the next…
S: We're doing another one?
R: No, it's just because of the question… Did you show it to your friends?
S: I did not show it to any of them…
R: Never?
S: Nope…
R: Why?
S: I never thought about it.
You must be the youngest ever winners of a YDA. How does that feel?
R: I am really proud of it! Our dads told us that if we want to do something just for us, like a family memories film, we will have fun, but if we want to win something and be respected as artists, it takes more work and dedication. They gave us that choice, and I don't regret anything.
I don't really know what winning at YDA represents to be honest, but after the win, my dad told me he was really really proud of me and of us as a team.
S: They never gave us the choice! They said, "OK, we'll do a film, but it has to be a good one so it will be a lot of work". I don't really know what winning at YDA represents to be honest, but after the win, my dad told me he was really really proud of me and of us as a team. That made me really happy.
R: It was a great project, a great adventure.
S: We spent so much time together. I think I am just waiting for the next project…
R: Shall we do a feature film now?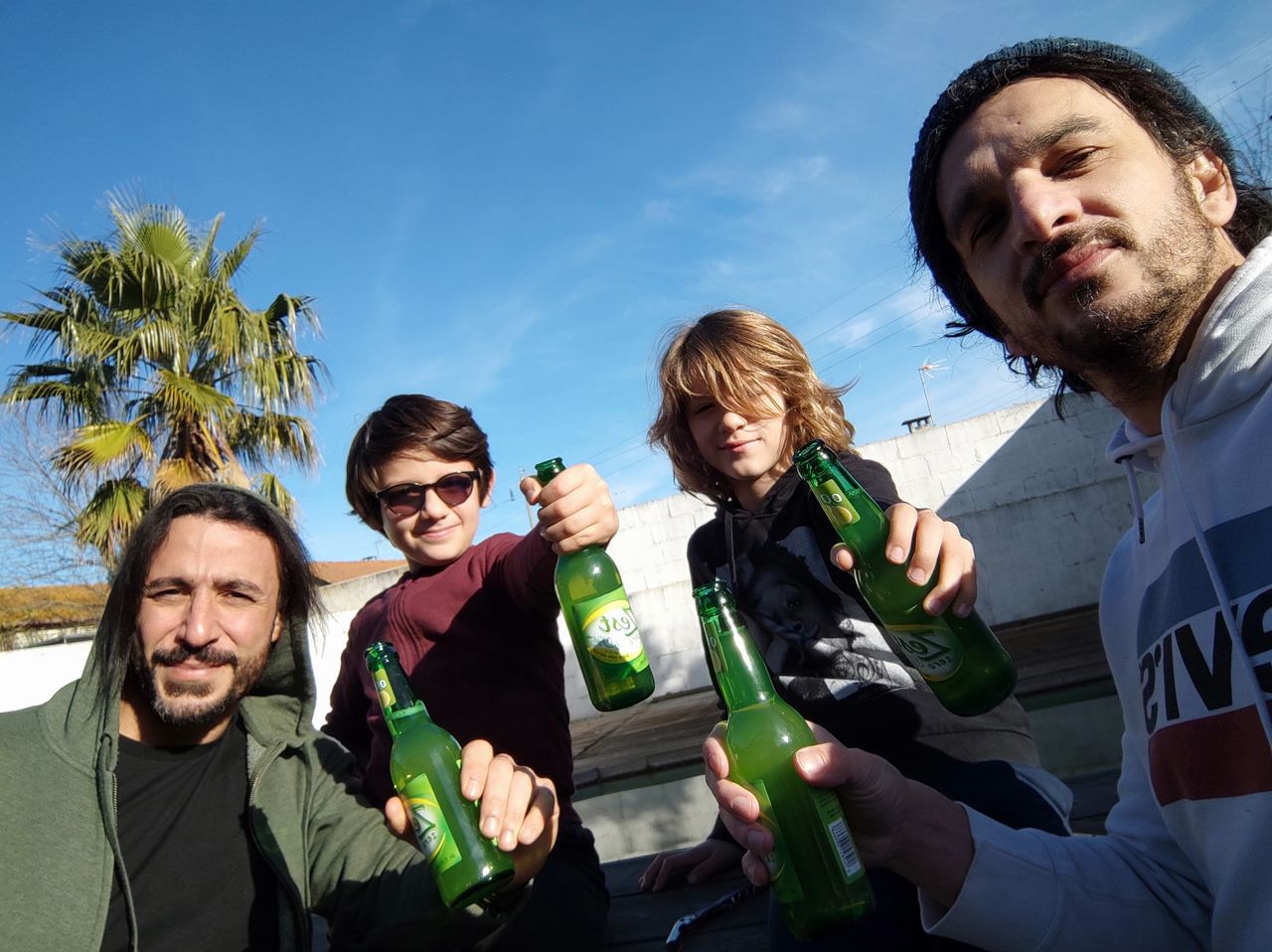 Above [l-r]: Nico, Rob (Nico's son), Sacha (Michel's son) and Michel drinking (non-alcoholic) beers at the wrap party.
Michel and Nico
(the dads)
Where did the concept for the film come from? Did it feel like a natural evolution from your previous film with the boys, Anything For Love?
It's 100% a natural evolution from Anything for Love.
That film translated the desire to spend time with the boys, far from virtual distractions [the gimmick being 30 days without screens].
But what can we do when screens are the only way to escape? That's basically how we lived during lockdowns. So using screens in a different way, to educate the boys by showing them classic movies, was the real starting point.
They were one year old older [than when making Anything For Love], so we thought they were ready to really work as filmmakers!
With these two projects, and for any of these personal projects, we focus on building great memories for them. Anything For Love was a game for them; Forever Young was a real project we made together. We needed them to be fully involved. They were one year old older, so we thought they were ready to really work as filmmakers!
Who chose the films to parody? Were there any that the boys wanted that you didn't, or vice versa?
We all did. Sometimes we watched full films together, sometimes just scenes to share with them - especially when the movies were a bit long or complicated to follow. I am pretty sure they will enjoy Kubrick later in life, but because we wanted them first to really enjoy every step of the process, we selected wisely what to watch in full.
It was a great way for us to transmit something we really love: cinema. Not just filmmaking. Filmmaking can be really frustrating sometimes, so focusing on the actual movies first was a good way to have them hooked into the project.
Alongside selecting classics, we had to think about which scenes we were able to reproduce with our resources. The green screen studio we used for ChromaKey is exactly the one you see in the film - Nico's garage - which is tiny and a bit messy.
We had to have these factors in mind when choosing the films: iconic scenes, shots and framing we were able to reproduce, and the exteriors we had to hand. We knew it could not be perfect, so we integrated the imperfection into our narrative. It was the only way to do it.
Unlock full credits and more with a Source + shots membership.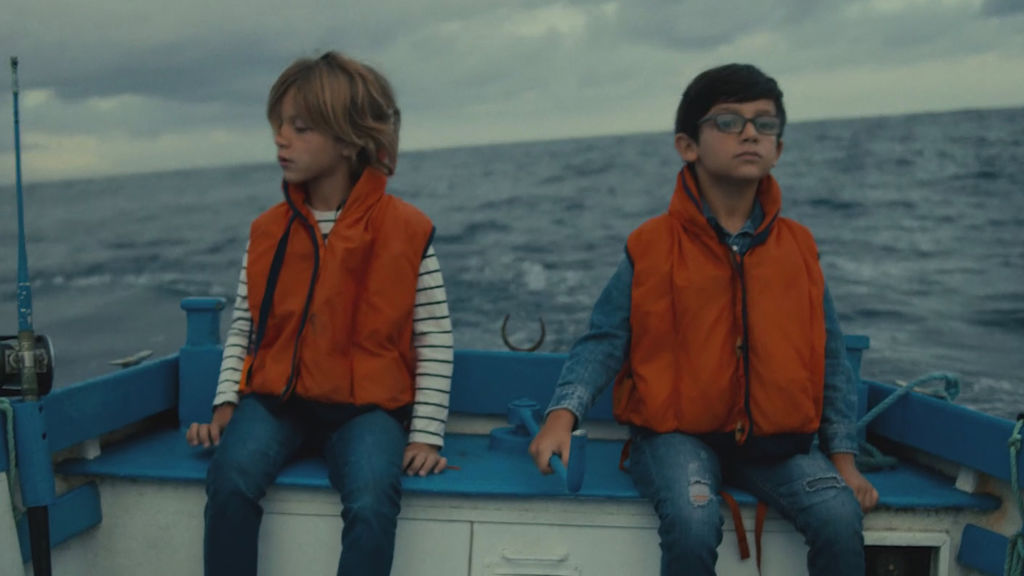 What was the intention behind the film as it was being developed? Was the focus purely on sharing your day job with the lads or did you have one eye on an audience?
We always work with some sort of strategy. We're filmmakers, we do what we love, but we always try to be professionals, no matter what we do. When the boys came asking for a new project to make together, we said it had to be better than Anything For Love. Sam Raimi's interview at Comic Con, where he tells young filmmakers to make a movie every week, was used in the film, but we didn't show and what he says after: "Find an audience, show your work and, from the feedback, evolve your style".
This short is a homage to cinema and the filmmakers we love, and cinema is nothing without an audience. Our intention has always been to show who we are, but we do it as real filmmakers, looking for an audience, for awards, and for growing our network. That was our mission together, and it worked!
How was the shoot? How did restrictions hinder progress?
The shoot was everything: fun, difficult, and frustrating. It needs to be that way, as we didn't want the kids to think that making a film is easy work.
When we first told them that the film would be less than 10 minutes long, they asked why were shooting so much for such a short time on screen! The main challenge was to teach them about limits and how to manage these frustrations.
This short is a homage to cinema and the filmmakers we love.
After that, no big challenges came to us on set, as we wrote the story around all the compromises we had to accept because of covid and lockdowns. Most of the challenges came during post-production... but that's another story.
What's the best thing about collaborating with your kids?
Spending time, all four of us, is the best. It really teaches them how teamwork is the best work, and how our differences make the results better. The pride we have in our boys is something else. As a dad, you dream about that. I don't know if, as filmmakers, we're great ones, but in a dad competition, with these two short films, we could compete.
And the worst?
There is nothing bad in it. Nothing at all.
To us, the worst thing is to not spend that same amount of time together when we're not working on a project. Normal life comes back - life where you never have time for anything - which is a shame.
How do you rate your boys as directors? Have you learnt anything from working with them?
They are AMAZING actors - really skilled. It's an aspect we decided to explore further because we knew how good they could be. They are totally different little characters: Rob's got natural acting ability and he knows it, but he gets tired really quickly, so can be a difficult collaborator hahaha (he knows it too); Sacha had to work on his doubts, so we did more rehearsal with him, but he's got incredible stamina and can do multiple takes without losing the energy. He's also fearless when it comes stunts, which is always helpful!
They are even harder directors than us! There are no compromises with them.
They're like Messi and Ronaldo - the naturally skilled and the hard worker. In the end, the result is the same.
As directors, they are the funniest ever, because everything they know is from copying us. To be honest, they are even harder directors than us! There are no compromises with them.
The film picked up Gold at the YDA, an accolade that you're probably more aware of than the boys. How did it feel to have their (and your) hard work acknowledged by the industry and what do you think made it stand out?`
As we said, we always start a project with a strategy, no matter if it's a commissioned one or a personal project like this one. Everything is done with a purpose. We promoted the YDA to the kids to make it part of our common ambition - I don't think that was a bad thing.
There are many ways to be considered a young director. This year is the perfect example. You can be a super famous cinematographer turning director, like Bradford Young, or a duo of 10 years old french kids working from a garage. That's why this competition is a magic one.
Winning the Passion Project category represents the best result possible because that's the final lesson: with passion, you can achieve anything.
I wish I could find a way to have this short seen by great filmmakers who inspired us. I mean, I would love to send it to Sam Raimi, telling him "thanks for the tips", or to Lauren Shuler Donner, as the full title is Richard Donner is Forever Young.
In our filmmaking adventure, everything started with The Goonies!