News
ASUS takes creation to Another Level in VFX-fuelled spot
Great Guns' Camille Marotte directs the electric film featuring stunt actress Magdalena Šittová, who currently stars in Amazon Prime's The Wheel of Time.
World-class electronics brand ASUS has launched Another Level, an electrically-charged campaign that's sure to appeal to creatives.
Directed by Great Guns' Camille Marotte through Zoom Films, the spot showcases via stunning VFX visuals the outstanding capabilities of ASUS' line of laptops designed with creators in mind.
Cut to the track of Another Level by Oh The Larceny, the spot takes place between a variety of locations, from an abandoned train station, to a film set, to a church. In each, a creative sets up shop with an ASUS laptop, effortlessly using its capabilities to incorporate graphics into what they see before them. Elevating their surroundings, the visuals leap off the screen and into real life - swords now glow electric blue, red sparks fly off the wheels of a motorcycle, and a ball of fire hovers in mid-air.
ASUS shared a simple brief presenting their latest products and the target audience, leaving the narrative and creative side completely open. With the new laptops designed especially for creators, filmmakers, and CGI artists, director Camille Marotte saw huge potential for a truly interesting concept, and after some sleepless nights spent exploring different approaches, he won the pitch.
Unlock full credits and more with a Source + shots membership.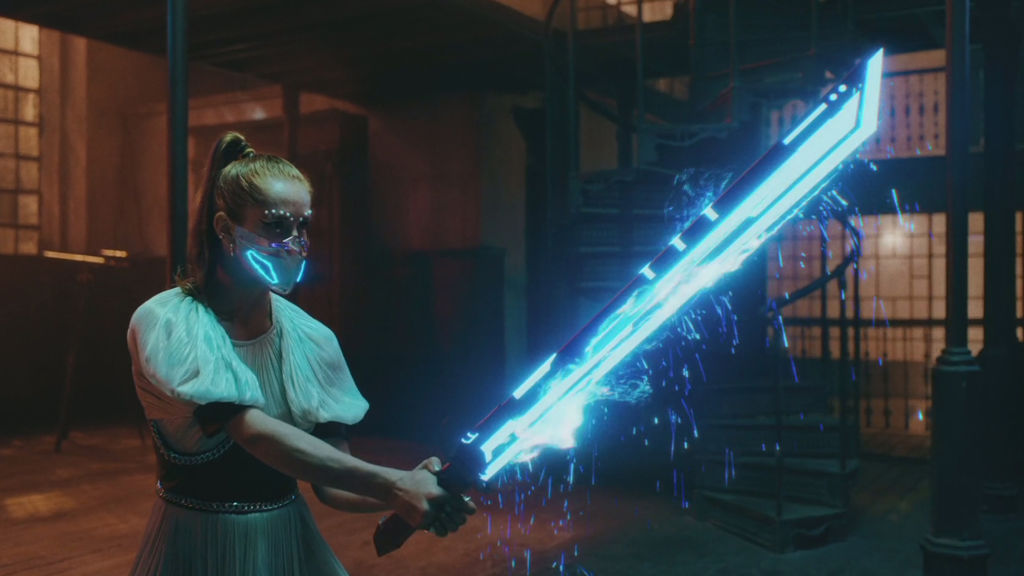 As the creator of the stories, Marotte was dedicated to achieving perfection as much for himself as for the client. Starting his hunt for locations long before shooting, Marotte was able to prepare for a month and a half to ensure that the storyboard would work at the editing stage, seamlessly blending fighting, dancing, and striking VFX into one coherent film. The fight sequences, starring accomplished stunt actress Magdalena Šittová alongside one of the Czech Republic's top bodybuilders, particularly reflect this fusion, choreographed to emphasise each fighter's respective strengths, working together with the VFX visuals to boost the overall impact.
One aspect which required special focus was navigating the direct interaction between the character operating the laptop, creating and adjusting graphics, and their immediate application in real life. The team were required to light a vast church during a pitch black night, rigging 18K and 6K lights outside on cherry pickers to simulate magical beams of light piercing through from outside. Synchronising the movements of each light, they achieved the final effect seen in the film, reflecting the character designing his light simulation.
To craft the striking VFX, Marotte reached out to a friend at Paris-based motion design studio Point Flottant. Accustomed to working on a range of briefs from full CGI films to video game trailers, the team worked closely with Marotte to craft showstopping imagery on a never before seen scale. To round it off, the spot was enhanced by sound design from Mount Audio studio, pushing the cinematic immersion a step further.
Director Camille Marotte comments: "I have to thank ARRI for giving us the opportunity to shoot with the ALEXA 65 and the Prime DNA 65 lenses - they were initially out of our budget but ARRI loved the project so much from the beginning that they reached out to help. I'm also so grateful for ASUS' trust from beginning to end, it's the first time I've experienced such synergy with a client, and it was a key ingredient in creating an impactful film. Also, it's amazing to advertise a genuinely great product, these laptops really are wonderful for creators. One last thanks to my girlfriend for starring in the film! She's the blonde woman looking up at the shining lights in the church location."