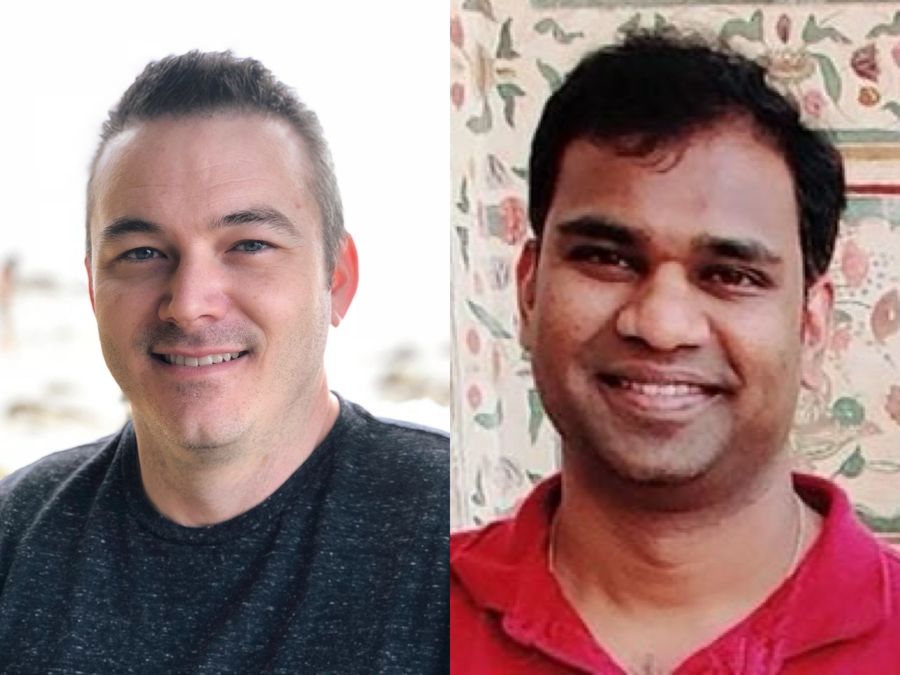 News
Alkemy X expands VFX team with Abhijeet Nawsagare and Brandon Young
Alkemy X has expanded its VFX team, bringing on Abhijeet Nawsagare as Head of Pipeline across all of its offices and Brandon Young as CG Supervisor out of its Los Angeles office.
Production company Alkemy X has expanded its VFX team, bringing on Abhijeet Nawsagare as Head of Pipeline across all of its offices and Brandon Young as CG Supervisor out of its Los Angeles office.
Nawsagare unites a background in engineering with a passion for storytelling to cast an eye towards the future when creating, implementing and perfecting pipeline strategies for facilities and projects of all scopes and sizes. He has over 13 years of experience in the VFX industry, having spent three years with ILM as a part of the company's pipeline team. Young has over 15 years of visual effects experience across television, film, advertising and gaming, working on top series such as American Horror Story and The Walking Dead as well as effects-driven feature films including Thor and X-Men: First Class.
The hires come on the heels of a year of steady growth for the visual effects division, with work for such top series as The Marvelous Mrs. Maisel, Fear the Walking Dead and Blindspot as well as features including In The Heights and the highly anticipated The Many Saints of Newark. Nawsagare and Young will join a lineup of VFX talent with vast experience on award-winning episodic series, feature films and branded content, led by VFX Supervisors Bilali Mack, Erin Nash, Jep Hill and Mike Kirylo.
"Viewers are hungrier than ever for fresh content. In meeting that need, we have seen massive growth in our VFX work. Abhijeet's impressive background in pipeline development and optimization for such top companies as ILM, combined with Brandon's episodic CG experience, will allow us to continue to embrace evolving technologies in the VFX industry," notes Alkemy X President & CEO Justin Wineburgh.
"With such tremendous advancements in technologies such as virtual production, the possibilities for Alkemy X are limitless when it comes to optimizing its technical pipeline," adds Nawsagare. "The approach to being nimble and future-facing opens the doors for the exploration of significant changes that will allow our team to continue to elevate the volume and scope of work we are doing."
Notes Young, "Alkemy X brings together a superior level of creative output with a high level of collaboration. I'm excited to work with the growing VFX team on the expansive range of upcoming projects at the company."
Indian-born Nawsagare studied Engineering in India, quickly adapting his technical background towards his creative inclinations when he made the move to the visual effects industry. Inspired by creative and technical challenges in his work, he has continually pursued opportunities that inspire problem-solving and call for him to adapt his skills into uncharted territory. Beginning his VFX career in India, he made his way to Vancouver in 2015 to work across optimising pipeline solutions for larger-scale projects out of ScanlineFX before taking a role as Senior Pipeline TD at ILM. Later stepping up to a Senior Pipeline Engineer role, Nawsagare was instrumental in a team working to architect and develop key pipeline elements to optimise the creation of VFX for the company's notable IP, including the Star Wars franchise. He tackled the challenge of animation after three years with ILM, joining Atomic Cartoons, where he spent two year working across the company's pipeline and R&D teams. Film credits include The Golden Compass, The Incredible Hulk, The Mummy: Tomb of the Dragon Emperor, Batman v Superman: Dawn of Justice and Thor: Ragnarok.
Building on a lifelong passion for art and drawing, Young studied Animation Art and Design at The Art Institutes before starting his visual effects career in gaming. He seamlessly transitioned his experience from game cinematics to VFX for some of Los Angeles' top shops across film, television and advertising. He spent six years with Blur Studios working on a spectrum of projects, including in-game cinematics for top titles including Batman Arkman Knight, Elder Scrolls Online, and BioShock 2 as well as the opening sequence for The Girl with the Dragon Tattoo. Prior to Alkemy X, Young worked as a Freelance VFX Artist in the Los Angeles area across a wide range of projects in entertainment and advertising.