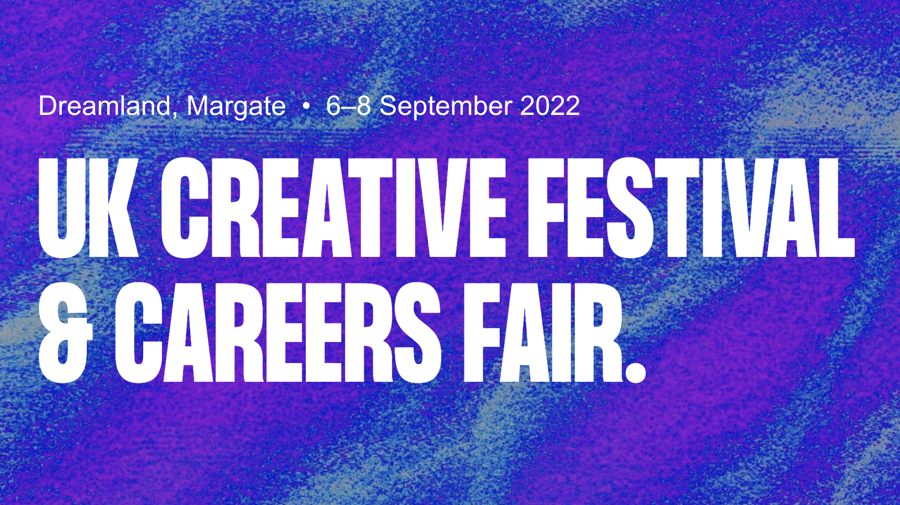 News
​UK Creative Festival breaks second wave of speakers and agenda
2022 program sets sail; announcing the first bucket of panel discussions Margate plays host to some of the creative industries most forward-thinking Pirates and Mavericks.
With just over a month before the opening of the 2022 UK Creative Festival, the event announces the second wave of speakers and releases its 2022 agenda.
Packed with some of the most forward-thinking talents within the creative industries, the two days will see some of the biggest and most contentious subjects that are affecting our industries discussed on the shores of UK's hottest creative seaside town, Margate.
Opening the festival, Rankin, renowned photographer and Founder of Rankin Creative and Scott Morrison, founder of The Boom! and co-author of 'Creative Superpowers' will explore the critical importance of maintaining a thirst for curiosity and creativity and how they both start, continue and end with 'being fucking nosey'.
British Photographer & Founder of Rankin Creative, Rankin: "In most jobs being nosy is normally seen as rude or improper, but it's an essential tool in being a creative. Luckily I was born nosy, so this talk will get nosy about why being nosy is so important."
Wednesday morning will see Anomaly's Group Creative Director LA Ronayne moderate 'Why the intern model is broken ( and what to do about it), discussing how the intern model is broken across many sectors of the creative industries and how many businesses risk being stuck in an ever-decreasing circle of their own making when it comes to developing the next generation of creative talent.
"The intern model probably started to break down around about the time the industry had to start paying newcomers in more than just sandwiches and bus fare. Nowadays, there's no answer that suits every agency; we're all so different in our cultures and offerings... there are plenty of considerations that the creative business community needs to get better at as a whole." said LA Ronayne, Group Creative Director, Anomaly
Inclusive Urban Art & Design: Stop talking, start doing, moderated by Wayne Hemingway MBE, founder of HemingwayDesign, the panel will discuss why the advertising and creative industries need to stop just talking about the importance of inclusive design and the societal benefits of art and cultural spaces in urban regeneration and 'start doing' putting their mouths, their money and their momentum behind projects that renew and transform local communities and the urban landscape.
Wayne Hemingway MBE, founder, HemingwayDesign said "HemingwayDesign have been working in coastal town regeneration for over 20 years and we have never seen a time with more opportunity to repair the damage inflicted on them from a societal shift to overseas package holidays and from disastrous planning policies. The creative industries can and should play a much larger role in turning seaside towns around . Am really looking forward to returning to one of HemingwayDesign's favourite regeneration projects, Dreamland Margate"
The second wave of speakers include:
Global Chief Digital Officer, VMLY&R COMMERCE / Debbie Ellison
Global Head of Stink Rising & Music Videos / Hannah Belill
CEO, Dentsu Creative EMEA & UK / James Morris
Associate Creative Director, Tank Worldwide / Natasha Beecher
Activist and Chair, Mental Health First Aid England / Adah Parris
Creative Strategist, Mother / Jonathan Nwauzu
Head of Global Media, Beam Suntory / Jerry Daykin
Global Head of Creative Capability Development, Google / Kirk Vallis
ECD. Dentsu Creative / Sue Higgs
Chairman & Founder, Brand advance Group / Christopher Kenna
Strategist, Creative, Ethical Marketing specialist, Dyslexic Thinker, Creative Orchestra, CONNECT2, DyversityLab/ Dr Chris Arnold
Director, The Helen Hamlyn Centre for Design, Royal College of Art / Rama Gheerawo
Sound Designer, Grand Central Sound Studios / Munzie Thind
Managing Director, Creative Mentor Network / Katie Thomson-Greene
Global CCO, Science Magica and newly appointed President of the Creative Circle / Gabriela Scardaccione
Home to the Creative Circle awards, the UK Creative Festival not only showcases current leading talents, but offers a platform to those wishing to step into the creative industries, allowing young people from across the country to attend and hear about the extraordinary work that's being created and how they can build a creative career.
Jeremy Green, CEO, UK Creative Festival, said: "We're delighted to present such an impressive line-up of talent from across the creative industries and there are a few big surprises yet to be announced. This year we've been astounded with the support so far. We really feel that the industry wants to have a British home; the event is a celebration of the creative industries, with an energy of change. It's a hub for networking, reconnecting with peers, creative conversation and bringing these wonderful careers and opportunities to a new generation of people. We want to unite the industry, to get people behind the issues that affect all of us, to make real change and as creatives to solve those problems, collectively. The UK Creative Festival is the perfect space for this to happen - we are Pirates of Creativity, Mavericks of Leadership and disruptors of the future"
More speakers will be announced over the coming weeks, as will topics of conversations that will be addressed over the three days of the festival. The program can be viewed here.
Tickets are available from ukcreativefestival.co.uk