Talent
shots Unsigned: Sascha Taylor Larsen
In association with
For our latest chat with an unsigned directing talent we hear from Sascha Taylor Larsen, as he talks us through his 80's influenced music video Donnie Dix, making films with the family camcorder and filmmaking challenges.
This month we talk with Sascha Taylor Larsen about his music video for Oslo Airport - Donnie Dix.
Shot in New York City, Donnie Dix is a tribute to the brashness of the 1980s. Directed by Sascha Taylor Larsen and produced by Oliver Finley, it is a parody of the type of naive self-obsession which characterised this period in our cultural history.
The main character, played by Eli Cusick, embodies the absurdity of an era filled with excess. He represents a particular type of machismo coupled with a total lack of personal accountability.
Can you tell us a little about your background and your route into directing?
I grew up in Oslo, Norway with a Jamaican-Canadian mother and a Norwegian father. My mother is a painter and my father a filmmaker, so my interest in film is not exactly coincidental.
I started making short films and skits at a very young age, using my family's camcorder to film primarily myself and my friends, directing them on-set and spending countless hours editing the footage together. I was completely absorbed by the process of coming up with an idea and seeing it through its execution and I realiSed that this is what I wanted to do, make stories.
Unlock full credits and more with a Source + shots membership.
Show full credits
Hide full credits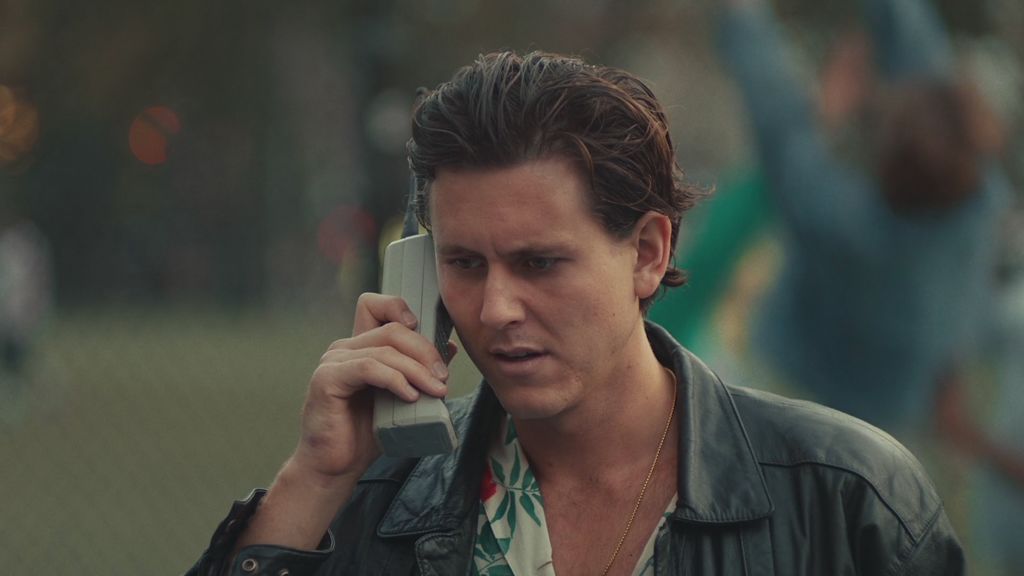 Would you say you have a directing style? How did you arrive at it?
I've worked a lot as an editor so I'm conscious of how that affects my directing. I know what a scene looks like in the edit before I shoot it so I try to only film what we need. I'm methodical in terms of shooting because I'm terrified of not getting all the shots we need. To make for an efficient production I make sure to do all the necessary groundwork with the actors beforehand.
I'll give direction on-set to try different things but hopefully I've already given the actors a clear idea of what I'm going for. Visually there's a lot of exploration with the cinematographer, production designer and costume designer before filming. On-set I aim to stay open to the best ideas.
Did you study filmmaking? How did you learn your craft?
I went to New York University Tisch for Film and Television Production, mostly concentrating on writing and directing. I took some classes in cinematography and editing but I felt I had a good grasp of editing from before and cinematography quickly became too theoretical and technical for me. The production classes were the most fun because of the practicality of it. I felt most at home in a high-energy environment where I could problem-solve with my friends and colleagues.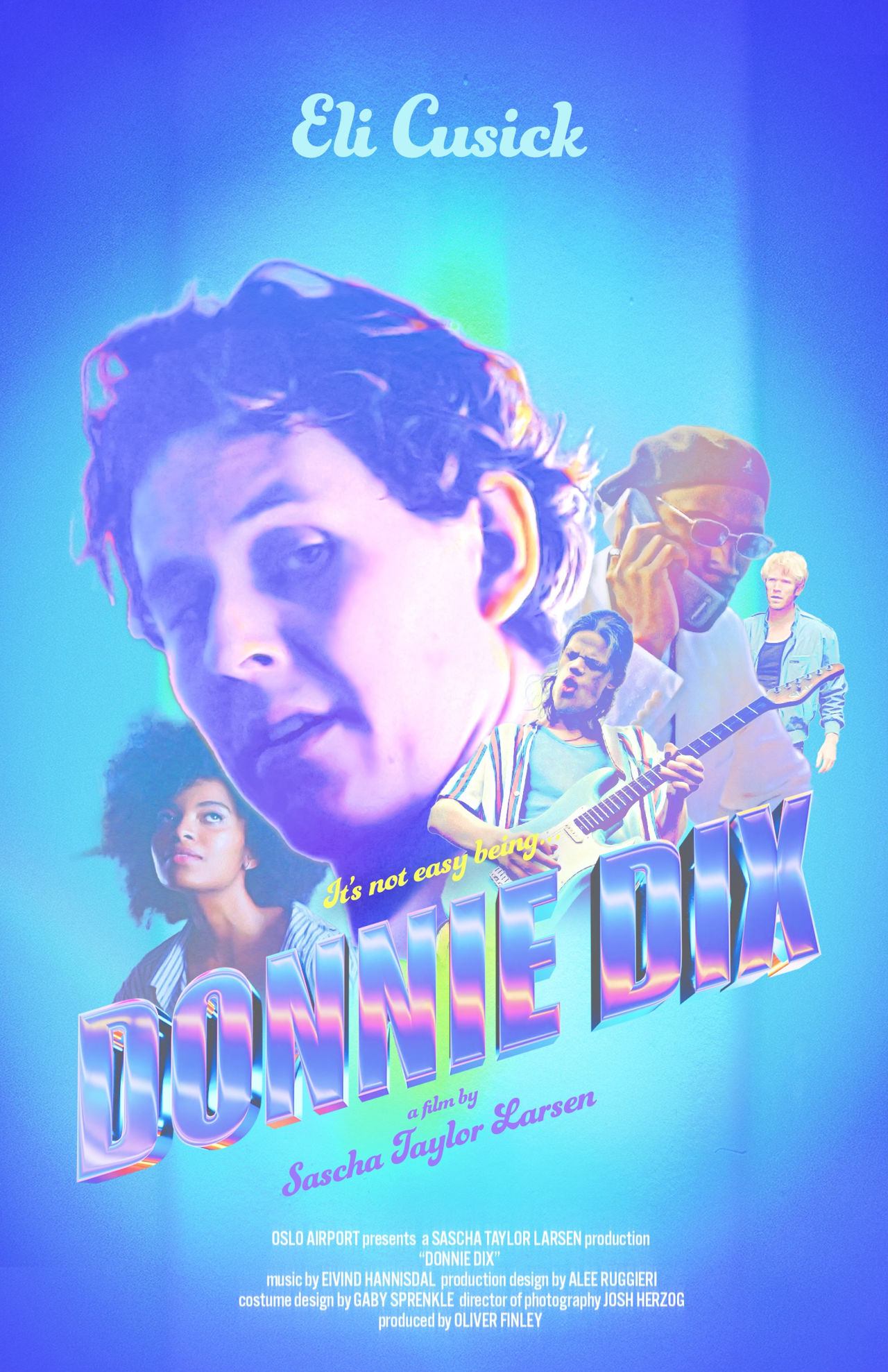 ABOVE: A poster for the film Donnie Dix.
What was the inspiration for Donnie Dix?
I'm drawn to the idea of someone behaving shamelessly. It's easy to make fun of someone who takes themselves seriously. Covid had just taken over the world and everyone's lives had been turned around. The idea of a man who felt like he was on top of the world existing in the face of our ongoing pandemic emphasised the ridiculousness of it.
What other directors' work do you admire? What is it that stands out?
There are so many. I'm currently working for a very talented director, Kari Skogland, and I'm enjoying watching first-hand how she handles issues that arise at various stages of production. She's also got the best attitude I can imagine on-set. I'm a big admirer of David Fincher and Denis Villeneuve in terms of the genres they explore and the specificity of their filmmaking. I'm also drawn to more eccentric and humorous filmmakers like Jordan Peele, David Cronenberg and Yorgos Lanthimos. I also have great admiration for the Safdie Brothers because of the gritty and unapologetic nature of their films.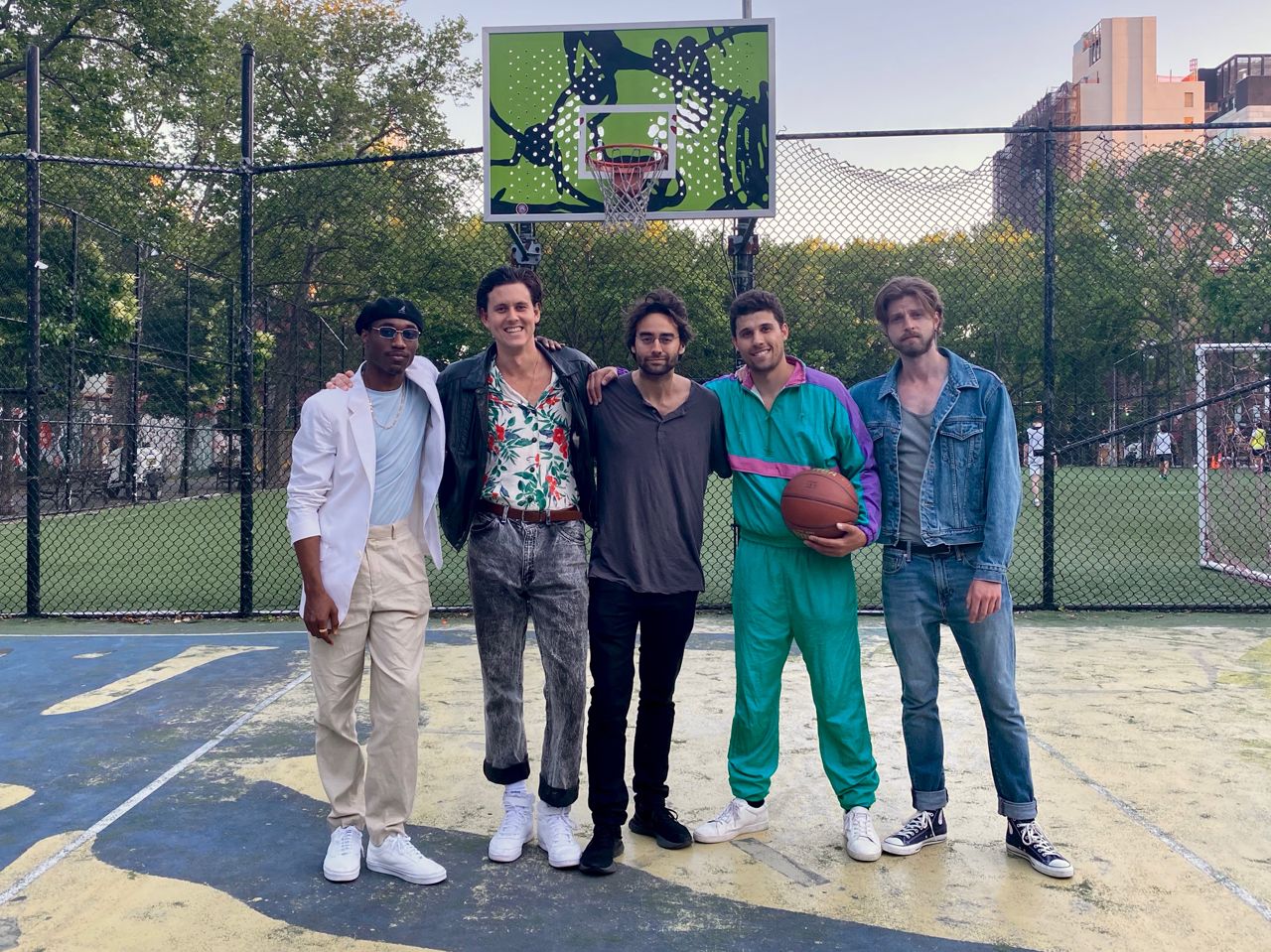 ABOVE: Behind the scenes, director and cast.
Where do you find the inspiration for your projects?
My ideas almost always originate from a location. I usually try to define a feeling I have about a place and use it to create a narrative that could fit in that world. Ultimately I'm interested in conveying a tone and I find that locations are the most useful tool to do that. Then it becomes about amplifying that feeling through the story, actors, music and so forth…
What were the biggest challenges you faced in pulling this project together?
Time was certainly an issue. Pre-production can't have been more than three weeks. Originally it was intended to be a small production but it kept growing both in size and scope the closer we got to filming. This meant more hands on deck, bigger equipment and more logistics to consider. Weather was another challenge. We had a whole day scheduled for filming outside on the worst day of the year. The equipment kept failing and troubleshooting in the rain eventually became a nuisance.
ABOVE: Production stills from the shoot.
How long was the shoot and what was the most challenging aspect of the project?
It was two and a half days of principal photography in May with a half-day scheduled for November. We needed the European Travel Ban to lift so my guitarist could fly in from Oslo. I'd say the finances were the most challenging aspect since it was a self-financed project and a lot of energy went into cutting costs. Essentially everyone worked for free. This could never have happened without the crew- and actors' generosity.
What have you learned during the process of making the film?
How quickly things can come together when you have a supportive and talented crew. It was also very helpful to practice my directing chops after a long period of dormancy during Covid.
What are your hopes and plans for the future?
My hope is to have an institution behind me to support my future projects.