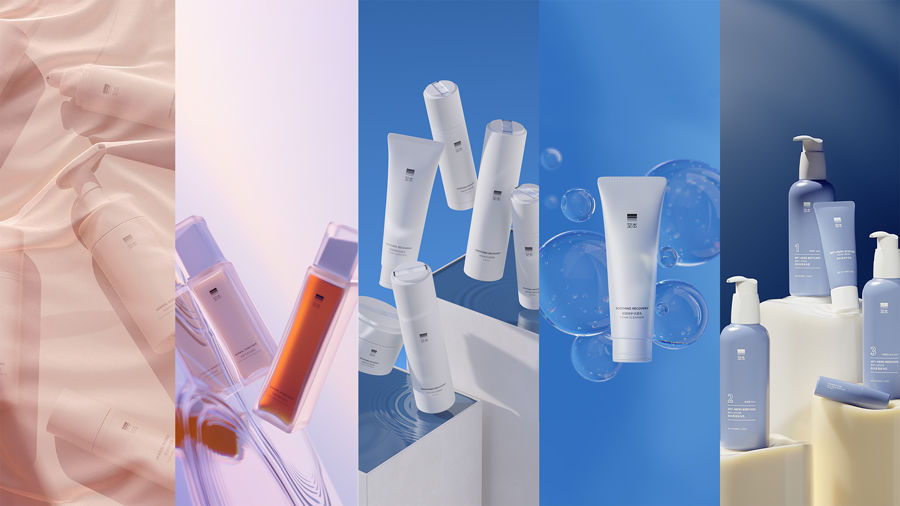 News
Final Frontier crafts skincare collection for ZHIBEN
Pablo Alfieri and Ditroit each direct pieces in five-film series.
Production company Final Frontier has created a five-film series for skincare brand, ZHIBEN, under the overall creative direction of Pablo Alfieri.
Alfieri directs three of the films, with the directorial talents of Ditroit leading the other two pieces.
Each film introduces a range of ZHIBEN products, rendered in tactile 3D motion graphics. The assorted cast of serums, creams, and foams dance among expansive, abstract environments, crafted to reflect the distinct characteristics of the products.
Alfieri, founder and creative director of the collective Playful, and a director on the Final Frontier roster, says: "Our idea was to elevate ZHIBEN to the next level, crafting a new, natural, and fresh personality to their products, keeping a sense of coherence and visual consistency across all the films. We took care to find a clean and minimalistic art direction, and an abstract storytelling driven by organic animations and clever transitions."
Final Frontier executive producer Chris Colman adds, "It was a relatively open brief, so we needed a creative director who would be able to help discover, craft and drive the visual direction, working closely with the client creatives. It was a dream to have Pablo come in and bring his vision to the series, and we've been big fans of Ditroit for a long time. It was a joy to work with two such incredible talents."
The music for the entire series was created by Smider. Alfieri says, "The cherry on top was the amazing, magical sound design by Smider that matched perfectly with our organic, playful, and impactful animations."