News
Argos Home: so stylish Suki can wear it
Argos and British talent Suki Waterhouse are pioneers of style in SS20 furniture & homewares spot.
A year has passed since Argos's So Stylish You Can Wear It campaign first exploded onto UK screens up and down the country.
Since then we've experienced the joys and delights of the Argos furniture and homewares range being cat-walked across lawns, sashayed through woodlands and erupting out of wardrobes. In the last twelve months we've seen SS19 and AW19 collections donned by an array of models, but in 2020, Argos and The&Partnership London launch an evolution of this campaign in collaboration with a solo star, the British model and actress, Suki Waterhouse.
The advert was created by The&Partnership London and shot by Hungryman director David Kerr.
Set in the stunning Pitzhanger Manor, Ealing, London, this third installment of the So Stylish You Can Wear It campaign sees the brand shake off winter as spring breathes new life into the world. Suki Waterhouse wears beautiful, high-end outfits, entirely made of Argos's Spring/Summer furniture and homewares range, all whilst delivering a 'fashion film' voiceover with perfect comic timing. This new campaign encourages viewers to feel a desire for change with the new season, and who better to show you the stylish way forward than the British-born talent and much-loved, Ms Waterhouse.
Unlock full credits and more with a Source + shots membership.
Show full credits
Hide full credits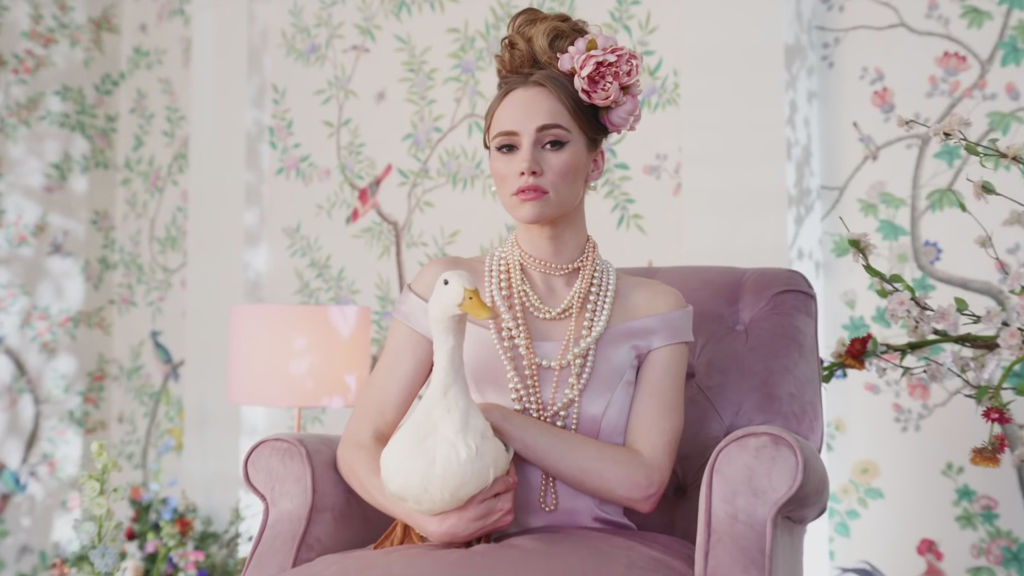 Mark Given, Chief Marketing Officer, Sainsbury's Argos:
"The Argos Home So Stylish You Can Wear It campaign has been a great success to date, so we were really excited with this new creative idea. Suki Waterhouse's comic performance is pitched in a perfect fashion whilst the style and quality of Argos's Home Spring/Summer range really comes through."
"I'm an enigma, a mystery" Ms Waterhouse voiceovers, as we see her stylishly model this season's must-have lampshade. Not content with bringing the world of Argos furniture to the catwalk, Argos now brings the catwalk in the guise of Suki Waterhouse to the masses. For 30 magical seconds, the British born beauty, draped in this season's Argos furniture and homewares, amuses us with her deadpan humour and subtle facial expressions.
Suki Waterhouse, British actress and model:
"This campaign playfully weaves home and fashion together, bringing what we might consider as everyday Argos objects to life in a really fun unexpected way.
I've never considered nor been asked to model a carpet as couture nor an armchair as an accessory but the result is a campaign I doubt viewers will forget in a hurry!" Shot over two days, the unique character of the location created a stunning backdrop to Argos's stylish furniture and homewares range. Designed by talented costume designer, Verity Hawkes, all of the costumes are once again made from the brands' furniture and homewares products, and are once more used as high-end fashion, rather than in their original guise as a lamp, cushion, bedside table, bedding set or rug. All footage was captured on a Sony Venice, used specifically for its capacity to beautifully render colour, and a Panavision large format lense.
David Kerr, Director, Hungryman;
"As a comedy director, most of the scripts I'm sent are dialogue-driven; people saying and reacting to funny stuff. I loved that this script was full of amazing imagery and that the voiceover acted as a comic counterpoint. I wanted the film to play with the po-faced profundity we sometimes see in perfume commercials - and for the absurdity to build in a gradual, incremental way. I couldn't have been happier with Suki Waterhouse's performance. She's a great comic actress. She worked tirelessly with me to nail the nuanced tone we were trying to hit - and she understands the power of a raised eyebrow as well as anyone since Roger Moore."
Verity Hawkes, Costume Designer:
"Designing for just one person was definitely easier and allowed me to be more focused. Some of the bigger dresses were a challenge – the pattern cutting was a big job, especially as they had used such a huge amount of fabric. The location definitely added to the designs; evoking a very romantic to feel them; the carpet and duvet covers echoed the design of the house. It's been really fun working on all three campaigns."
The campaign launch includes OOH, press, an AR Instagram filter and a behind the scenes spoof film, and sets out to build on the momentum of the SS19 and AW19 Home campaigns. The latter drove more than 7 in 10 people to agree that Argos sells more stylish homewares and furniture, and 8 in 10 people to agree that Argos sells higher quality products, than they previously thought.
Aimed at those who wish to put a personal stamp on their home by filling it with stylish interiors, this enthralling yet amusing campaign seeks to drive reappraisal and consideration for Argos furniture and homewares this Spring/Summer 2020.
Yan Elliott, Executive Creative Director, The&Partnership:
"Our foray into the fashion world goes one step further with this year's Spring/Summer range for Argos. Top model and actress, Suki Waterhouse perfumes her inner thoughts and musings as she wears the very latest in Fashionable Furniture, not just in the film, but with an AR filter too."
To support the third installment of the 'So Stylish You Can Wear It' campaign, Omnicom Media Group's PHD have created an evolution of the media strategy that launched last April, with an optimised media laydown and approach. Whilst TV remains the dominant channel to ensure reach, with the campaign messaging having landed with consumers last year, a more conversion focused approach has been adopted for Spring 2020 via targeted VOD and Digital OOH. The result is an audience centric strategy, delivering desirability and appeal at scale to showcase new range.