News
The North Face rallies runners built for the trail
FAMILIA's Francis Wallis and Emma Stevens Broyd work with Guerrilla for a rousing ad that fuses racing with running to get hearts pumping.
The North Face has joined forces with advertising agency Guerrilla, FAMILIA director Francis Wallis and producer Emma Stevens Broyd to deliver a spot that is sure to set hearts racing. Showcasing the brand's new line of VECTIV shoes, the ad juxtaposes running with off-road motor racing to highlight their supreme ability to tackle any terrain.
Set on a dry, sun-drenched trail, the 60" film centres on two individual runners, preparing themselves to set off on their journey. While they stretch and fasten their laces, the shot cuts to a car engine revving, raring to go. Runners and racecars alike hit the road when the lights turn green, dust flying around them both as the spot dramatically cuts between the two. Reaching its close, the two runners come together, having conquered every twist and turn over rocky terrain to reach their final goal.
FAMILIA director Francis Wallis was set the challenge of bringing a warm, dusty aesthetic to the spot. Tapping into memories of films that embodied this style, Wallis turned to Bruce Brown's nostalgic Oscar-nominated documentary On Any Sunday for inspiration. Depicting the Californian motorcycle race world against the desert landscapes of the Baja Rally, it proved a great creative reference point for the VECTIV spot.
Unlock full credits and more with a Source + shots membership.
Show full credits
Hide full credits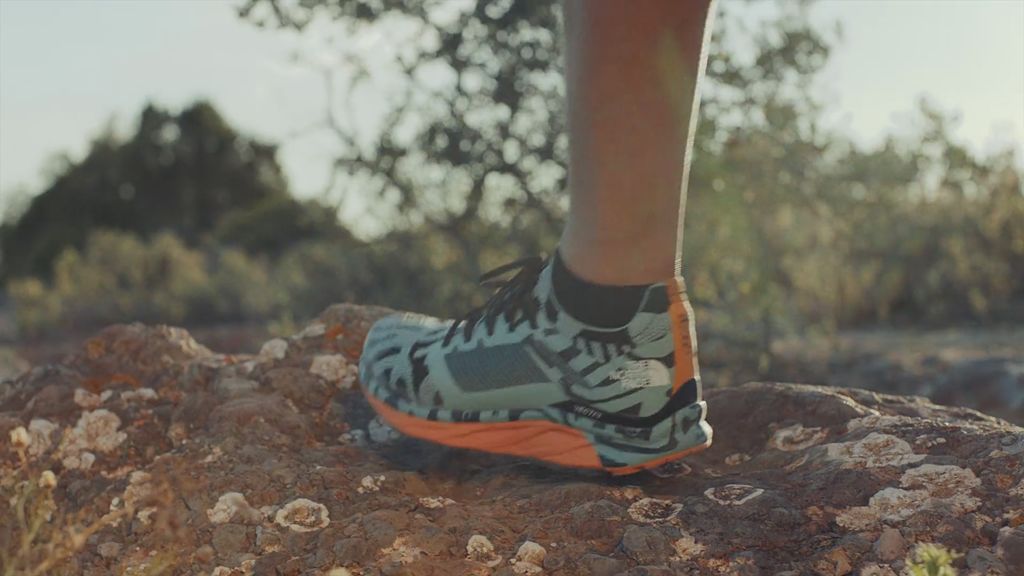 The idea of merging trail running with elements of racing struck Wallis as the ideal metaphor to bring out the parallels between the two worlds, and in particular how the VECTIV shoe effortlessly tackles rough terrain. Pairing it with a visceral, rhythmical, and energetic edit, the film captures the way that the shoe is built to take whatever the trail throws at it. Seeing the two runners coming together at the end of the spot also highlights the overarching sentiment that running isn't just an individual sport, driving home the idea that VECTIV runners are built differently - for the trail.
Locating the perfect dry and dusty landscape in Portugal, the team faced some unexpected challenges during the two-day shoot. Despite idyllic weather in the lead up and immediately after, the team had to battle extreme winds and tempestuous weather conditions on the days of filming. To tackle this, the on-the-ground crew was kept small and nimble, allowing them to reschedule and adapt on the spot, something which they would not have been able to navigate with a larger and less mobile team.
Director Francis Wallis comments: "On a personal note, there was something about this project that had me hooked from the start, I'm into everything "off-road" and, in particular, anything with a racing element to it. From the racing metaphor to the energetic edit, I'm so proud of how each component of the film has come together to really drive home the idea that VECTIV runners are built differently, they're built for the trail. It was also such a pleasure to actually film in the area of Portugal I grew up in, something that Guerrilla was totally on board with, which I'm really grateful for."
Producer Emma Stevens Broyd says: "Being our first project with Guerrilla, we were keen to impress and make a positive impact. We were lucky enough to have a really dynamic brief to play with, and a team of creative minds all really eager to brainstorm and throw ideas around. I'm excited to continue to grow our working relationship with Guerrilla, and continue to make great content together!"
She adds: "I'm also so grateful to have worked on this project with the wonderful director that is Francis; it was a true collaboration from start to finish. From the initial briefing call over Zoom, to standing on an outrageously windy cliff's edge overlooking Praia Da Ursa at wrap, the genuine desire to make an incredible film together was abundantly clear. Last but by no means least, a special thank you to Yves Callwaert, Goncalo Vaz, and the BigLittleFamily team for their unwavering enthusiasm and hustle!"