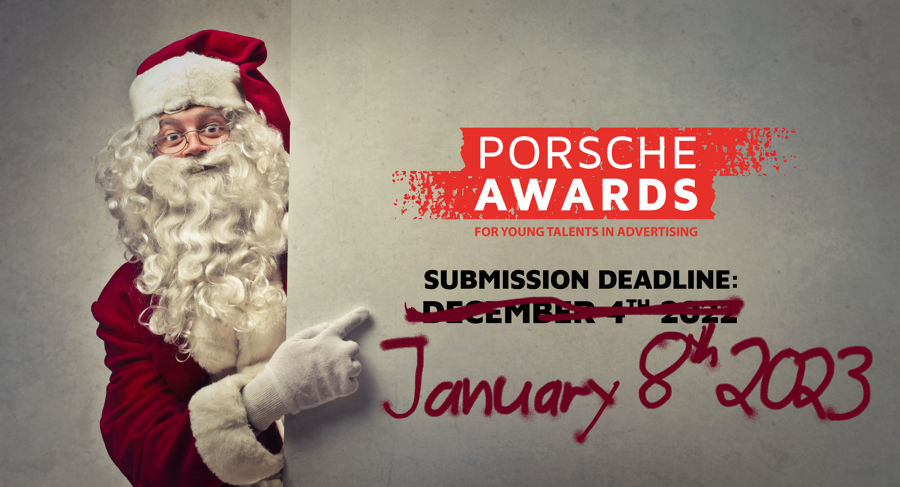 News
Porsche Awards 2023 submission deadline extended
Submission deadline extended until the 8th January 2023 for the 19th edition of the Porsche Awards, with Jury members and present confirmed.
On Thursday, 20 April 2023, the 19th Porsche Awards – For Young Talents In Advertising will be held in the Filmakademie Baden-Wuerttemberg.
It has now been confirmed that the award ceremony will be presented by Patrick Cahill. The multi- award-winning producer is Head of Production at Media.Monks in London, and he speaks German fluently. Supporting junior talents is a matter very close to his heart and he also has close links with the Porsche Awards. Patrick Cahill has been a member of the jury numerous times, and has twice presented the award ceremony.
And once again this year, the international jury is made up of prominent experts.
These include (in alphabetical order):
Anastasiya Bukovska, Executive Producer, Family Production, Kyiv
François Chilot, President Commercial Film Producers of Europe and Young Director Award, Paris
Oliver Hoffmann, Director Marketing Communications, Porsche AG, Stuttgart
Daniel Huntley, News Editor shots, London
Charlotte Lepot, Executive Producer, DIVISION, Paris
Julia Mücke, Director & DoP, Berlin
Lyndy Stout, Editor 1.4, London
There is also good news for young international film-makers interested in taking part: the submission deadline for competition entries has been extended to 8 January 2023. Entries can be registered online through the Porsche Awards website at www.porsche-awards.com.
After viewing all the submissions, the jury will nominate twelve advertising films in three categories (Short Advertising Content, Long Advertising Content, Driven by Dreams) for the final selection.
The Porsche Awards are aimed at students and young professionals who have not been working in the industry longer than two years. A prize is awarded to one winning film per category.
The three successful teams will each receive a trophy and a cash prize of €4,911 – a nod to the iconic sports car, the Porsche 911. The Filmakademie Baden-Wuerttemberg as the organiser and Porsche AG as the main sponsor are particularly looking forward to welcoming young international advertising film talents to Ludwigsburg next year.
Other partners and sponsors of the Porsche Awards include the City of Ludwigsburg and Distelhäuser Brauerei Ernst Bauer GmbH & Co. KG. International media partnerships exist with shots (international advertising film publication, London), 1.4 (online platform for international short film talents, London) and the Young Director Award (YDA), which is presented annually at the Cannes Lions Festival.
You can find further information at: www.porsche-awards.com