Craft
On Reflection: When Chipotle went Back To The Start
In his own words, Nexus Studios' Johnny Kelly, the director behind Chipotle's stop-motion Grand Prix winner that made pig farming utterly adorable, tells us how the little ad that could became the mega-spot that did.
Stop motion shoots are not dissimilar to Coronavirus lockdown, a confounding mix of simultaneous boredom and intensity. I love em.
The project came to Nexus Studios in May of 2010, and I was put forward for it. It was different to the usual 30 and 60 second ads I'd been used to pitching on. Observatory (then CAA Marketing) had conceived this amazing, gargantuan campaign for a client that famously hadn't advertised before. There were interactive games, t-shirts, pop up books, toys… all centred around a little film featuring a farmer and his struggle against industrialised agriculture.
There was free rein with the story and how it looked, so I wrote up a treatment and drew up some designs. At the time, Chipotle's founder and CEO Steve Ells happened to be visiting London to open their first UK outlet, so a few of us from Nexus Studios went to nervously present our pitch to him in person in the restaurant on Charing Cross. He's a charismatic figure as you might expect, and 45 minutes later I had a thorough education in sustainable farming practices and we were apparently now making this thing.

Unlock full credits and more with a Source membership.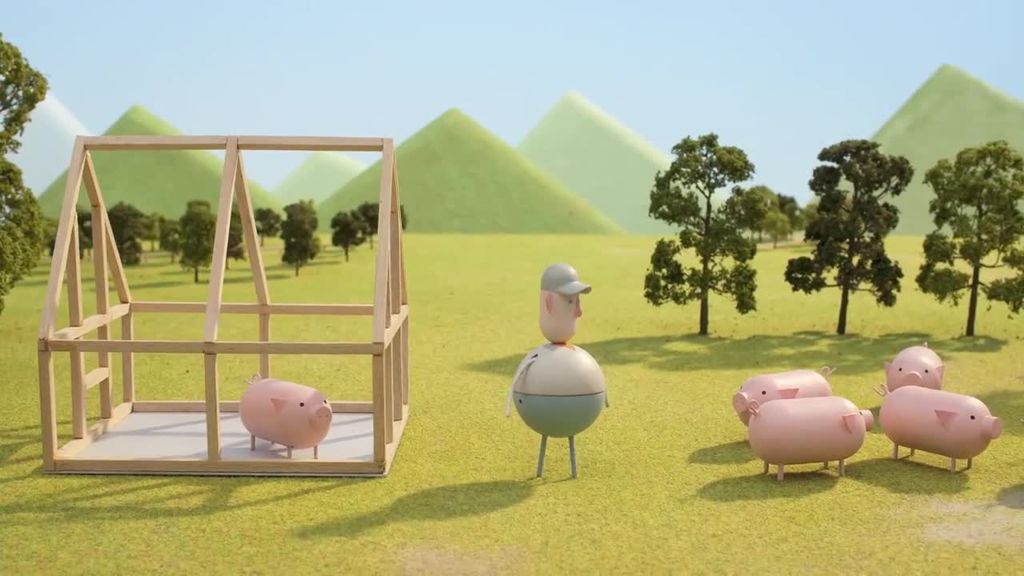 It was a long production schedule for us, about five months. I've never had such a long development period - one month for me to storyboard! - and I think it benefited from having a bit of time to formulate.
The danger with animation and how long it takes is the risk of overworking it, so I was mindful of that and always trying to strip it back.
I'd done little bits of stop motion before but I wasn't quite prepared for a FOUR WEEK SHOOT.
The story evolved — originally it was our "good" farm next to an "evil" farm and I was hitting a bit of a storytelling wall with it. Then Chris O'Reilly (Nexus Studios head honcho) had the great suggestion of simplifying it: one farmer that turns to the dark side. That's why he's the boss, dammit.

Above: Some production stills from the shoot.
We filmed at the lovely Clapham Road Studios. I'd done little bits of stop motion before but I wasn't quite prepared for a FOUR WEEK SHOOT. Thirty seconds a week.
In terms of scale it was hefty, but we almost needed an aircraft hanger. The build process began by having a mockup of the farmer made by Artem. He was about 20cm high for ease of animation. However our art department then worked out that if he was 20cm, we'd need a 35 metre length set. Not a goer. So, we halved the size of the farmer - and with him the set length - and we were on our way. Our producer, Liz Chan, had a background in feature film and pulled in some amazing crew from the likes of Wallace and Gromit and Corpse Bride.
I had no clue the film would have impact, but hearing the music was certainly a magic moment.
One nice moment from the shoot was when Matt Cooper and myself were animating late one eve and had a door open to let some air in behind us. We turned around to find a fox sitting inside the doorway watching us.

I must confess to trousering a couple of pigs from the shoot. It's probably evident but they took about five minutes to design? I think that's what's so cute about them.

Above: A Behind the Scenes film and some animation tests.
I had no clue the film would have impact, but hearing the music was certainly a magic moment. Early on, the team at Observatory mentioned their plan to speak to Willie Nelson about recording the soundtrack. Often when you pitch on a project you'll get lured by tempting carrots that evaporate when the job goes ahead. You know the deal - the promised 4x 90" spots and shoot in New Zealand turns into 15x 5" vertical pre-rolls pulled together from stock footage etc. I presumed this was that standard bait and switch, but the agency were in hot pursuit and— five months after we'd finished the picture— they managed to find a gap in his tour schedule.
We never expected it to win an award when we were making it. It had such humble beginnings!
Music always changes the vibe, of course, but hearing his arrangement against it, with that performance, lent it this lovely fragility. We later heard stories of people crying in cinemas while watching the film, and while I'd love to claim credit for that with my jumbo pigs, that is all on Willie.
Above: Pre-production design sketches.
We never expected it to win an award when we were making it. It had such humble beginnings! I wasn't sure who would even watch it. In large part thanks to the music, it became an awards darling and marks my first and last trip to Cannes.
In the 10 years since [the film came out] I've only directed one [other stop=motion animation], which is surprising, on reflection.
I had the full experience: drank my own bodyweight in Rosé, managed to go on a speedboat and Easyjetted out of there before my carriage turned into a pumpkin.
Above: A timelapse of the mammoth shoot.
I should probably have applied my learnings on more stop motion projects, but in the 10 years since I've only directed one, which is surprising, on reflection. This is likely because my reaction to success (as a self-loathing Irish person) has been to avoid getting comfortable and instead sprint, flailing and screaming, in the other direction.
I remember at the time, James Allen from Time Based Arts asking what I was up to and I told him I was designing a playground for Kew Gardens (this was true, although sadly it didn't happen in the end) and he said "God if I ran Nexus Studios that would be my nightmare — one of my directors won a Grand Prix at Cannes and decided he was going to go off and make playgrounds!".
One day I'll manage another four week shoot.