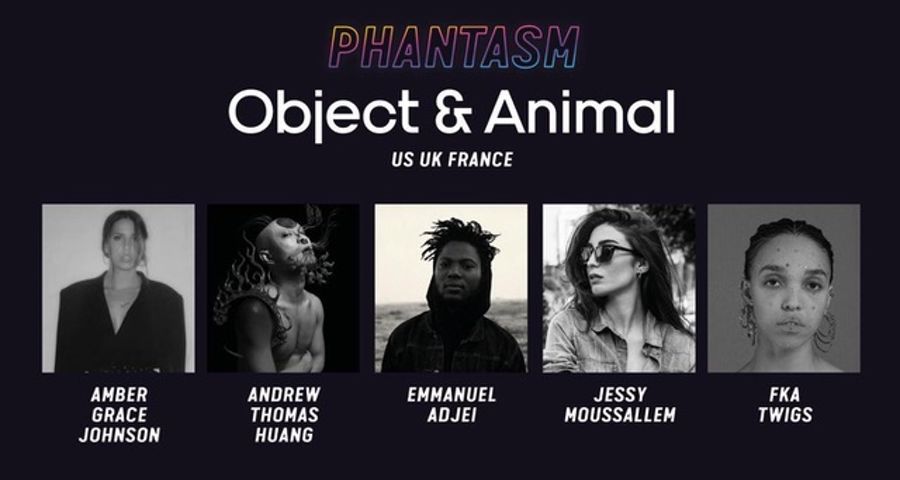 News
Object & Animal and Phantasm announce new partnership
Co-productions to include film and print ad campaigns, music video and long form.
With several productions already in the works Object & Animaland Phantasm look to each other as partners across the US, the UK and France to represent directors Amber Grace Johnson, Andrew Thomas Huang, Emmanuel Adjei, Jessy Moussallem and FKA twigs in their respective markets.
Both companies are driven by an ambition to create new voices as much as initiate landmark collaborations ; and operate an ethical and responsible production approach.
"Getting to know the team at Phantasm has been a huge pleasure. The passion and enthusiasm they bring and environment they've built for creative talent is an inspiration. They share the same beliefs about good creative and good business practice, and are equally committed to creating a platform for diverse voices to create outstanding work - we're proud to be developing this partnership with them." says Dom Thomas, Partner, Object & Animal
"We were excited and impressed by the Object & Animal project since day 1 and their achievement in only 2 years is absolutely fantastic. Today, our business is challenged and we all need to rethink our production approach. The US and the UK are two highly strategic markets and more than ever, we needed a local creative partner we share the same vision with and trust fully, to be our ally in the field, in order to keep developing talents and producing daring content across borders. We're proud and delighted to officially team up with them today." - Gary Farkas - Partner, Phantasm
Within 2 years of launching, Object & Animal has been named as AdAge 'Production Company To Watch', won Best Production Company at the UKMVAs and received 2 Grammy Nominations. Clients include Apple, Adidas, Beats, Burberry, Dunhill, Kenzo, Louis Vuitton, M&S, Nike, Off-White, Prada and Zara, with Automotive work for Hyundai, Maserati, Mercedes-Benz and Volkswagen. Iconic music videos include collaborations with Beyonce, Dua Lipa, FKA twigs, James Blake, Rosalia, Jorja Smith, Justice, Madonna, and The Rolling Stones. They are currently in production on a feature documentary about prison reform in the US with director Natalie Rae.
Phantasm has been operating for 5 years now and has collaborated with brands such as Apple Music, Bose, Diesel, Hermes, Hugo Boss, L'Oreal, Levi's, Nike, Peugeot and YSL, and artists such as A$AP Rocky, Brodinski, James Blake, Kanye West, PNL and Travis Scott. The three partners come from backgrounds in film, advertising and music (Wild Bunch, Full House, M&C Saatchi.GAD and EMI) and make the most of their feature film arm, VIXENS, by producing content combining fiction and brands: Lux Æterna, a film by Gaspar Noé starring Charlotte Gainsbourg and Beatrice Dalle (Official Selection - Cannes Film Festival 2019) and Sportin' Life by Abel Ferrara with Willlem Dafoe (Official Selection - Venice Film Festival 2020) - two projects commissioned by Saint Laurent.