Inspiration
Marit Weerheijm: A Few Of My Favourite Things
We speak to the Czar director about her inspired art-filled cookbook stand, something that can be best described as a 'thingy' and a whole heap of miserable mugs.
Fittingly, for someone whose Student Academy Award-winning film is called When Grey is a Color, Marit Weerheijm's 'Favourite Things' photography is in glorious black and white.
Having graduated from the Dutch Film Academy in 2016 and now signed to Czar, Weerheijm's eccentric film style can best be described as character-driven, naturalistic and organic with loads of room for spontaneity and creativity.
Disturbing her whilst putting the finishing touches to her upcoming short KORT! - En Route, we rifle through a handful of the bits and bobs she keeps around her to keep creatively inspired, including an art-filled cookbook stand, something that can be best described as a 'thingy' and a whole heap of miserable mugs.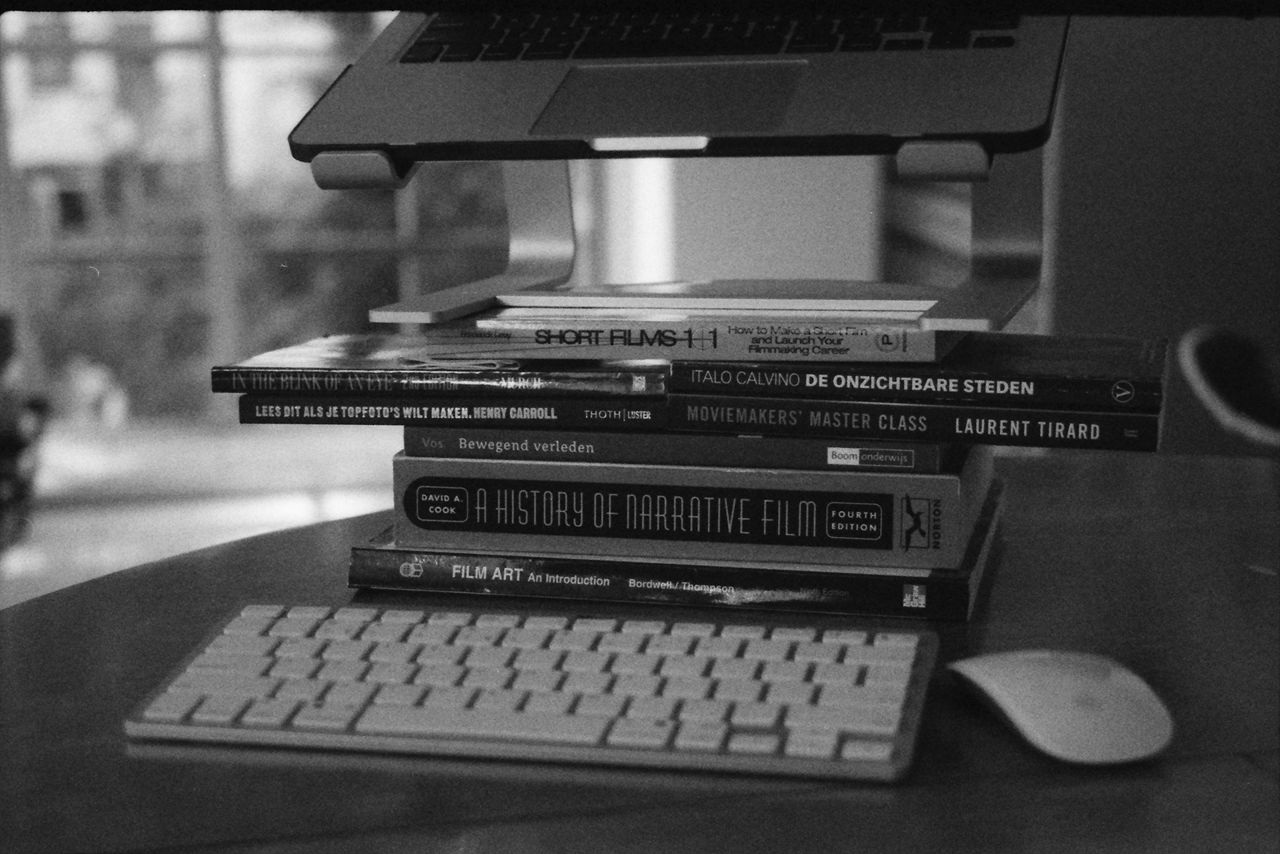 The Pile of Film Literature (or my laptop stand)
During the four years I studied at the Netherlands Film Academy I gathered a selection of books about filmmaking and film history.
To be honest, I did not read all of them, but some of the ones I did read were really worth it.
In The Blink of an Eye by Walter Murch was one of my favorites. Others, like A History of Narrative Film, are more suitable for browsing when you lack inspiration or - in my case - make a great laptop stand.
There is one book in this stack that isn't about filmmaking; Invisible Cities by Italo Calvino.
My dad gave me this book to be inspired and explore my imagination. It contains very short descriptions of 55 fictitious cities by the explorer Marco Polo. Blew my mind.
Not the most efficient book for my laptop stand though.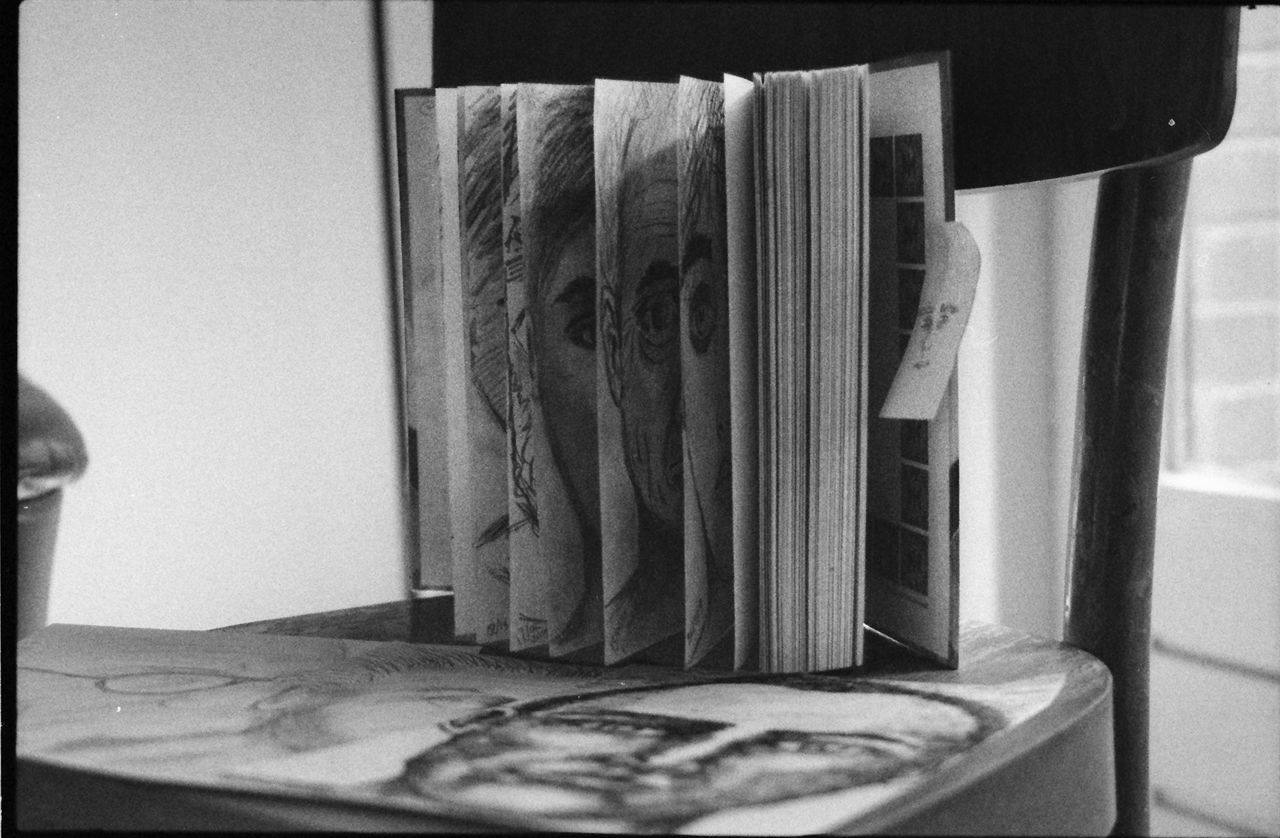 The Sketchbook With Sad Faces
In my films I love to be close to my characters and try to capture every tiny detail, every blink or twitch. A whole world can be seen in the eyes of your actors.
I don't know why, but I really want to be able to draw these expressions and faces.
I was already doodling a lot on post-it's and other random pieces of paper when my mom gave me this sketchbook.
She once bought it to be her holiday-diary for a trip to Portugal in 2011, but she'd only used the first page.
I've been practicing a lot, but for some reason I can't seem to draw a realistic smile. So now it's a book full of sad faces, which makes the whole thing a bit gloomy and grim.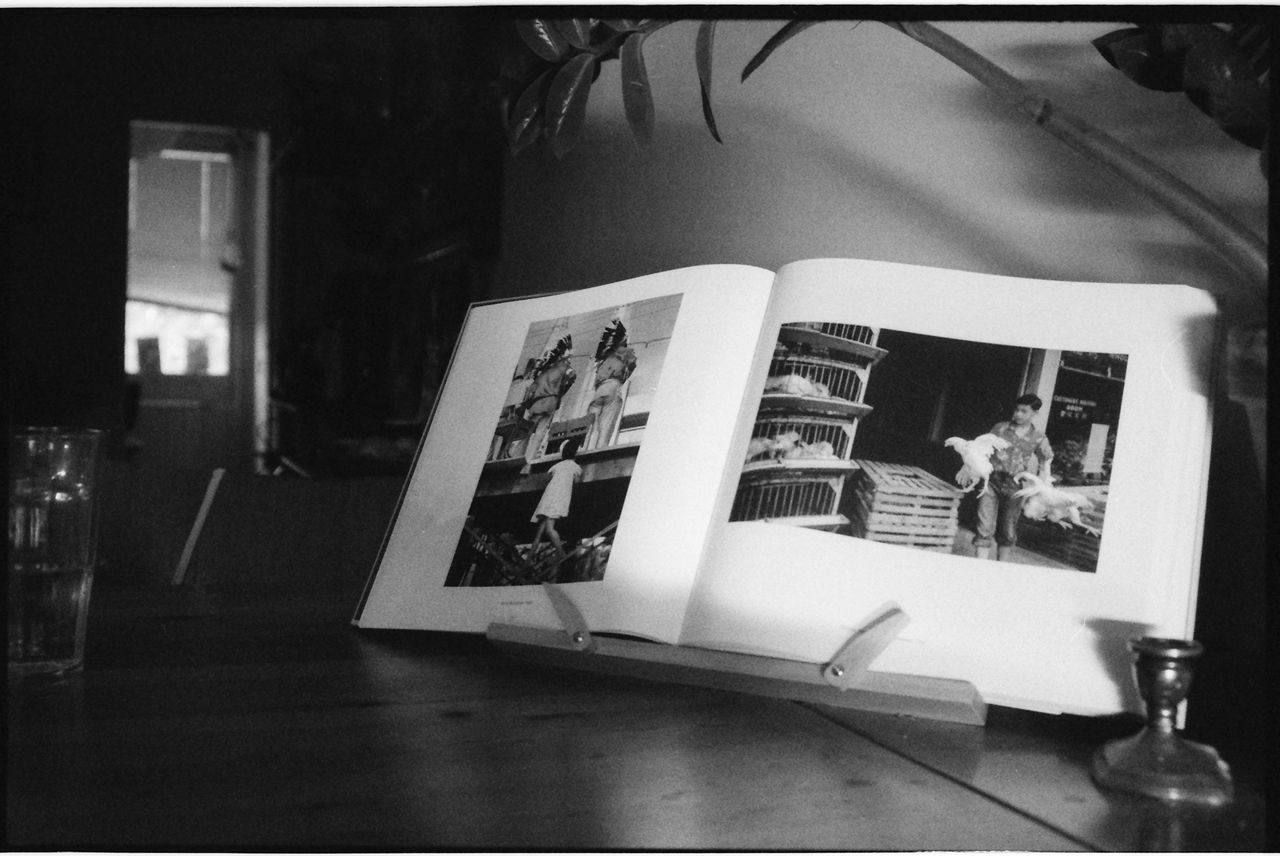 The Cookbook Stand With Art
A friend of mine showed me this life-hack.
Buy a cookbook stand and use it to display books from your favorite artists.
You can let your guests choose a page or picture they like, this way you can have a new piece of art in your workspace or home every day.
This is a book by Fred Herzog called Modern Color.
It really beautiful images of the United States in the fifties and sixties. Herzog is known for his unusual use of color in a time when art photography was almost exclusively in black and white.
Now I've made a black and white photo of it.
Sorry about that.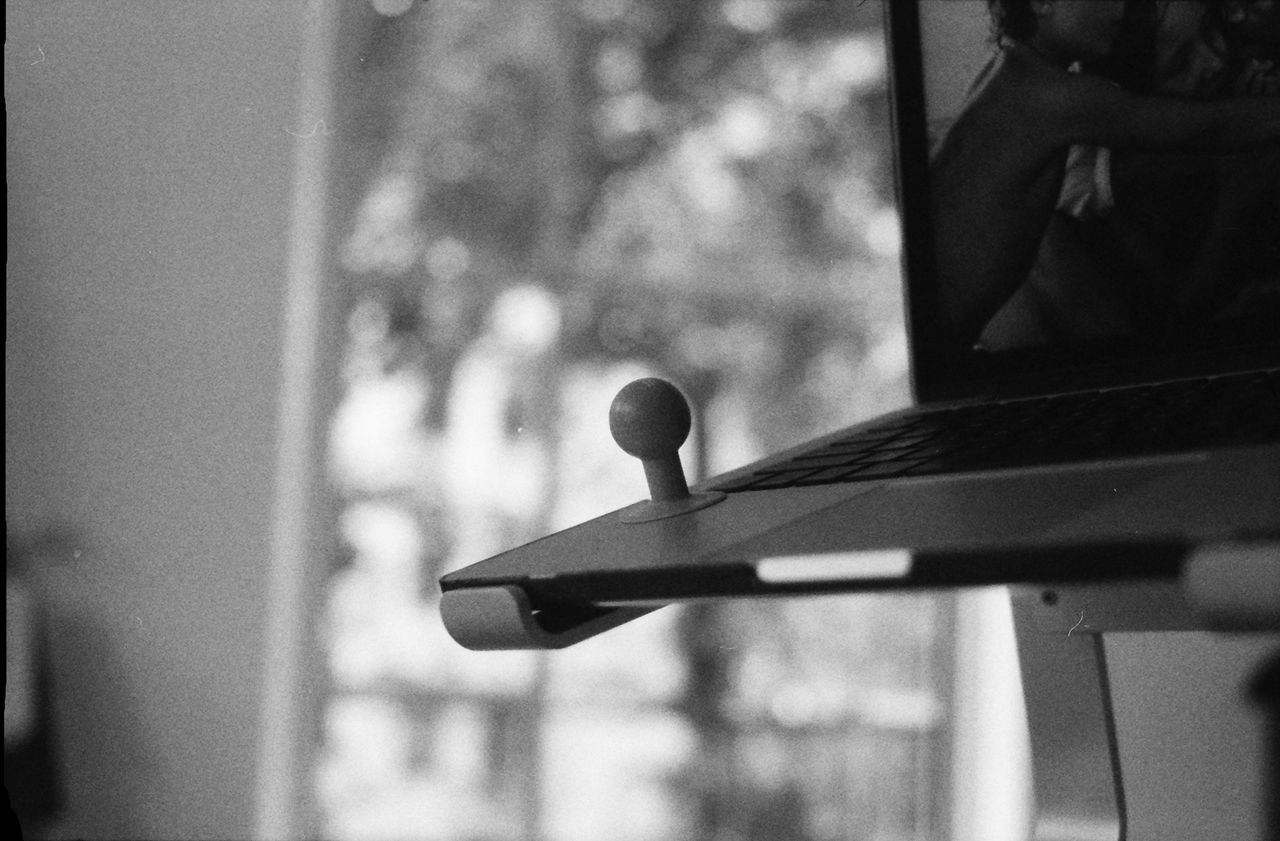 The Thingy
I don't know what this is.
I always need small items to be fidgeting with to be able to focus on my work. I actually gave the editor I always work with a box full of small toys as a gift 'to entertain the directors you work with'.
His response was: 'Great. You bought yourself a gift.'
I got this thingy from another editor I worked with in Bruxelles when we were working on a video for Pink Ribbon. We couldn't really figure out what the thingy was, but I also couldn't stop wondering, so he decided I should have it.
I would describe it as a rubber suction cup with a knob on it.
Anyone?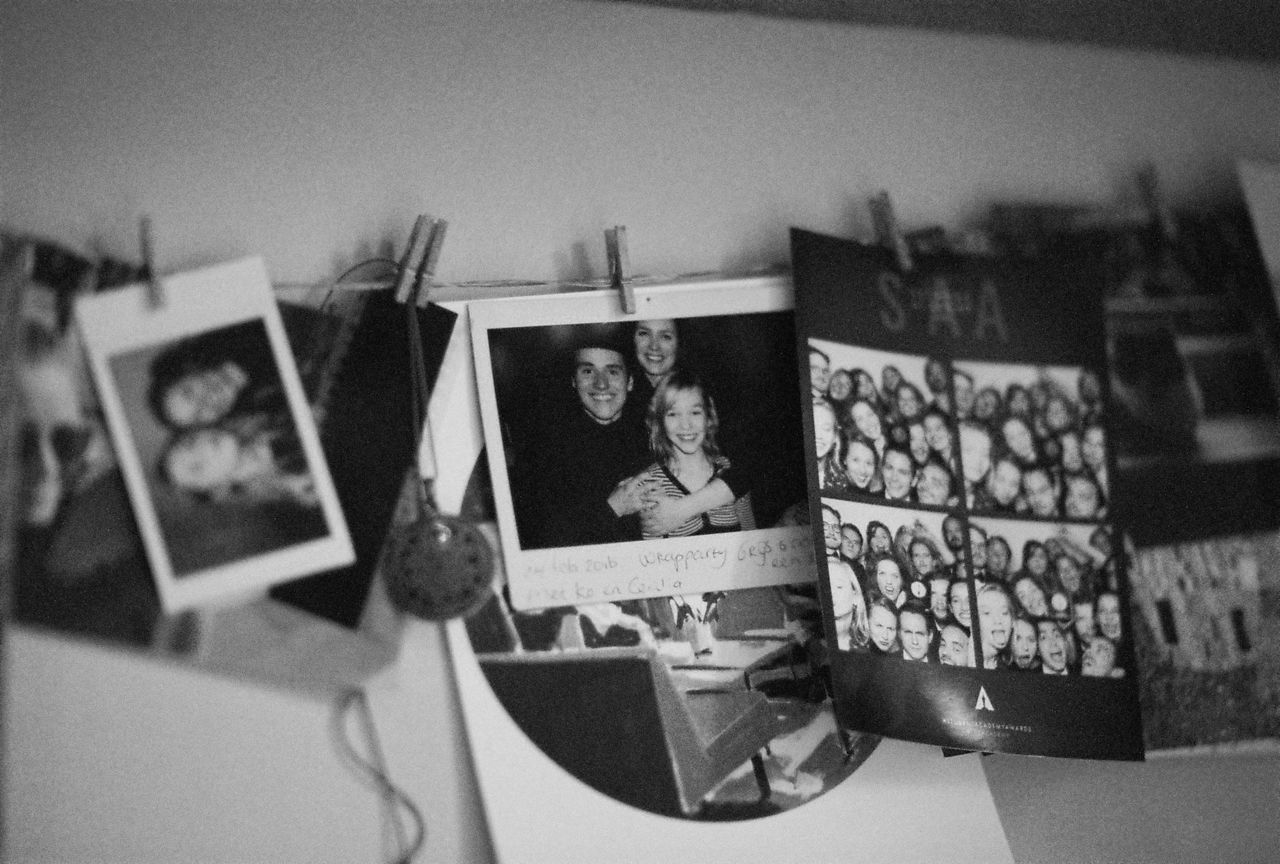 The Wrap-Party-Polaroid
This is a picture of me and the two main actors of my graduation film When Grey is a Color.
The picture was taken on the wrap party in 2016. I remember that we were all ecstatic because we'd just watched a first edit of some of the material.
I treasure this polaroid because we didn't know how the film would turn out to be, we were just really happy with what we had been making for the past ten days.