News
Hennessy opens gateway to paradise on earth
New global campaign from GoodPeopleWonder and RSA Films with Alicia Keys and Lang Lang is influenced by the world's natural beauty and Hennessy Paradis' own roots in symphonic harmony.
The latest campaign for Hennessy Paradis, brought together by design and communications agency GoodPeopleWander, is a poetic celebration of the bliss found in perfect harmony, and inspired by the majesty of nature.
Paradis on Earth is a deep ranging collaboration which explores the meeting of minds between the virtuoso talents of Alicia Keys and Lang Lang, bringing together the shared values of culture and beauty for a moment of pure emotion, sensation, and contemplation.
Paradise lies in moments suspended in bliss, a universal celebration of harmony and the "raison d'être" for Hennessy's crown jewel of cognac, Paradis. On this journey, Hennessy Paradis turns back to its inspirational beginnings grounded in music.
The film series, shot in Utah and directed by RSA Films' Neels Castillon, reflects the intricate elegance of Hennessy's craft in a musical voyage for the mind and soul, which blends the joy of music and poetry, with the bliss of nature.
Unlock full credits and more with a Source + shots membership.
Show full credits
Hide full credits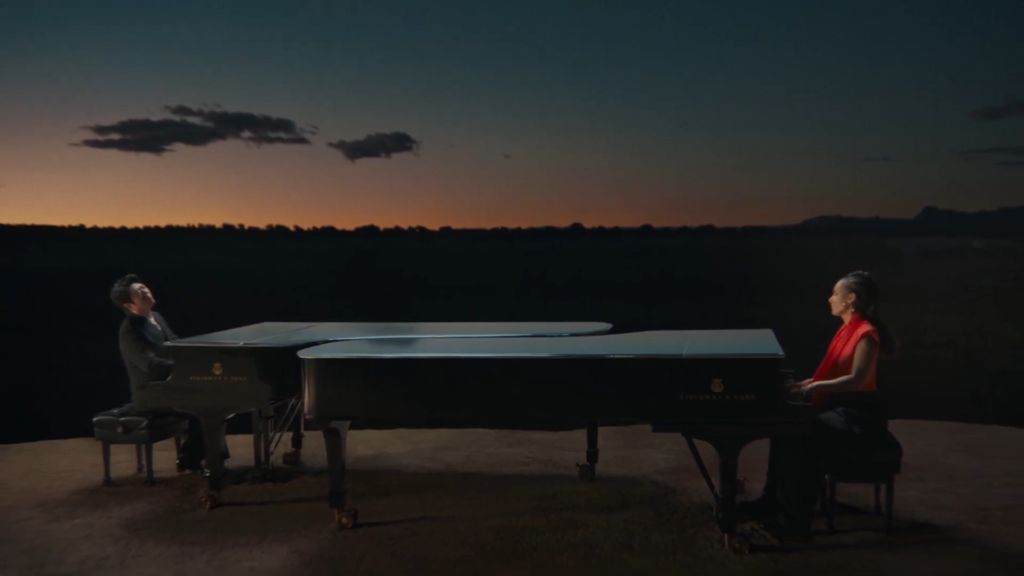 Seated at two pianos, in the stunning remote desert setting of Paradis Canyon, the legendary artists unleash the power of their shared musical inspirations, taking the first steps on an incredible journey towards Paradis, with music and poetry composed by Alicia Keys, and layered by Lang Lang.
"When thinking about harmony, I envision how beautiful it is to be able to stack one sonic on top of another, and how there are so many notes in between that create a beautiful expression of a melody that couldn't exist without the other," said Keys. "It's so cool to be able to play together for what it represents. We grew up on different sides of the planet, but we were able to come together and understand each other through harmony, music, passion, and bliss, to create the feeling of 'Paradis on Earth.'"
In addition to the films, stills were captured by legendary art and fashion photographer Viviane Sassen, with BTS films from Black Dog Films director duo MOM, diving into the richness and authenticity of the creative collaboration between Alicia Keys and Lang Lang, exploring both their own connections with nature and culture, and their shared artistic values.
The online campaign provided an opportunity for GoodPeopleWander founders Aurélie Gaillard and Loïc Le Bihan to bring to life their vision of an open and collaborative creative process, by combining creative wanderers (creative producer Carla Bradley, art directors Sion Phillips and Hanna Labeyrie and copywriter Jethro Turner) and creative talents (Neels Castillon, Viviane Sassen, MOM, Imruh Asha, produced by the Ridley Scott Creative Group's RSA Films) to craft authentic cultural contents.
Embarking on their journey of unity, common understanding and positive change, Alicia Keys and Lang Lang enter into a dynamic dance of musical spirits and notes, blending backgrounds and influences in the pursuit of true beauty to celebrate the unrivalled savoir-faire of Hennessy Paradis. Polishing the pure magic that nature has sculpted, and imbued with the power of art, music and poetry, Paradis reaches for the sublime.