As the 1960s youthquake triggered yearning for a refashioned society, one abounding with hope, unity and peace, the flower stood as the preeminent symbol of changing times, encompassing simplicity, beauty and reverence for nature and renewal.
At the exact moment, David Webb jewelry was at the height of its white-hot heyday, absorbing and distilling the prevailing mood into exuberant jewelry for the beau monde and establishing its unmistakable design vocabulary.
To David Webb co-owner and creative director Mark Emanuel, the current moment is ripe for revisiting florals and the buoyant mood they inspire. "Design follows culture and social events," he said. "There's an urge to reject darkness, much like in the golden age from 1963 to 1975 when the world awoke." The new collection, Asheville, embodies the burgeoning impulse to embrace optimism and light. Its name is a nod to Webb's North Carolina hometown, where he received his earliest education in jewelry making and developed an abiding affection for gardens and flowers.
Unlock full credits and more with a Source + shots membership.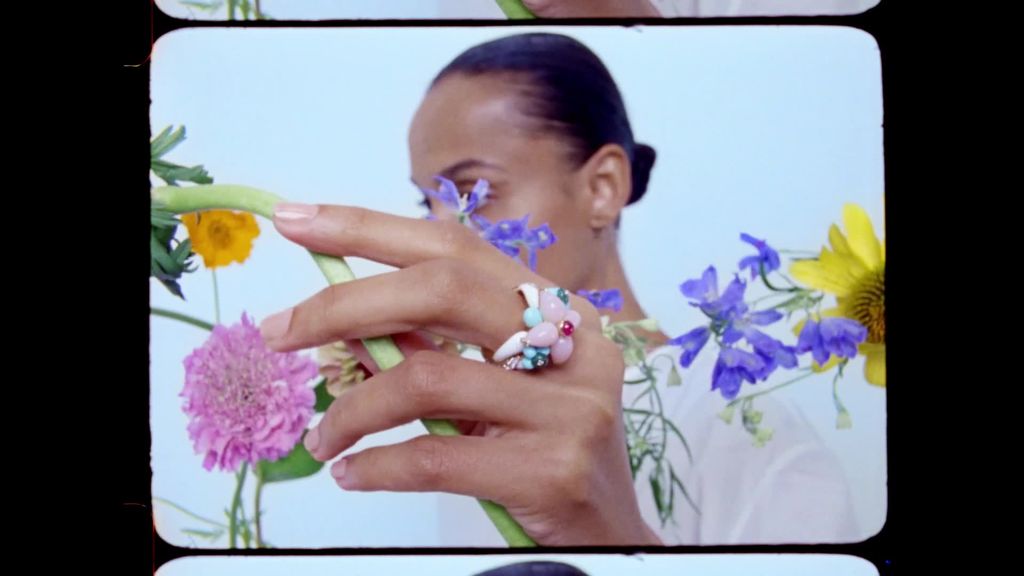 The floral motif that is central to Asheville has no direct analog from nature or a previous David Webb collection. Instead, it is a stylised rendition of a flower; a cluster of cabochon gemstones and beads form its petals. "We meant to express an archetypical flower," explained Emanuel. It is an ideal easily recognised and understood across cultures, geography and time.
Asheville is the first collection since the founder's time to introduce entirely new elements to the David Webb lexicon. Beyond the novel floral design, under Emanuel's direction, the design team created a unique chain after exhaustively revisiting more than 100 existing styles. Weighty, curvy and bold, it is a clear descendant of the David Webb lineage. Juxtaposing flowers and chains underscores the qualities of each. "Together they reveal the combinatory power of strength and femininity," said Emanuel.
Asheville encompasses a full array of jewels varied in scale, shape and composition. Lengths of 18-karat gold chain, with a polished finish or coated in white or turquoise enamel, are one of the unifying elements of the collection's core pieces. They are the foundation for jewels dotted with the Asheville floral motif: a pendant necklace, drop earrings, cuff bracelets, a choker and open band ring. The pieces are available in two harmonious colourways. They exude a fresh, easygoing vitality in pink opal with rubies, emerald beads, turquoise, diamonds and white enamel. Meanwhile, the palette of blue chalcedony with sapphires, turquoise, diamonds and white and blue enamel evokes serenity and bright horizons. Their complementary hues make it effortless (and advisable) to wear them together.
The jewels are a collage of signature David Webb traits: lively enamel, precious gems and hardstones in tantalising hues and supple chains. These essential ingredients reaffirm the David Webb DNA even as the brand evolves.
Like all jewelry that bears the David Webb name, each piece is made in the brand's New York City workshop, situated above its Madison Avenue boutique. Its placement recognises the essential role of the craftspeople who create each jewel, some of whom were with the company when David Webb himself presided over their efforts. Their talents make ethereal design into wearable treasures.
Just as David Webb believed in the 1960s that "today's élégante wants her fashion to say something," the same is true today. Asheville reveals the everlasting allure of grace and optimism and artistry.