Inspiration
Playlist: Joel Kefali
Director Joel Kefali, recently signed by Rattling Stick for UK music video representation, talks Michael Jackson's surreal MoonWalker, Michel Gondry's Let Forever Be and the power of collaboration.
What's the best promo you've seen recently and why?
I'm not sure I've seen anything better than Hiro Murai's Childish Gambino, This is America. All the elements are working together perfectly.
What's the first promo you remember being impressed by?
Maybe not technically a promo, but I have lasting memories of seeing Michael Jackson's MoonWalker as a child. The surreal animated moments were mad.
 
And what's your all-time favourite music video?
That is a tricky one… maybe Michel Gondry's Chemical Brothers Let Forever Be?

 
What other directors/artists do you look to for inspirational?
Inspiration for ideas? That can come from anywhere, and ideas often present themselves in those 'green room' moments, when I'm forced to wait or busy with life's menial tasks.
Inspiration to go make something? Conversations with friends, seeing my peers doing great work is always exciting and watching my kids draw, play, create with unfiltered, reckless confidence is pretty amazing.

What are you listening to at the moment?
Alexis Taylor; Love the track Out of Time, off his new album. The band Blood Orange, [artist] Shocking Pinks, Babe Rainbow's Minimalist Meditations: Piano Inspiration playlist.
 
What's your favourite bit of tech, whether for professional or personal use?
Maybe, reluctantly, my iPhone. It is pretty amazing/frightening how ubiquitous its influence is. Otherwise a pen and paper, they're still essential.
What artist(s) would you most like to work with and why?
People that make music that I can connect with, and then people that want to make something interesting and have a collaborative spirit.
How do you feel the promo industry has changed since you started in it?
We no longer have to master to Digi Beta [below]! Music television has mostly disappeared. So, maybe it is a much more democratic space where more people can play in it and hopefully there are less barriers to entry… but the lifespan of a video seems a lot shorter too.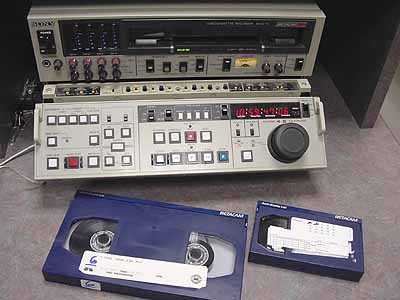 Where do you see the music video industry being in five years' time?
I have no idea. I like seeing artists/musicians with strong voices directing, like Dev Hynes, FKA Twigs [below], Flying Lotus and Onehtrix Point Never. I also think great work has come from long-standing collaborations, like those between Hiro and Childish Gambino, and Vincent Haycock and Florence and the Machine. I dunno… good ideas, great music and stories will always be something we all want to see and hear.
Tell us one thing about yourself that most people won't know…
I hate elevators, I went a long time without getting in one, I still avoid them as much as possible and plan accomodation and travel around avoiding them.
Connections
powered by
Unlock this information and more with a Source membership.